Obituary
Marcial Lona Martinez (1928-2012)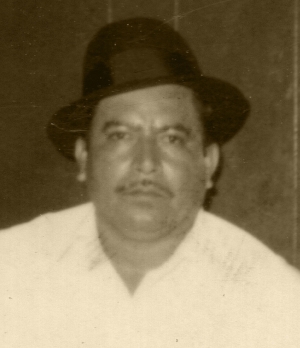 Marcial Lona Martinez (1928-2012)
Marcial Lona Martinez 84, passed away Tuesday, November 13, 2012. He was born October 23, 1928 in Brady, Texas. Marcial grew up in Mexico. When he was old enough, he left home to travel Mexico, before coming back to the U.S. He worked as a farm laborer for over 30 years. Marcial traveled California where there was work. While doing that, he met the love of his life Maria Patino. Together they had three children: Francisco, Rita and Leticia. They settled in Santa Paula to raise their family. Marcial loved to have a good time surrounded by friends and family with lots of food and beer. He loved to watch baseball, especially the Dodgers. He would watch baseball games on two TV sets while listening to Jaime Jarrin on the radio announcing the games in Spanish. He loved to read his newspaper, La Opinion. Every day and night he would read his Bible and prayers.
Marcial is survived by his loving wife of 45 years Maria Martinez from Santa Paula Ca., Daughter's Rita Avila (Raymond Avila Jr.) of Piru, Leticia Martinez of Santa Paula, stepsons: Antonio Castillo (Estella) of Avenal, Jose Castillo (Felicitas) of Bakersfield, his surrogate son Emilio Jacinto (Tona) of Santa Paula. Grandchildren: Elisha (La Reina), Vanessa, Thalia, and Sofia Avila of Piru. Andrew Martinez, Debra, Selena, and Gabriel Duenas of Santa Paula, and many step-grandchildren.
Marcial is preceded in death by his father and mother, son Francisco Martinez and granddaughter Jessica Avila.
A Memorial service will be held Friday, November 23, 2012 at San Salvador Church in Piru Ca. at 6:00 p.m.