Obituary
Lupe G. Alcozar (1928-2022)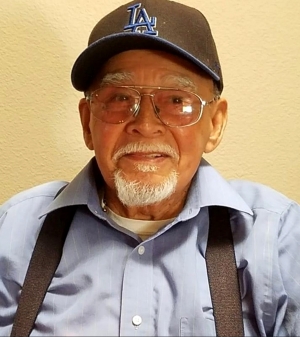 Lupe G. Alcozar (1928-2022)
Lupe G. Alcozar born March 1st 1928 on Camulos Ranch. He passed suddenly on November 25th 2022.
Lupe lived a humbled full life to the age of 94 years old. He was a lifelong resident of Piru. He served in the United States Air Force for 4 years and rose to the rank of Staff Sergeant a very proud American. Later Lupe was employed with General Motors where he worked for 36 years, after retiring he kept busy working on yard projects. He really enjoyed family get togethers and his favorite pastimes were listening to Big Band music "Tommy Dorsey" he also enjoyed watching Boxing but he was a True Blue Avid Dodger fan…. Go Dodgers!!!
Lupe is survived by his daughter Genevieve (Sam), Sons Danny (Nelfa), Richard (Debbie), 10 Grandchildren, 24 Great Grandchildren, 12 Great Great Grandchildren. He was preceded in death by his wife Lola, Sons Ronnie Sr, Greg Sr, Grandson Greg Jr.
Services will begin at 8:30a.m. on Saturday, December 17th, 2022 at San Salvador Church, 4045 Center Street, Piru CA 93040. Internment to follow at Piru Cemetery, 3956 Center Street, Piru CA 93040. To sign the family's online guest book please visit our website: www.santapaulafuneralhome.com and locate Lupe's name in "Recent Obituaries. Funeral arrangements are under the direction of the Family Owner & Operated Robert Rey Garcia Jr. Funeral Services, Santa Paula, Ca 805.229.7054.