Obituary
Louise Henderson (1927-2014)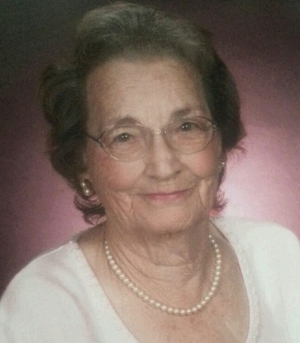 Louise Henderson (1927-2014)
January 17, 1927-May 30, 2014
Louise was born on January 17, 1927, in Biggers Arkansas to Arthur and Flora Johnson. Louise married Clarence Henderson Jr. on August 21, 1946 and shortly after moved to Fillmore. Louise and Clarence had five children. She worked for Fillmore-Piru Citrus Association for over 45 years, retiring in 1986. After retirement Louise worked as a Care Giver for the elderly for several years. She was an active member of the Fillmore and Santa Paula Church of Christ. Louise loved spending time with her family. Her favorite family time was making large dinners or as she called them "suppers", and having everyone over to visit especially after Sunday church. Her meals were always made with love. Her family's favorites were her biscuits and gravy and homemade lemon meringue, coconut and chocolate cream pies. Louise also loved spending time with her best friend Maudie Perkins as well as attending annual family reunions in Maynard, Arkansas. She always had a desire to move back to her home state as she loved living in the country. She also enjoyed traveling across the East visiting many places. She loved listening and singing to church hymns and country music, enjoyed gardening, collecting spoons and writing letters to her friends near and far. If you stopped by for a quick moment you needed to plan on having a glass of ice tea and sitting down for visit with her.
Louise left us on May 30, 2014 with her family by her side. She is preceded in death by parents, Arthur and Flora Johnson, brothers Jess and Jack Johnson, Sisters Joanne Garner and Mary Brockus, husband Clarence Henderson, beloved son Larry Henderson, daughter Linda Henderson and grandson Michael Henderson. Louise is survived by her daughters, Pamela Preciado, Donna Mackey and Regina Barragan, 12 grandchildren, 20 great grandchildren and 18 nieces and nephews.
Viewing is scheduled for Thursday, June 5 4:00-8:00pm and Services on Friday 11:00am at Skillin-Carroll Mortuary in Fillmore. Graveside service will immediately follow at Bardsdale Cemetery. Reception will be held at Fillmore Church of Christ following Graveside Services.