Obituary
Louis R. Gabrielsen (1913-2012)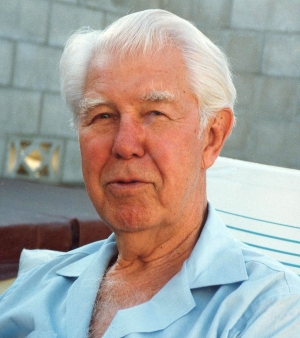 Louis R. Gabrielsen (1913-2012)
Private family services paid tribute to the life of long-time county resident, Louis R. Gabrielsen, 98, who peacefully passed away April 4, 2012 at his beloved SaraLou Ranch between Fillmore and Santa Paula.
With him at his death were daughters Patricia Mann Alto and Terri Mann Schaeffer and her husband Douglas Schaeffer of Cincinnati, Ohio.
Known locally by nicknames Lou or Gabe, Mr. Gabrielsen was the only child of Norwegian immigrants, Louis Sebinius and Olava Ellingsen Gabrielsen.
When he was born, July 18, 1913, his parents were visiting friends in New Jersey and in order to earn funds to get his wife and son out of the hospital and return to their home in Philadelphia, Gabe's father went out fishing.
When he was 9, the Gabrielsen family made the cross-country train ride to San Diego, where his father worked on many projects as a machinist, including Lindbergh's The Spirit of St. Louis". Gabe could dearly remember clearly incidents from both World War I and the Spanish flu epidemic of 1918.
Mr. Gabrielsen was involved in various youth military groups and was in the ROTC at San Diego High School from which he was graduated in 1931. After a stint in business school, he had a variety of jobs including one working as an auditor on the Oakland-San Francisco Bay Bridge construction. Late in the 1930's he owned and operated a small hotel in San Diego, but that ended December 8, 1941 when he enlisted in the US Navy, where he served as a store master on various ships in the South Pacific until the end of the war. During his Navy service he won several fleet boxing championships.
In 1946 He came to Ventura County to look for work in the oilfields, but by 1947 he was working as a public accountant. He continued his practice until blindness forced him to close his practice in Fillmore in 1993.
On August 16, 1958 he married Sara Bjornson and they moved to the ranch Easter Weekend 1961. "Sally" worked as a school nurse and together had a fascinating life travelling and associating with their many local friends as well as new people they met on their trips.
Mr. Gabrielsen was a life-long hunter and fisherman who tracked after various fish and game in places as diverse as New Zealand, Chile and Norway. He was a Dodger fan from way before they moved to LA and looked forward to baseball season all year. He loved growing things, particularly roses and tomatoes, and his noted cooking skills were donated to a variety of organizations. One of his favorite activities was working with the Sheriff's mounted rescue posse and was involved in rescues both up the Seeps and off the beaches.
An involved member of both the local community and of professional organizations, he belonged to Fillmore Rotary Club, the Fillmore Club and served on various charitable committees. He was active in California Accountants' Association, serving in state-wide offices. At one time he was on the state board of accountancy.
After joining the Masonic movement at age of 21, he was involved in various aspects of Masonry until his death. He was a member of Al Malikah Shrine and of the Scottish Rite. Honored with the Hirum Award for service above the call of duty, he also received the thirty third, or highest degree of Masonry. Two years ago the State Grand Master honored him with a 75-year pin.
As well as through Shriner's efforts for crippled and burned childrens' hospitals, his philanthropy extended to many groups as well as to private people, many times anonymously. The day one of his step-daughters first met him, she was with her mom at Ipswich's Fillmore Boater. As they waited a man came out of the back of the store and left. Jack lpswich turned and told Sally that man was Lou Gabrielsen and he had a standing order that when children were noted to be ill-shod, the schools were see they got shoes and Gabe paid for them.
Early in his life Louis Gabrielsen vowed that if he ever had anything he would share it with others.
Surviving him are his daughters and grandchildren Tricia Mason of Bountiful, Utah, Tracie Pierce, of Baltimore, Hayward Alto of Chisinau, Moldova, Garrett Alto of Ukiah. Bryan Schaeffer of Tallahassee, Florida, Kristian Alto of Ukiah, Heidi Clark of Dayton, Ohio, Kelly Bullock of Lehi, Utah, and Annmarie Clark of American Fork, Utah, as well as 16 great-grandchildren.