Obituary
Louis Kelton Lovelace (1934-2022)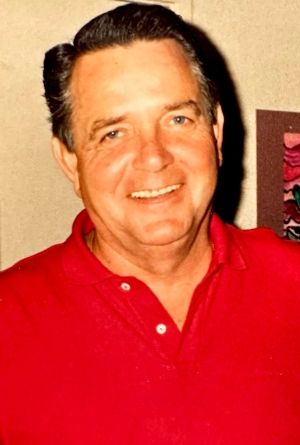 Louis Kelton Lovelace (1934-2022)
Louis Kelton Lovelace, 88, of Fillmore, CA. passed away on December 2nd 2022 after a brief illness. Born on January 29th, 1934 to Dewey Kelly Lovelace and Gladys (McGariety) Lovelace. He was the 6th in line of 8 siblings. Louis was the last living member of his family. His parents, grandparents, 3 brothers and 4 sisters all preceded him in death.
Many stories have been told of his childhood growing up in the countryside of West Tennessee. While visiting family in Memphis, he would often meet-up with Elvis Presley through his childhood and into adulthood. He attended grade school in a two-room schoolhouse; he proudly called "Gaines University." Entering High School, he was very active in baseball and had scouts watching him for a possible pro career.
At the age of 17, he enlisted in the Navy and after basic training he was stationed in San Diego to begin his Navy career. From there, he was transferred to Port Hueneme and appointed to the USS Norton Sound - noted for being the first guided-missile ship in the Navy. Being an experimental ship, he spoke of many exciting experiences while onboard. Many of the rockets and missiles tested from this ship are now on display at the Kennedy Space Center.
While stationed at Port Hueneme, he spent much of his spare time at the skating rink in Ventura. It was there that he literally "fell" over a pretty girl while skating backwards. A friendship developed which resulted in marriage. Louis and Sandra Voorhies were married in 1952. Until his discharge, they remained living in Ventura County.
During his enlistment, he was trained to be a Barber and became the Ship-Captain's personal Barber. Upon his discharge, he continued with his Barbering skills and became a Master Barber. He was in great demand for his flat-top cuts.
In 1954, a son Louis Timothy was born and the young couple decided to move back to Tennessee. A daughter, Cynthia Ann was welcomed into the family shortly after. It was also around this time that California was calling them to return, so they journeyed back. While living in Taft, CA. for a short period of time, he helped establish a Barber College in Bakersfield, CA. He eventually settled in Fillmore, CA. and continued Barbering at The Poplar Barber Shop. This was a special meeting-place with Louis and his co-partner Olen Core, becoming the very best of friends.
In 1964, Louis & Sandra welcomed another son, Kelly Lee. Sandra sadly passed away in 1989 and Kelly tragically passed in 2006. Louis and Sandra were married for 34 years.
In the early 1970's, Louis decided to make a career change and became employed at A&F Testing Company, as a salesman for the company. He remained in this field until 1991 when he went into semi-retirement.
It was also in 1991 that he asked a friend, Gertrude Thompson out to lunch on a Sunday afternoon. She said, "Yes" and they were a couple from then on. They were married on June 1st of that same year. They shared 31 years of marriage.
Upon full retirement, Louis became involved with Elkins Ranch Golf Course. He was a Marshall there for over 20 years. In his younger years, he became a very accomplished golfer and enjoyed a game of golf with friends, family and especially his wife Gertrude.
In the late 1990's a van conversion was purchased and Louis & Gertrude began their travels. Every state was visited including a trip to Alaska and several vacations in Hawaii.
At home and while on their many years of travel, trails were hiked, paths were walked and sidewalks trod. Many pairs of shoes became very worn. The couple was always recognized and greeted by friends and neighbors while taking their daily walks, which would often surpass 6 miles a day, in their Fillmore neighborhood.
Louis is survived by his wife Gertrude, his son Tim (Julie) Lovelace and daughter Cynthia (Paul) Vaiz. Grandsons Michael (Erashel) Vaiz, Richard (Michelle) Vaiz, Granddaughters Rachel (Danny) Jones and Nicole Lovelace.
Louis' Great Grandchildren are Sandra Vaiz, Sophia Vaiz and Jersey & Hailey Jones.
Through marriage, Louis had 14 Grand and Great-Grand children with 2 more on the way.
Louis had an inherited family through his marriage to Gertrude. Children Robert (Debbie) Thompson, Rosemary (Robert) Flory, Richard (deceased) and Deborah Thompson. 9 Grandchildren, 16 Great Grandchildren and 6 Great-Great Grandchildren.
Graveside services are scheduled for Wednesday, December 14th at 11am, at Bardsdale Cemetery. Reception following at Britt Park in Piru, CA.
In lieu of flowers, contributions may be made in Louis' memory to the Fillmore Athletic Boosters Club. He was instrumental in getting this organization established at Fillmore High School.