Obituary
Lorraine M. McKinnon (1936-2021)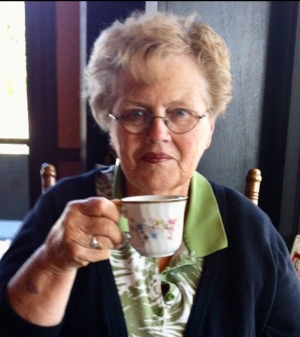 Lorraine M. McKinnon (1936-2021)
Lorraine M McKinnon loving Mother, Grandmother and Great-grandmother. Passed away peacefully to enter her eternal life on Friday, February 12, 2021. She is preceded in death by her loving husband of 65 years John J McKinnon. Their anniversary is February 20, 2021. Lorraine was born in Dorchester MA to Catherine and Joseph Groezinger. Granddaughter of Daniel Burke and Mary Ida Mullin. Niece of Eleanor Mullin (Narnie) Sister of Barbra Averill. Mother of Joanne Peddell, John McKinnon, Catherine McKinnon ,Eleanor Davison, Arlene McKinnon ,Stephen McKinnon, Lauren Vigil. Grandmother of 17. Great-grandmother of 24. Lorraine (AKA) Mum, Mommy, Grandma, Rainie was one of the strongest women you would ever meet. She faced many challenges early in life. Later after Dad passed her health became compromised. She never lost her faith and belief that her and Dad would be together forever.
Every one that knows her will not forget her dedication to family, friends, baking, genealogy scriptures and of course Church. Lorraine was a faithful member of the Church of Jesus Christ of Latter-Day Saints. She loved her community. She enjoyed her many callings throughout the years and especially Sunday School and seminary. Most of all she loved her family. Holidays, gatherings, time spent together, and conversations when we were on the phone. They usually started with Hi honey or your name then ended with I love you, talk to you soon. She even learned to FaceTime so she could see could share stories. We are all Grateful, Thankful and Blessed to have you in our lives.
Forever in our hearts .Watching over us with Dad.