Obituary
Lola May Hurley (1937-2012)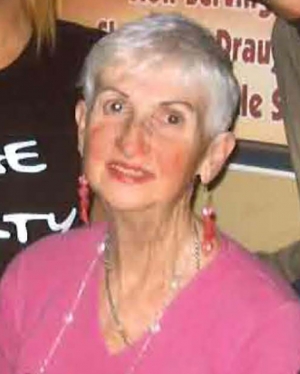 Lola May Hurley (1937-2012)
On November 18, 2012, the heavens gained an angel with the passing of our beautiful Mom, Gramma, Great Gramma, and Dear Friend, Lola May Hurley. Mom passed away peacefully with her children, Barbi Rice and Les Winget, by her side, and with Adam and Lisa Hurley with her in their thoughts. Mom's love and spirit will live on in grandchildren, Jimmy Rice (Brandi), Danielle Ruiz (Gerry), Corina Rice (Michael Park), Nikki Winget, Nicholas and Jasmine Hurley, as well as her great grandchildren, James and Andrew Rice, Benjamin and Luciana Ruiz. Lola's partner in life, Bob Hurley, passed in June, 2001. Mom's loss will be dearly felt by her lifetime friends, Bea Summers and Pat Walsh.
Lola May Burson was born March 5, 1937 to Lesley and Florence Burson. Mom was always proud of growing up in Fillmore. The generations continue the legacy of having Grandchildren who are 5th generation Ventura County natives.
Mom graduated from Fillmore High School in 1954, and attended 50+ year reunions. She was a bookkeeper all her working life, starting at Wm. L. Morris Chevrolet, and retiring from Child Development Resources. As a survivor of breast cancer, she gave of herself by working for many years with the American Cancer Society, where she touched the lives of so many. She also volunteered for many years with the Braille Institute of Ventura. She was an active participant in the Parkinson's and Alzheimer's support groups. Lola was a member of the Ventura Moose lodge, and a proud 50+ year member of the Order of the Eastern Star, as well as a Past Honored Queen of Job's Daughters.
Mom was the most positive, tolerant person I know, always finding something in a situation to be grateful for. She taught me to be strong, and to celebrate life. She never wanted a sad, serious memorial, so a celebration of Mom's life will be held on Saturday, December 1, 2012 @ 3:00 PM and a second celebration will be held Saturday, December 8, 2012 at her home, 6020 Fremont Street, Ventura. Please share your memories of her spirit and love by joining us for a potluck – please bring your favorite dish or one that you made for Mom. If you would like to contact me, please email at lives2dance@msn.com or 805-798-2814.
Flowers will fade, but a donation to the American Cancer Society will honor Lola's life.