Obituary
Lois Emma Hannah King (1919-2013)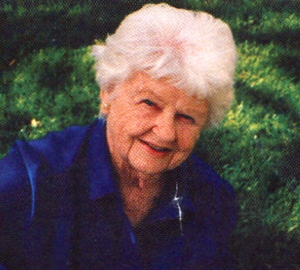 Lois Emma Hannah King (1919-2013)
Lois Emma Hannah King, of Fillmore, passed away Saturday, August 24.
She was born to Roy and Sarah Emma Hannah in Oneida, Idaho on April 26, 1919. Lois was the third of four daughters. The family moved to California when she was a toddler. The girls were raised in Culver City, California. Lois met Charles King while in High School. She graduated from Venice High School in 1937, and they married soon after. They had a two year hiatus during World War 2 while Charles served in the Army, travelling to Arkansas. Lois and Charles settled in the San Fernando Valley, where Lois earned her Bachelor Degree at Cal State Northridge in 1959.
Charles and Lois raised three children: Carolyn King McAdam, Charles Burton King Jr., and Robert King. The family enjoyed all types of activities including camping, swimming, Church, music lessons, and travelling.
Lois loved teaching. She taught primary grades for 10-years before retiring. Lois was a faithful Sunday school teacher for decades. After retiring, Lois and Charles moved to Fillmore, where they started the "Joy" Clubs for children in Fillmore and Piru. They were involved in Church, Sunday school, Mission trips, convalescent home, and prison ministries. Lois was a wonderful piano player and loved to play the organ and piano at Church. She also did substitute teaching for Ventura and Fillmore School Districts.
Lois and Charles built their dream house on Foothill Drive where they enjoyed the views of the Santa Clara Valley. Lois had 20 years of wonderful memories at the home. She loved gardening, having parties, sewing and quilting. Lois and Charles travelled, around the United States, Mexico, Canada and their dream trip around the world. She spent time with their grandchildren, camped, and fished.
After Charles passed away in 1992, Lois moved to El Dorado Estates. She loved the social actMties, gardening and swimming at the mobile home park. Because of her outgoing, fun-loving personality, Lois had many friends. More recently, she resided at Orange Blossom Senior Apartments, then Fillmore Convalescent Center. Lois will be greatly missed by her many friends, her three children and their spouses, her eight grandchildren and their spouses, twelve great grandchildren and one great great grandchild.
A memorial service will be held Saturday, August 31 at 11:00am at Skillin-Carroll Mortuary, 600 Central
Aye, Fillmore CA 93015 (805) 524-0744. A reception will be held afterward at Fillmore Senior Center,
535 Santa Clara Aye, Fillmore CA 93015.