Letters to the Editor
June 4th, 2009
To the Editor:
Brooks said "I have come with a sword. I have come to create division".
It appears that the sword that Mr. Brooks wanted to yield to slash city management salaries and to rid Fillmore of out of town city management employees, has stabbed him in his hindquarters.
My review of the cost (as best I can estimate from available city documents…more about this later) and home residence of city management employees yields the following comparison: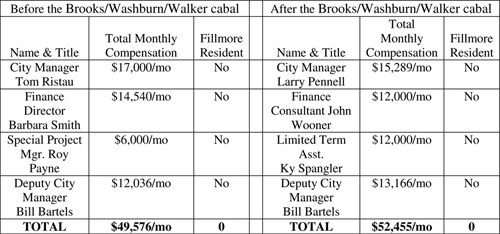 So through the efforts of the Brooks/Washburn/Walker cabal, the costs of top city management employees has increased by $2,879/month and the number of top city management employees now residing in the City of Fillmore is still zero.
Walker says that "existing staff members have stepped up to fill these positions and keep the city running smoothly during this transition". Ms. Walker how can it be true that existing staff members are filling these positions when you have hired an interim city manager from Wasco, a finance consultant from Wasco and a limited term assistant to Mr. Bartels to fill the vacated positions?
I would also like to discuss the apparent lack of transparency at Fillmore City Hall and the failure by the City Council to properly oversee the actions and representations that have been made to them, but will do that another time.
Roy Payne
Fillmore City Manager (1989-2005)
To the Editor:
For many years Martin Farrell, publisher of The Fillmore Gazette, has tried to affect outcomes at City Hall by using personal attacks and outright lies against those in opposition to his agenda. He carries out his mean-spirited assaults with utter disregard for the harm he may bring upon his victims and their families. He knows no limits. Most folks when voicing disagreement with others at least make an effort to be truthful, respectful, focused on the issues and civil, but not Farrell.
His latest target is Bill Bartels. Not one thing Farrell claimed or inferred about him is true. Bartels' only position on the North Fillmore plan was to professionally do the job he was tasked to do. Bartels is not associated with any political group that opposed that plan. There is no correlation between the jobs that Roy Payne contracted to do, that are now performed by Ky Spangler (at $25 less per hour than we paid Payne), and Bartels job.
Mr. Farrell, owning a newspaper doesn't give you license to harm people or use your position as publisher of the only print newspaper in Fillmore to damage our city's image with your contentious bullying falsehoods. Your opinions, on the other hand, are invaluable and welcomed and when made in a civil and honest manner and considered with all others will contribute mightily to the overall good of our city.
Bob Stroh
Fillmore
To the Editor:
On May 18 a traffic collision occurred on S.R. 126 (Ventura St.) at Central Avenue in which a Ventura County Sheriffs motorcycle deputy received minor injuries when his motorcycle was struck by a vehicle in the intersection. Not being involved in the investigation, I don't know who was at fault or what mitigating factors came into play. However the accident prompted me to explore a concern I've had about that intersection for years. I believe the intersection is hazardous, even with the current signal system. I have long held the opinion that there should be left turn arrows granting the right of way for left turning vehicles on 126.
I have no statistics on the accident history of the intersection but I've observed conditions there first hand for years. Some west bound drivers on S.R. 126 approach the intersection at highway speeds of 55 MPH or more, ignoring the speed limit signs on the east side of town and, presumably, believing they're still on a rural highway, creating a hazard for left turning vehicles. The roadways are wide at this intersection and pedestrians (which abound in Fillmore) add to the difficulty by forcing left turning drivers to heed not only on-coming traffic but the peds also as they cross the street.
I believe the solution would be to install a left turn only arrow to the signals at this intersection, without a "Left Turn Yield On Green" phase. Maybe a left turn only arrow wouldn't have prevented the collision that injured the deputy, but it would surely decrease the hazard to left turning vehicles. The deputies are doing their jobs. They can be seen almost daily making traffic stops, proof that there is no shortage of violations on Ventura Street.
There are left turn arrows at Ventura St. and Rt. 23. Why not Ventura St. and Central Avenue
I urge the installation of left turn only arrows for 126 traffic at this intersection.
Matt DeMarco,
Fillmore
To the Editor:
To: All supporters of Fillmore Boys Volleyball
I want to thank all the following people who have made a difference with their support of time, money, and many other things. With your help the young men consisting of Nathan, Gera, Miguel, James, Chris, Erik, Noah, and Vince were able to win co-champions of the Condor League in their first full season of boys volleyball.
A special thank you to Martin and Susan with the Fillmore Gazzette for promoting the team in so many ways. To all the people that helped put on the spike-a-thon that raised over $1,000.00 dollars. The following donated money so our young men could be good representatives for Fillmore; Fillmore Soroptimist Internationl, Marge Aguirre, Norma Sanford, Mrs. Flores, Fillmore boys volleyball family, and Lani Farr. A special thanks to coach Drew Ferguson and Andy Aguirre that worked so hard to train these special young men, and the young ladies that kept the stats. A special thanks to Lynn Cole for all your time and patience.
Coach Joe Woods
Fillmore Boys Volleyball
To the Editor:
I believe in giving a compliment when one is due. The Fillmore/Bardsdale cemetery is looking as nice as I have ever seen it, if not better. Last year it was pretty torn up from installing a new irrigation system. It looked so bad that I was ashamed to send pictures to my relatives of the decorated graves; so much so that I sent them pictures of the year before. I was proud to send them pictures that I took this year. My family and I thank those involved for such a fine resting place for those that have gone before us.
John Heilman
74 year native.