Obituary
Letitia Leonard "Tisha" Harz (1908-2014)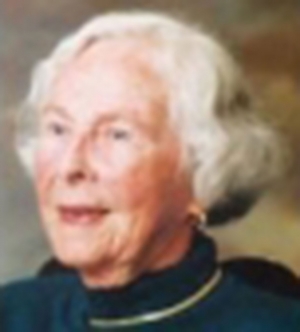 Letitia Leonard "Tisha" Harz (1908-2014)
Of Santa Barbara died February 25, 2014, "young at heart," one month shy of her 106th birthday. Tisha was born March 23, 1908, in Oxnard, California. She was the daughter of James Leonard and Sarah Ellen McGrath, both of pioneer Ventura County families.
Tisha, grew up on an early California ranch. She went to school in a horse and buggy. She rode horse back along the Santa Clara and Ventura rivers and on the beach. She was famous for shooting three rabbits with one bullet. She remembered driving to Los Angeles to her orthodontist appoint- ments on a dirt road over the Conejo grade and waiting for the tides in order to travel the Rincon to Santa Barbara events at the Potter Hotel. She enjoyed camping in the Sespe and cooking her meals in the hot springs. She had vivid memories of the St. Francis Dam disaster and the Santa Barbara earthquake of 1925.
She was an adventurer. She was the first in her family to fly, at a Ventura County fair on her 12th birthday. Later, she would go for a glider ride in Santa Ynez at the age of 90. In the 1930's, she travelled by herself to South America, on Thomas Cook's first guided tour. While on an excursion of the the Chilean Lakes to Argentina, she and guide, Herbert J. Harz, became close. He proposed to her on Sugar Loaf Mountain in Rio de Janeiro.
Tisha was known by one of her cousins as "the fun one!" She loved climbing trees, skinny dipping, and teaching herself to drive a Model T. Her children remember her as always looking on the bright side of life and never complaining. She cherished Huell Houser's Califonia Gold TV program, Irish coffees, and her many friends and relatives. She had a strong faith in God and the afterlife and died with a radiant smile on her face.
She is survived by her children, Hermine (Gary) Gallup, Greta Howorth, and William (Joan) Harz, 6 grand children and 2 step grand children, and 10 great grand children.
The family wishes to thank Dr. Michael Bordofsky and his staff, the staff at Brandell Hall, Samarkand, and the Hospice nurses from SB VNA.
A Memorial Mass will be at Our Lady of Mt. Carmel Church, at 11 am Wednesday, March 19, 2014. Memorial donations may be made to Visiting Nurses and Hospice Care, and the Samarkand Benevolent Care Fund in Tisha's memory.
Arrangements Entrusted to Welch-Ryce-Haider Funeral Chapels.