Obituary
Lavonne Janet Deeter (1932-2013)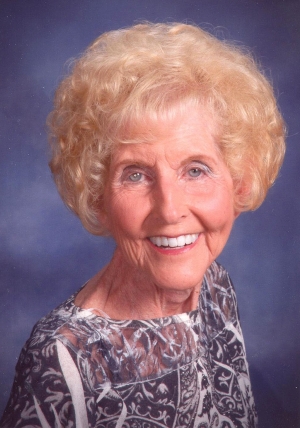 Lavonne Janet Deeter (1932-2013)
Lavonne Janet Deeter of Fillmore, passed away at home on January 3, 2013, after a prolonged illness.
Lavonne was born in Summers, Arkansas on October 11, 1932, to Lark and Winnie Whiteley, and was raised in Fillmore since the age of 6.
Lavonne graduated with honors from Fillmore High School in 1950. on February 3, 1951, she married the love of her life, Calvin Deeter, and together they raised two daughters, Debbie and Julie.
During the 1970/1971 school year, Suzanne Le (Lieng Le Phu), a foreign exchange student from South Vietnam, came to live with the Deeters. Suzanne continues to be a part of the family and resides in Toronto, Canada.
She worked at the Bank of America in both Fillmore and Ventura while Calvin was in Korea. Later she worked as a bookkeeper for an oil company in Fillmore. After the birth of their second daughter, she went back to work as an accountant for George Norman, CPA and Bob Russell, CPA in Santa Paula where she worked for many years before retiring in late 1994.
Lavonne was involved with the American Society of Women Accountants for many years, and after retiring volunteered at the Santa Paula Memorial Hospital. She was also a board member of the Fillmore Ebell Club and on the board of the Bardsdale Cemetery.
Lavonne grew up in the Fillmore Methodist Church, and after marrying Calvin was active throughout her life in the First Presbyterian Church of Fillmore, Fillmore Bible Church, Faith Community Church, and most recently the First Presbyterian Church of Santa Paula. She taught Sunday School for many years, was involved in Seafarers and Mariners, hosted many international students, and served on numerous committees and boards, as well as being a deacon over the years.
Lavonne loved the Lord and enjoyed water-skiing, camping, playing bridge, line dancing, traveling, entertaining, and caring for others.
Lavonne is proceeded in death by her parents: her daughter, Debra (Deeter) Patterson; her brother, Burlin Whiteley: and her great grandson Matthew Johnson. She is survived by her husband Calvin, daughter Julie (Deeter) Hackney, her brother Ronnel Whiteley (wife Judith), son-in-law James Brian Patterson. Grandchildren: Charity (Patterson) Chapman (husband Jason), Rebecca (Patterson) Johnson (husband Daniel), Caleb Hackney and Ethan Hackney, sic great grandchildren, and numerous cousins, nieces and nephews.
A memorial service will be held to celebrate her life on Saturday, January 26, 2013, at 11 a.m. at the Faith Community Church at 461 Central Ave in Fillmore. In lieu of flowers, donations may be made to your favorite charity or American Cancer Society.