Obituary
Larry Jack Cassidy (1981-2022)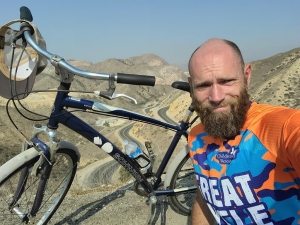 Larry Jack Cassidy (1981-2022)
Lifelong resident of Fillmore, Larry Jack Cassidy, sadly passed away on July 12, 2022, at the young age of 40. He was born on July 20, 1981. He graduated from Fillmore High School in 1999. He is survived by his parents, Janna and Kelly Cassidy, his siblings, Lacey Hinson and Cody Gilbert Cassidy, and his 10 year old son, Larson Komatsubara Cassidy, as well as other extended family.
He was a wonderful father, a fun uncle, and a well-loved member of the community here in Fillmore. For many years, he participated in The Great Cycle Challenge to raise money for children's cancer research as well as the Walk to End Alzheimer's. He was often seen pedaling his bike all over town in his efforts to raise as much money as possible each year. It was so commendable.
Larry was kind, generous, creative, and had a great sense of humor. He had a very big heart. He had a gentle sensitive spirit. He loved nature and spending time outdoors hiking, riding his bike, and hunting for cool rocks. He was an animal lover who always had several rescued pets. He was a collector of many things including comic books, rocks and Legos.
If you were lucky enough to have known Larry, you understand this loss is huge. If you never knew Larry, you missed out on a special person who we will all miss dearly. He touched this earth and left an imprint. Larry will be buried at the Bardsdale Cemetery alongside his grandparents, Larry and Jacqueline Cassidy. The funeral will be held Friday, August 5th at 10am.