Obituary
LaRoyce Simpson Hicks (1929-2022)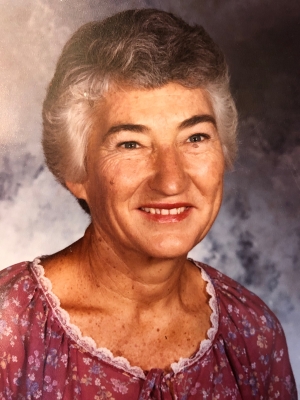 LaRoyce Simpson Hicks (1929-2022)
LaRoyceUgene Simpson opened her eyes to the light of the world on November 12, 1929. LaRoyce Simpson Hicks opened her eyes to the light of Heaven on July 1, 2022, joining her husband, family, and friends who went before.
After growing up during the Depression and WWII, she began a life teaching in public school in 1951. On her very first day, she lit the kitchen incinerator in her kitchen in her newlyweds' apartment, blowing trash all over the ceiling, wall, and her new dress. Sigh…
In 1950 or thereabouts, she met this guy with flaming red hair, on a blind date arranged by a friend, and decided there and then that he was "The One." Proudly, she cooked "40 Clove Chicken" early on in their marriage, although she thought a "clove of garlic" was the whole thing. The neighborhood enjoyed the redolence of garlic for days…
She LOVED teaching and was good it. In addition to her public school work, she also taught Sunday School and an afternoon program called Good News Club.
A devout Christian her entire life, she taught Good News Club, Mailbox Club, and the adult-oriented Crossroads Prison Ministry all her life. She traveled the world after being widowed, as far away as Thailand and West Africa, in her service to others.
When encroaching age left her unable to travel physically, she doubled down on her written and correspondence work, becoming active in the Wycliffe Bible Translating Society, assisting in many areas.
She was also widely known for her total love of working in her gardens and orchards, running an adorable stand called "Grandma's Garden" as many as THREE days a week!
This brief writing absolutely cannot express the sheer magnitude of a large life splendidly livedor convey the open-armed love with which she approached the world.
She leaves her three sons, Lloyd, Larry, and Lynn, her daughter-in-law Alicia, and her grandchildren Soleil and Freeman, along with too many other family and friends to county.
Rest in Power, Mom.
Memorial service will be held August 6th, from 12 noon to 3 p.m. at Faith Community Church, 355 D St., Fillmore, CA 93015.