Obituary
Kerry Weber Balden (1958-2012)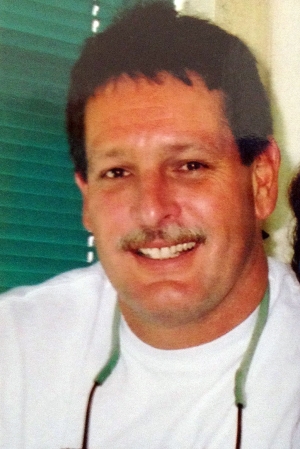 Kerry Weber Balden (1958-2012)
May 11, 1958-May 9, 2012
Kerry Weber Balden, 53, died May 9, 2012 in his home in Seabrook, TX. Mr. Balden was born in Santa Paula, CA to James and Patricia Wilson Balden. He was a graduate of Filmore High School, class of 1976. He and his siblings spent many happy weekend and summer visits at their grandparents' beach house in Mussel Shoals, CA.
As a young adult, Kerry worked in the maritime industry. Eventually he moved to Hawaii and worked as chief engineer for a firm in the Honolulu Harbor. While in Hawaii he met his wife Maureen Smith Balden. After marrying in Hawaii, the couple relocated and has lived in Seabrook, TX since 1992.
Kerry was an active member and volunteer at the Bay Area Club in League City and the Wheel House in Deer Park. He owned and operated Balden Construction during his Texas years.
Kerry was preceded in death by his mother and grandparents. He is survived by his wife Maureen, and two sons, Kerry James, 19, and Shea Evans, 16; his father James Evans Balden and stepmother Elaine Balden of Altadena, CA; his siblings Patrick, Laura Balden Clauson, Michael, Justine Blanton, Alana Balden and Skyla Balden; his numerous sisters and brothers-in-law, aunts, uncles, cousins, nieces, nephews, and too many friends to name.
In lieu of flowers, the family has established the Kerry Weber Balden Memorial "Fix-It" Fund to benefit ongoing building maintenance and lawn care at the Bay Area Club, as these were Kerry's weekly service project and his great passion. Donations to this fund may be sent directly by check to the Bay Area Club, 2111 Webster St. League City, TX 77573, specifying Kerry's name in the memo. Alternatively, donations may be made to the Wheelhouse, also dear to Kerry's heart, at www.thewheelhouseinc.com via PayPal, or mailed to 206 West Helgra St. Deer Park, TX 77536. Donations to either the BAC or the Wheelhouse are fully tax deductible.
Condolences may be sent to the Balden Family, PO Box 813, Seabrook, TX 77586.
Visitation will be held at Crowder Funeral Home at 111 E. Medical Center Blvd. Webster, TX 77598 from 5 – 7 PM Friday May 18th.
A funeral service will be held at Gateway Community Church at 760 Clear Lake City Blvd. Webster, TX at 5 PM Saturday May 19th. The 5 PM timing commemorates Kerry's daily attendance with Friends of Bill at the Live @ 5 Group.
Immediately following the service there will be a potluck reception at Gateway. Please bring a covered dish and a story.