Obituary
Kathryn Maxine Dodson McConnell Mowrey (1925-2014)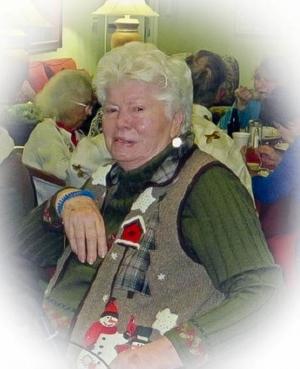 Kathryn Maxine Dodson McConnell Mowrey (1925-2014)
Kathryn Maxine Dodson McConnell Mowrey passed away peacefully on November 15th after a long illness. Several of her closest family members were able to be with her at the time.
She was born to Henry and Ethel (Germer) Dodson on October 18, 1925 in La Puente California. The family moved to Ventura California, where she grew up and attended high school.
In 1945 Kathryn met and married Frank (Mac) McConnell. They had three children: Rodney, Gregory, and Susan. During their marriage Frank worked as a Ventura County Deputy Sheriff, attaining the rank of Lieutenant. Frank passed away after a short illness in 1969.
Kathryn married James Robert Mowrey, Jr. on March 18, 1975 in Las Vegas, Nevada. They eventually settled in Yerington, Nevada. James served 20 years in the Navy. During World War II he served on the Destroyer USS Dunlap in the Pacific Campaign. After his Navy career he served on the support team for several flights of the Space Program.
Kathryn was a member of South Lyons Medical Auxiliary, the Rebekah Assembly, the Red Hat Society, the Yerington Toastmasters and of the Yerington Women's Club. Kathryn was passionate about scrapbooking, painting, traveling and being with her family.
In 2007 Kathryn and Jim moved to Hilltop Commons in Grass Valley to be close to family. Unfortunately, Jim passed away from cancer within several weeks of arriving in Grass Valley.
Kathryn was also preceded in death by by her son, Gregory Gene McConnell , 60, in 2009.
She is survived by her son, Rod McConnell and wife, Marjorie, of Nevada City; daughter Susan McConnell Moreno and her husband, Al, of Big Oak Valley; grandsons Mica Moreno of Pasadena, Casey Moreno and wife, Amanda, of Chico, and P. Alexander Brown of Eugene, OR; granddaughter, Gretchen Demko and husband, Andrew of Ranier, OR; great-granddaughters Isabelle of Chico, Kaitlynn and Paighton of Eugene, OR., and Lilia of Ranier, OR; and great-grandsons Hayden of Eugene, OR.,Logan of Chico, CA and Erickson and Caleb of Ranier, OR.
Kathryn said many times that the years spent at Hilltop were some of the happiest of her life. A gathering to celebrate her life will be held at Hilltop Common, 131 Eureka St., Grass Valley, on Sunday, November 24th at 1:30 PM.
Interment will be at Sacramento Valley National Cemetery at Dixon, CA.