Obituary
Josephine Alcantar (1923-2016)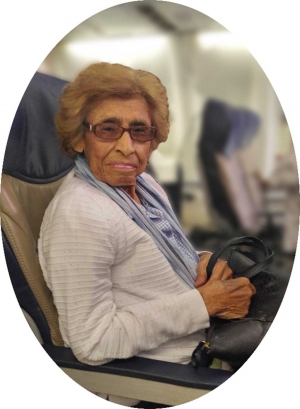 Josephine Alcantar (1923-2016)
Josephine Alcantar, 93, passed away on September 23rd 2016, at her home.
She was preceded by her father Lucio Molina and mother Lucia Molina, her sister Helen Rodriguez and great grandson Justin Torres. She was also preceded by her husband Julio B. Alcantar. They shared over 50 years of marriage.
Josephine was born in Piru California, February 7th, 1923.
She is survived by five children, fourteen grand children, 23 great grandchildren, one great great granddaughter and her sister Margaret Perez and numerous nieces and nephews.
She was a member of the Piru Catholic Church. For many years she worked at the Piru Packing House.
But Josephine was so much more then all of this. She was love, she was family, she was kindness,
she was generosity, she was fun and funny, as evidenced by how she was surrounded by family and friends.
You couldn't enter her home without her immediately following up the hellos with go eat, go eat, and offering you some of her famous papas with some of her even more famous chili. She liked camping and loved road trips and being the co-pilot. She loved birthday trips to Vegas. She especially enjoyed the Dodgers in person and on TV. Family was paramount to her. She raised and baby sat many if not most of her grandchildren while their parents had to work. When any of her adult children or grandchildren was sick Grandma was first on the scene. She would often crochet blankets for her grandchildren despite arthritis. Grandma was a lover of pets including cats, dogs, fish and birds, especially her beloved Chico and Rocky who would cuddle with her. Always ready for adventure, loved to laugh and have fun.
She touched so many life's, and did so in ways that may not always have been fully apprehended at the time, but never the less she did it so very well. She has in fact managed to so confer her special kind of love on all of us to such an extent that we are left feeling robbed as if a thief in the night stole something most precious. We call life a gift "the gift of life" so naturally when death takes a loved one away we feel robbed. Perhaps " a new lease on life " this is better way to regard our loss. Our heavenly Father only leases us our time here on earth before bringing us home to a fuller glory. Even so we feel a profound sense of loss, and aching. Being created in God's image, at our core we do not understand death as anything real, because in the heavenly realms and our redeemed futures there is no death, no sin, not even the the possibilities of such things. Right now that is where our beloved Mom / Grandma / Grandma Grandma/ Great Grandma / Great Great Grandma is. She is in the presence of our Lord Jesus. In these heavenly realms and in this we can and should rejoice. Even with all of this we will no doubt continue to struggle with our grief and this a testament to who Josephine "Grandma" Alcantar was and continues to be in hearts. We love you Grandma!!!!
The family wishes to thank all of our family and friends for their prayers and condolences.
A visitation will be held on Saturday, October 1st 2016 at 12:00pm with a rosary at 12:30pm followed with a Mass of Christian Burial at 1:00pm at San Salvador Catholic Church in Piru, CA. Interment will follow at Piru Cemetery in Piru, CA.
For map and directions to ceremony locations and to sign the family's online guestbook, share stories and post pictures please visit our website: www.garciamortuaryoxnard.com and click on Josephine's name located below "Recent Obituaries".
Funeral Arrangements are under the direction of the Family Owned and Operated ROBERT REY GARCIA JR FUNERAL SERVICES, Santa Paula, CA 93060. 805.229.7054
After the funeral the family will be celebrating the life of Josephine Alcantar at a Reception at Piru Catholic Church Patio area.