Obituary
John Albert Brothers (1924-2018)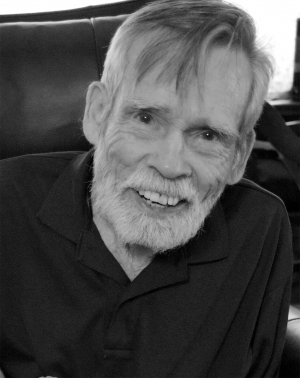 John Albert Brothers (1924-2018)
John was born in Muncie, Indiana. He spent his first years on a small family farm, a place he remembered fondly long after. When the family lost the farm in the Depression, his mother had to support four children through diverse odd jobs in town; her resourcefulness, hard work, and good humor provided the fundamental model for John's life.
John enlisted in the U.S. Navy in 1943, after high school, serving in the Philippines. The Navy indirectly shaped his later life in music and art: he sang in the Blue Jacket Choir at Great Lakes Training Camp and whiled away long duty hours as a pharmacist's mate drawing sketches in the official log book. His later decision to move to California may have stemmed from naval training in San Bernardino, where he was amazed to smell orange blossoms in winter.
After discharge, John majored in art and music at Ball State Teacher's College, in Indiana. Here he met fellow music major Myrtle Minneman, to whom he would be married for nearly 65 years. From Ball State, John took a job teaching high-school band in Alto, Texas, in 1951. Two years later, he moved to the low desert of California to teach band and chorus at Calipatria High School. By 1956, the family had added four sons. Facing this economic imperative, John moved to a better-paying job in Fillmore, once again among orange blossoms. At Fillmore High he switched to art, in effect becoming a one-man art department. This meant not only teaching but providing after-hours help for school plays, Christmas pageants, and proms.
Although both worked full time, John and Myrt developed an unusually rich family life. John led the Bardsdale Methodist Church choir for several decades—a choir noted for his imaginative selection of choral pieces. John formed a faculty barbershop octet, and he and Myrt gave two-piano concerts for local fund-raising efforts. Meanwhile, John continually painted, sketched, and sculpted for family and friends. Around Christmas and Easter, he created gifts for one and all, including Easter eggs painstakingly painted in miniature. In summer, the whole family always spent two weeks backpacking in the High Sierra. Here there was plenty of time to hike, read, sketch, and stalk the wily golden trout.
John and Myrt were always generous toward others, but they lived within their means, so that John was able to retire several years early. He launched an array of art and music projects: singing in the county master chorale, painting a mural for the Fillmore Museum, sketching a series of postcards for Rancho Camulos, acting in local plays, and traveling to Europe, Australia, New Zealand, and elsewhere.
John spent the last 15 years of his life battling muscular discoordination and speech impairment from a cerebral hemorrhage. While these limited him physically, they did not much dampen his spirits; he continued to view life around him with interest and a characteristically sardonic sense of humor until his last days.
John's wife Myrt passed away on April 23, 2013; he is survived by their four sons and families, including nine grandchildren and nine great-grandchildren.
A memorial service will be held at Bardsdale Methodist Church, 1498 Bardsdale Ave., at 10:00 a.m., July 7.