Obituary
Joe Luis Magallon (1949-2017)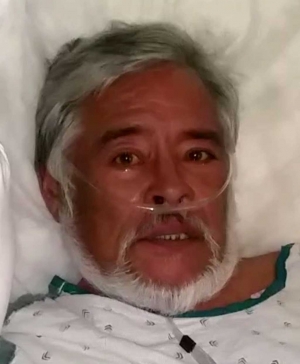 Joe Luis Magallon (1949-2017)
It is with heavy hearts and great sadness that we announce that our beloved Husband, Father, Grandfather, & Great-grandfather, JOE LUIS MAGALLON, was called home to be with the Lord at the age of 67. He fought a very lengthy fight with Pulmonary Hypertension and COPD. October 31, 2017, marked the 45th wedding anniversary for Joe and his wife Olivia. Unfortunately, he lost his battle and passed away that morning at home where he wanted to be with his loving wife by his side.
Joe is survived by his Wife Olivia Alcocer Magallon of Fillmore, CA; Sons, Joe Magallon (April), Johnny Magallon (Clarissa); Daughters, Crystal Montañez (Luis) and Arlene Hokafonu.
He will be dearly missed by his grandchildren; Shalyssa Magallon (Ty Casey), Alexandra Arteaga, Janessa Magallon, Jayleen Magallon, Joseph Magallon, Isiah Magallon, Jeremiah Magallon, Johnny Magallon, Jazzlynn Magallon, Jasiah Magallon, Jason Magallon, Jayden Magallon, Angel Heredia, Abreyana Molina, Angel Montañez, Amy Montañez, Abel Montañez, Alahni Montañez, Jonathan Allen, and Aurora Allen; Great- grandson Jordan Casey.
Joe also leaves behind his mother Elisa De La Rosa Magallon, Brothers, Ernie Magallon, Armando Magallon (Martina), and Pablo Magallon; Sisters, Margarita Byrami, Elisa Cassino, and Leticia Dickerson (Dennis), numerous nieces, nephews, cousins, and friends.
He is preceded in death by his Father, Pablo Magallon, Brother Ralph Magallon, Sisters Angelica Magallon, Rosie Magallon Sumner.
Joe was born on December 22, 1949, in San Fernando, California, to Elisa De La Rosa Magallon and Pablo Magallon. When Joe was 1 year old, his family had moved to Ocotlan, Jalisco, Mexico, where he was raised for the next 8 years. At 9 years old, Joe and his family returned to California and settled at the Old Rancho Sespe, where he grew up. Joe loved music and was a talented musician who played by ear. At 17 years old he joined a Mexican band named "Los Latinos" who's female vocalist was Alicia Juarez, who later became a famous Mexican singer. After leaving Los Latinos, he joined a few other groups playing gigs, parties, and weddings throughout Ventura County.
In October of 1973, Joe married his lovely wife Olivia Alcocer who was from Piru. Joe continued his music career until he became a Truck driver for the next 20 plus years. During his trucking career he worked for a few companies before settling with Carpinteria Motor Transport (CMT). Joe worked long hours days at a time, many times missing his family while on the road. On his days off he enjoyed taking his family on camping trips, fishing, boating. He volunteered coaching soccer and baseball when his sons were younger. When his daughter entered high school in the 90's, he would volunteer chaperoning events like her class car washes and school dances. Joe would try to be a part of his children's extracurricular activities when he could.
In December 2009, Joe was diagnosed with Pulmonary Hypertension at that time he was given two years to live. However, he was a fighter and was determined to prove the doctor wrong. Well he did! We were blessed to have him for the next 7.5 years. In that time, he was blessed to welcome 7 more grandchildren, 1great-grandson. January 2017, Joe's health started to slowly decline, yet he kept his sarcastic fighting spirit until the very end. We the family would like to thank Xavier Bobholz for being a great caregiver to our father. To Dad you weren't just his caregiver you were family. Each of us have numerous memories of Dad that we will forever hold close to our hearts.
The Rosary Service will be held on Thursday, November 30, 2017, at 7:00 pm at St. Francis of Assisi in Fillmore. Funeral Mass will be held on Friday, December 1, 2017, also at St. Francis of Assisi Church, 1048 W. Ventura St., Fillmore, CA. Burial will take place immediately thereafter at Bardsdale Cemetery, 1698 S. Sespe St., Fillmore, CA. A potluck reception will follow funeral services for family and friends located at the Youth Building BEHIND the Veterans Memorial building, 511 Second St., Fillmore.