Obituary
Jess Frias Leon (1942-2015)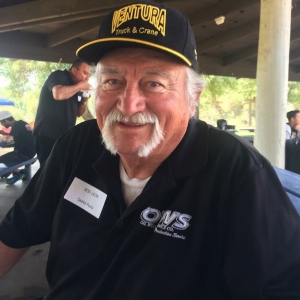 Jess Frias Leon (1942-2015)
Jess Frias Leon, born November 21, 1942, passed away unexpectedly on Sunday, August 30, 2015. Born in Fillmore, CA to Gabriel C. Leon and Nicolasa F. Leon, he was the youngest of six children. Jess graduated from Fillmore High School in 1961 where he was a star athlete excelling in football, basketball and track. He later used his talents to coach Pop Warner Football and the Cassidy Girls Softball and Bobby Sox leagues.
Jess's passions included working on cars and motorcycles. He spent his younger years racing his Chevy 409 Impala on the streets of Fillmore and Santa Paula. Always surrounded by his friends, he spent many years fishing Crowley Lake on Opening Day. With his family he spent as much time as possible camping and water skiing at lakes all over California. He enjoyed playing pool, collecting old coins and photography. Later in his life he could often be found at The Derby Club at Seaside Park betting on the horses, or alongside his beloved Cindy at Chumash Casino. Jess loved sight seeing and traveled to many places including Mexico where he traced his family roots. He cherished his time spent at many large family reunions where he was able to tell his many humorous stories of yesteryears.
Jess was known as one of the good ol boys in the oilfield business having worked in the field for fifty-two years. He worked offshore on most of the platforms off Southern California and drilled, completed, repaired and abandoned oil wells all over California and also in Bolivia and Argentina. Everywhere he worked he was respected and well liked. Jess had retired in December 2014 from Oilwell Services of Santa Paula.
Jess was preceded in death by his parents Gabriel and Nicolasa Leon, brothers Ralph and Elias, sister Helen Leon Canchola and granddaughter Amber Leon. He is survived by the love of his life, his companion for twenty-eight years, Cindy Wileman, sisters Eva (Angie) Diaz (Larry), Lupe Leon Ramos (Jack), children Kelly Gomez (Albert), Lisa Lopez, Kathy Leon, Jim Leon, Jeff Leon, Tina Cloninger (George), Kristina Leon, Terri Leon and Sonja Solis, 20 grandchildren and 21 great-grandchildren.
A viewing will be held on Wednesday, Sept. 9 from 4-8 pm with a rosary starting at 7 pm at Skillin-Carroll Mortuary, 600 Central Ave., Fillmore, CA. Mass will be held on Thursday, Sept. 10 at 10 am at St. Francis of Assisi Church, 1048 W. Ventura St., Fillmore with a graveside to follow at Bardsdale Cemetery, 1698 S. Sespe St., Fillmore, CA.