Obituary
Jerry Wayne Edmonds (1942-2022)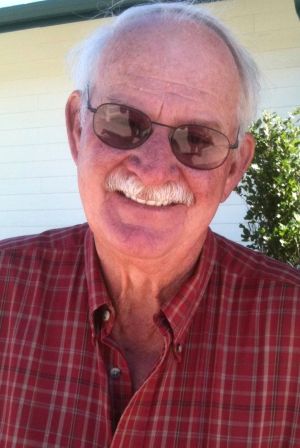 Jerry Wayne Edmonds (1942-2022)
Surrounded by his wife of almost 58 years, his two sons and his loyal dog Heidi, Jerry Edmonds graduated from this earth to his heavenly home on the evening of October 13th, the National Day of the Farmer. Born in Morris, Oklahoma he came to California at the age of 17 and found work in the citrus orchards. This was to become his life long occupation. Jerry began his own ranch management business along with mechanically hedging citrus trees and chopping brush in the area. At the same time he was the manager of Southside Improvement Company for the last 55 years supplying irrigation water to the ranchers in Bardsdale he recently retired on September 30th, 2022. As a jack of all trades, along with his wife and brother he owned and operated Edmonds Furniture during the 80's in downtown Fillmore. For over 10 years he traveled throughout Southern California picking up and delivering furniture and appliances to his customers.
During his life he was active with his kids sports teams coaching T-Ball and Farm League along with serving on the boards of Youth Football, Little League and the Fillmore Athletic Boosters Club. Jerry was also very active in the citrus industry serving on numerous boards over the years. In the community he loved being a member of the Piru Petroleum Club with his friends where many times a year he would help cook for Friday lunches and weekend parties.
He loved traveling and exploring the United States in his motorhome with his wife and made friends wherever he went. He never met a stranger and was always willing to give anyone who needed it a helping hand.
Jerry was preceded in death by his parents Harvey & Georgia Edmonds, his brothers Bill & Charles and great niece KaraBeth Whitney. He is survived by his wife Lynda, his sons Brian (Paula) and Brad (Ed), his four grandsons Taylor (Isabella), Evan (Maria), Hayden and Ryan, his great grandchildren Jaxon, Leni & Nico, his sister Pat Bun yard (Bob), his two aunts, Ray Stephenson (102) and Laverne Silvas, in addition to numerous nieces and nephews.
He will be remembered as a loving and generous husband, father, grandfather, great grandfather and a great friend to many.
The family would like to thank Drs. Nissen & Osipov of Cedars Sinai Hospital, Barbara and Angela of Hematology Oncology Specialist for their exceptional care over the past 4 years, Dr. Micah Dickey and Bristol Hospice.
A graveside service will be held on Friday, November 25th, 11AM at the Bardsdale Cemetery followed by his "Graduation Party" at the family home in Bardsdale.
In lieu of flowers donations may be made to: Pancreatic Cancer Action Network (PANCAN Purple Stride Walk Run) The Cedars-Sinai Whipplers Team Captain Nick Nissen at: pancan.org/site/TR/PurpleStride ; to the Light Fund for the "F", Fillmore Alumni Association, 555 Sespe Avenue, Fillmore, 93015 that Jerry started so the lights may continue to shine or the charity of your choice.