Obituary
Jerry G. Real (1957-2020)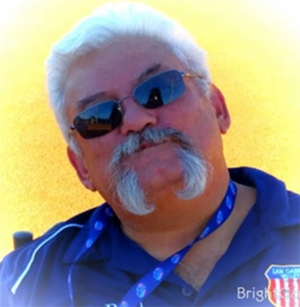 Jerry G. Real (1957-2020)
Jerry was born in Piru, California, the youngest of three children to Joe and Nadine Real. He attended Piru Elementary School, and Fillmore High School.
As a youngster, he was quite the trickster which always got him in trouble, but not of any real consequence. The family never knew he had done a little mischief until days or months later. But he was always a little workaholic. As soon as he could push a lawnmower, Jerry would take it up the street and mow just about every lawn on Church Street. He loved making money and always had just enough to buy candy in the local stores in Piru.
Once he was tall enough to drive, he'd sneak his brother's VW down the driveway in the middle of the night. Who knows when he returned to the chagrin of his brother who didn't have a clue, except that the gas tank was empty!
After High School he enlisted into the US Army for two years. Once completed, he was employed by General Telephone in Long Beach and the surrounding areas from 1979 until his retirement in 2011.
However, in February 1981 he married the love of his life, Sabina (aka Beanie) Lacotts. A year later, they had a son, Jerald Real. Soon after Jerald was born, they moved from Lakewood, CA to the City of Baldwin Park until Jerry's retirement. They settled down in Big River, Arizona where they enjoyed the sun, boating, jet skiing, fishing and entertaining all their family and friends.
But Jerry wasn't one to sit still. He revamped the local Food Bank with Beanie's help and not only organized them but moved them to a much better facility and took great care in delivering food items to those in need. He also worked for various companies with his skills of carpentry, electronics and his varied knowledge of just about everything. How? He just knew!
But he wasn't through yet. He became the Wild Quail Ambassador feeding at least 200 wild quail every night at dusk next door to their place in Az. Those quail came running down the street, across the road, through bushes and through various properties. They'd come to be fed by Jerry. He must have spent a bundle to feed those birds, but he got quite a kick when they'd show up. He' always say…"see they love me"!
Jerry and Beanie created a wonderful family together doting on their son through various athletic activities, and youth sports such as soccer, baseball and football all the way through to his years at Bishop Amat Catholic High School's Football Team, and the San Gabriel Valley Jr All American Football Conference. Throughout Jerald's involvement and beyond, Jerry and Beanie were supportive as coaches, running the snack bar and helping the youths that wouldn't normally be able to play.
Jerry dedicated approximately 25 years to the San Gabriel Valley Jr All American Football Conference and Cheer in a multitude of roles. He started with the Baldwin Park Road Runners in 1990 where he served as an AD. Jerry eventually became the City President for Baldwin Park, before joining the Conference Board in 1995 as the Conference VP. In 2000, Jerry took over the leadership of Conference and spent 15 years leading this organization. Jerry was truly dedicated to this program and to our youth. Jerry will be remembered for his early vision of player safety and engaging this program with USA Football for the betterment of our athletes. (Provided by the SGVJAAF Conference)
In addition to his role as President, he provided and coordinated yearly golf tournaments to provide additional income for the Conference. He always managed to bring in golf participants from all walks of life and even coerced past NFL players to come to the event and speak about the conference and their good works in providing not only guidance but safety to those young players. If you knew anything about Jerry, those he'd approach just couldn't say no to his request, since he was the total Negotiator. There were also various bus trips to Las Vegas to support the team. When you were around Jerry you never knew what to expect, except fun, adventure and pure entertainment!
His 2nd passion in life next to his family, were the Oakland, now Las Vegas Raiders. He was so obsessed with his team that just about everything he owned had a Raiders insignia on it. Once you stepped into his home, you knew you were in Raider territory. Often Jerry and Beanie would meet up with his sister at the Cardinals stadium in Glendale Arizona to watch the Cardinals play the Raiders. Although they cheered for opposite sides, they managed to sit together and heckle one another all through the game. Those were great moments to share even when one of the teams lost.
Sadly, Jerry leaves his wife Sabine, his Son Jerald (Julie) their two granddaughters Peyton and Kenzie, his sister Liz, (Wayne) and a multitude of cousins, friends and acquaintances.
Everyone who knew Jerry will be left with a heavy heart. However, it's comforting to know that he will never be forgotten for his crazy antics, his love of family and friends and the many he befriended in his short life.
WE LOVE YOU JERRY AND YOU WILL SURELY BE MISSED
Services for Jerry will take place on December 4, 2020 at 10:00 beginning with a Rosary followed by the Mass at San Salvador Catholic Church located at 4041 Center Street, Piru, CA in the patio behind the church. Unfortunately, due to the pandemic no reception will be held. Interment will follow at the Piru Cemetery located at 3580 Center Street, Piru, CA. Masks will be required.
Since Jerry was such an avid fan of the LV Raiders, we're asking that participants wear their Raider gear if possible for Jerry – he'd really like that!