Obituary
Janet Addison Cox (1923-2016)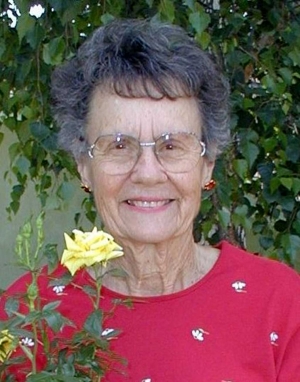 Janet Addison Cox (1923-2016)
Janet Addison Cox died peacefully on November 22, 2016. She was 93 years old.
To describe her life, family members and her large circle of close friends would certainly say she was a happy and friendly lady with a fine family and that she always enjoyed life to the fullest. Her husband, Donald Cox was always the center of her life.
By her faith in God she will move on to life everlasting and now be with her loving husband, Don. This alone gives us, her family and friends, a feeling of peace.
Her family was among the original settlers in Fillmore. Her grandfather B.F. Deardorff arrived in Fillmore in 1892. Her mother, Stella Deardorff married R. A Fremlin in 1907. Janet was the youngest of five children, and was born in Fillmore on November 7, 1923. Her brothers and sisters were Vera Fremlin, Guy Fremlin, Lois Fremlin Moore, and Ray Fremlin. After graduating from Fillmore High School , she attended University of Southern California, then Whittier College.
In 1943 Janet and Donald Cox married, and moved with the US Navy to Key West, Florida. After World War II, they returned to Fillmore, where they raised two boys: Bob and Gary. Janet was an active and capable mother who had no problem keeping up with the family every summer on weeks long pack trips to the High Sierra back country. Optimistic and independent, she accomplished most everything she set her mind to. Among her favorite past times were the game of golf, gardening and traveling. Throughout mid-life she won many golf tournaments, traveled extensively throughout the UK and the US, and enjoyed tending to her cherished roses and colorful yard. She loved attending the Methodist Church and socializing with its members. As she became older, her church friends were so helpful in assisting her in getting to and from church every Sunday. When Janet was no longer able to live alone, she transitioned to assisted living at Wood Glen Hall in Santa Barbara where she reunited with her best friend Sally Noel. Her final home was back in Ventura at Treacy Villa where she was treated with love and respect from all the wonderful staff.
She is survived by her oldest son Bob and his wife Diana and their two sons, Charlie and Stuart as well as her younger son Gary, his wife Crystal and their three children Summer, John and Seth. She always enjoyed watching the endless energy of her ten great grand children.
Graveside services to celebrate Janet's life will be held at Bardsdale Cemetery on December 16, 2pm.