Obituary
James Joseph Stehly (1928-2014)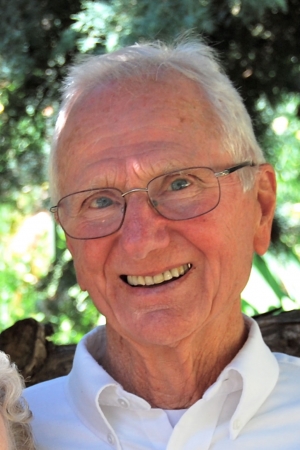 James Joseph Stehly (1928-2014)
James Joseph Stehly, passed away peacefully at home surrounded by family on September 16, 2014. Jim was born in Anaheim CA, on March 5, 1928 and was one of 13 children.
In 1952, Jim married his high school sweetheart, Mary DeCoursey. Over the next 63 years, 53 of which were on a farm in Fillmore, they raised their 11 children.
He was a devoted member of St. Francis of Assisi Catholic Church. Jim was a loving friend, neighbor, and a passionate gardener. During Jim's lifetime he was involved in a variety of ministries and organizations such as Food Share, Lions' Club, 4H, and Knights of Columbus. He was also a Registered Rare Fruit Grower. Jim was a U.S Army Veteran of the Korean War.
Jim is survived by Mary and their eleven children, Fr. Jim Stehly of St Jude the Apostle,Westlake, Philip Stehly of Puerta Vallarta Mexico, Vincent (Patty) Stehly, Marie (Edgar) Alviz, Damian (Rosa) Stehly, Regina (Lupe) Nunez, William (Jeanne) , Margaret (Chris) Arentz all of Fillmore; Anne (Andy Sobel) of Santa Paula, Aileen (Jeff) Collitti of Bakersfield, CA, and Catherine (Stephen) Jackson of Windsor, CA. Jim has 17 grandchildren and 1 great-grandchild all of whom will miss him dearly.
A rosary will be held at 3 p.m. on Sunday, September 21st, at St. Francis of Assisi Church, 1028 Ventura St.(corner of Highway 126 and C Street), in Fillmore. The Funeral Mass will be celebrated on Monday, Sept. 22nd at 2p.m. at Francis of Assisi Catholic Church. The burial for Jim Stehly will be private.
In lieu of flowers, please make a donation to the St Francis Adoration Chapel Fund, the St Vincent de Paul Society (both of St Francis of Assisi in Fillmore), Life Centers of Ventura County, or, your own favorite charity.