Obituary
Jack Howard Ellsworth (1923-2017)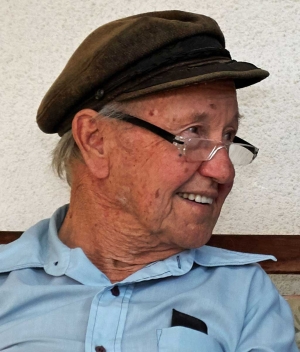 Jack Howard Ellsworth (1923-2017)
Jack Howard Ellsworth died peacefully in Huntington Beach, California on August 16, 2017, just two weeks before his 94th birthday.
Jack was born on September 4, 1923 in Fillmore to Howard Ellsworth and Gladys Clapperton Ellsworth. He spent his childhood in Bardsdale and Fillmore with family and friends. Jack left Fillmore High School in 1941 to join the U S Navy. He served aboard the heavy cruiser USS Pensacola as an electricianā€™s mate during WW2, fighting at Midway, off Guadalcanal, at Tarawa, the Marshal Islands, the Aleutians, the battle of Leyte Gulf and the invasions of Iwo Jima and Okinawa, and surviving 12 major sea battles.
After the war, Jack moved to Huntington Beach, where he began his metal fabrication business. Jack was accomplished electrician, metal worker, carpenter and craftsman. He had an amazing knack for creating and inventing things. He never lost his love of the sea and spent many years crafting a custom 32 foot sailboat all of wood.
Jack gained his interest in short wave radio as a youngster in Fillmore, and continued as an active HAM radio operator throughout his life. He was a generous, witty and dedicated individual who was passionate about ships, inventions, his son Jackie, and politics.
He married four times (Patricia Pence, Evelyn Entringer, Clara Gallagher and Mary Cowley). His son Jack William ā€œJackieā€ Ellsworth was his pride and joy.
Jack is survived by his sister Barbara Ellsworth Bates of Bakersfield, nephew Kenneth Bates and nieces Susan Bates-Harbuck and Patricia Bates. He is proceeded in death by his son Jackie Ellsworth, his parents, his sister Marion and his niece Diane Murdock.
A celebration of Jackā€™s life will be held Saturday December 16 at his home in Huntington Beach from 11 AM to 2 PM. By his request, cremation has taken place and Jack will be laid to rest at Bardsdale Cemetery with military honors in January of the new year. The family would like to thank Jackā€˜s friends in Huntington Beach for their care, compassion, friendship and dedication. W6WTD signing off.