Obituary
Ione Luverne Brooks (1910-2012)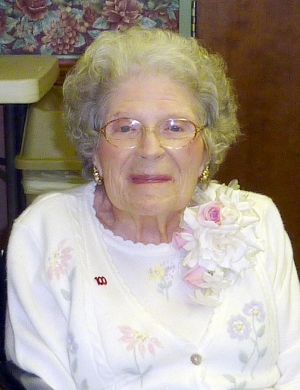 Ione Luverne Brooks (1910-2012)
Ione Luverne Brooks, longtime resident of Bardsdale and Fillmore, passed away peacefully at the Fillmore Convalescent Center on March 26th at the age of 102.
Her milestone birthday was celebrated by family just eight days prior to her passing.
Ione (Rapp) was born in Grand Junction, Iowa, on March 18, 1910. Her family moved several times to follow her dad's careers, eventually settling down in Ames, where she graduated from Ames High School. Her beloved family included sister Dode and brothers Bob and Marion. The family eventually moved to Los Angeles, where Ione worked as a pediatric assistant, eventually meeting and marrying Robert Brooks. The family moved to Fillmore in 1951, when Dr. Brooks took over a chiropractic practice and settled the family in Bardsdale. Ione enjoyed participating in local oganizations such as the Fillmore Ebell Club, the Chacalata Club, the local bridge club, and W.S.C.S. at the Bardsdale Methodist Church, where she was an active member for over 50 years. She moved to El Dorado Mobile Home Park after her husband's passing and then to the Fillmore Convalescent Center in 2009. Ione's family will be forever grateful for the wonderful care afforded her during her stay.
Ione is survived by her son, Bob, Jr., his wife, Victoria, of Simi Valley, his children Randy, Cherree, Dee, and Lori, daughter Barbara Somers of Fillmore and sons Nelson, Jr., Chris, and Shannon, daughter Nancy Smalle and husband, Lou, of Centennial, CO, and son, David, numerous great- and great-great-grandchildren, sister-in-law Joan Rapp and daughter Wendy Barels of Santa Barbara, and nephew Joe Marquette, Jr. of Woodland Hills.
A graveside service will be held at the Bardsdale Cemetery on Monday, April 2, at 10:30 a.m.
Ione was a great mom and will be missed by all. Donations may be made to the charity of your choice.