Obituary
Holly Mechele Hight (1965-2019)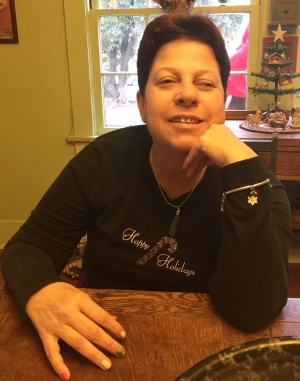 Holly Mechele Hight (1965-2019)
Holly Mechele Hight, age 53, passed away in her hometown of Fillmore, California, after a courageous battle with cancer. She was at home surrounded by her family and pets where she could look out her many windows at the trees and flowers in the yard and watch the hummingbirds visit the feeder outside her porch.
Holly was born on December 20, 1965, at Santa Paula Hospital. She was a special child who remained at home with her mother her entire life, although she attended various school programs and made friends that she loved dearly. Most recently, Holly attended Santa Paula Arc, where she adored the many teachers that worked with her and all her friends on a daily basis. Her favorite things in life were her family, her dogs Bruno and Brix, her school and all holidays, especially Christmas. Every year, Holly looked forward to her December birthday with great anticipation. She also looked forward to wearing one of her many Christmas sweaters and socks in anticipation of the arrival of Santa Claus.
Although Holly was a feisty girl, she had a tender side laced with love, compassion and generosity. She was an innocent child whose essence transmuted into adulthood and whose presence communicated rare and valuable life lessons to those fortunate enough to know her. Her life challenges were numerous, but her own toughness and the love and support of her family and friends eased her path and her unique presence enriched their lives in turn.
Holly is survived by her mother and stepfather, Sue Maynard and Garland Maynard of Fillmore; her brother Patrick Maynard of Fillmore; her sister Kellie Hight Warriner of Ojai; her brothers Justin and Sean Hight of Ventura; her niece Caitlin Slay Phillip and her husband Ryan Phillip and their son, her nephew Elwood Phillip of Los Osos; her uncle Joe Stroud of Ventura; her aunt Gail Vest Wade of Bolivar, MO; and her beloved dogs Bruno and Brix. She was preceded in death this year by her father, Bud Hight, of Ventura, and in years past by her baby brother, Aaron Paul Maynard of Fillmore, and her grandparents Donald and Idotha Vest, both of Bolivar, MO.
Special thanks to the entire team of guardian angels from the Arc if Santa Paula for their years of support, love and dedication they shared with Holly. You are a wonderful organization and we greatly appreciate everything you did for Holly and for our family.
Memorial services will be held Saturday, November 23, 2019 at 11:00am at the Bardsdale Cemetery in the City of Fillmore.