Obituary
Helen Morris Caldwell (1927-2019)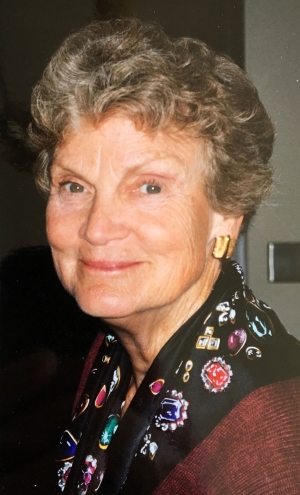 Helen Morris Caldwell (1927-2019)
Helen Caldwell died peacefully in her home, surrounded by loved ones on May 9 at the age of 92. She is survived by her five children with her first husband, William L. Morris, Jr: Christine Morris Bacon, John Morris, Jeff Morris, Virginia Morris and Kathleen Morris Frachon. She was lovingly known as "Honey" to her 13 grandchildren and 5 great-grandchildren. She was devoted to her family and friends. She experienced tragedy during her childhood and dedicated her time and talents to protecting vulnerable children.
Born Helen Ann Murphy in Chicago, Illinois, to Sylvester Rosecrans Murphy and Helen Drees Murphy, Helen was the second of their two children. Her father died when she was an infant and her mother died when she was 15.After her father's death, her mother moved the family to La Mesa, California. Her mother remarried and had two sons, Buel and Stephen Dunham. Helen is survived by her half-brother Stephen.
Helen Caldwell graduated from Grossmont High School, Occidental College with a Bachelors Degree in speech and English, and received her Teaching Credential from Cal Lutheran University. She was an accomplished dancer and majorette in high school. While in college, she began her lifelong commitment to public service by sending care packages to soldiers during WWII and participating in the first March of Dimes fundraising drive held on the Occidental campus.
She raised her family and spent most of her life in Fillmore, California. As a long-time resident of Ventura Country, her community activities included: Charter Board member of Ventura County Symphony Association; President Women's Symphony League; Charter member and President Santa Clara Valley Hospice; Las Patronas; Secretary Ventura County Grand Jury; Planned Parenthood Board; Santa Paula Hospital Foundation Board; Santa Paula Theater Center Board; Women's Legacy Fund/Ventura County Community Foundation; Board Member, Medical Resource Foundation, Ventura County Medical Center; and member of the Board of Governors of the Tower Club.
Children were a priority in her life. She devoted her life to raising her own five children and taught geography at Fillmore Junior High School. She was committed to protecting vulnerable children. She worked with Youth Connection to provide glasses, clothes orthodontia and other essentials to children in foster care. Her work with Youth Connection led to the creation of a residential care facility or sanctuary for children placed in protective custody because of abuse, neglect or abandonment known as Casa Pacific in Camarillo. She was part of the core founding group in 1987 and supervised the feasibility study for the 22-acre Casa Pacific that opened in 1994. She was a member of the Board of Directors, chaired its fundraising committee, served on its planning board and was instrumental in getting the facility built. Helen and her second husband, Charles Morris Caldwell, were major benefactors and provided the funding to build a cottage for boys known as the Caldwell Cottage at Casa Pacifica. She was named a Guardian Angel for the significant role she played at Casa Pacific. She supported the Child Abuse and Neglect Thrift Store (C.A.A.N.) in Ventura, a division of Interface Children and Family Services which seeks to prevent, interrupt and end the cycle of family violence. She was also a member of the national board of Court Appointed Special Advocates Association (CASA), which helps abused children through the legal process. Her many honors included volunteer of the year. She was honored for her significant contribution to society as a "Woman of Distinction" by the Girl Scouts for her work in "The World of People."
Helen Caldwell treasured the gift of life and lived each day to the fullest. She enjoyed travelling and visited more than 50 countries. She also enjoyed theatre, art museums, music, literature, hiking, tennis and gardening, including a rose garden with 150 rose bushes.
Helen Caldwell was a very strong person. Every decision she made in her life was her own. Her strength, energy and enjoyment of life inspired those who knew her. Her generosity and unconditional love impacted the lives of many. Her memory will live on in our hearts.
Donations may be made on her behalf to Casa Pacifica.