Obituary
Harvey Foster Patterson (1919-2013)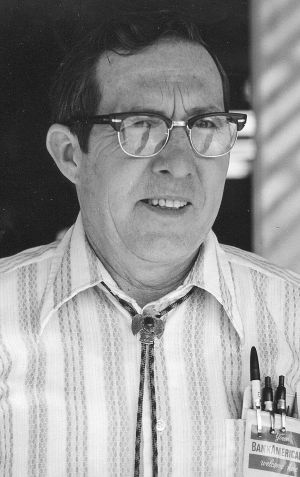 Harvey Foster Patterson (1919-2013)
Harvey Foster Patterson passed away on Monday, January 28, 2013 at Fillmore Convalescent Center after a short illness. He was 93 years old. Harvey was the oldest son of Edith Hazel Foster and Harvey Solomon Patterson, born on September 17, 1919. His mother had arrived in Fillmore with her family about the year 1907. His father "Pat" Patterson had come to Fillmore as a young man to work in the hardware department of the Fillmore Mercantile store on Central Ave. in June of 1917, according to the Fillmore Herald.. That building was destroyed in the 1994 earthquake.
Later after having managed the Hickey Brothers Hardware in Fillmore for a time, "Pat" bought the store in 1937, the year Harvey graduated from Fillmore High School, and it became the original Patterson Hardware. In May 1941, Harvey married Emma Walters, and at the time of his death they were in their 71st year of marriage. After his father's death in 1959, Harvey was able to buy the store from his mother and completed his hardware career as the owner of Patterson Hardware, after having worked along with his father most of his life.
Harvey was pre-deceased by his grandparents, W.E. and Mary Foster, parents, "Pat" and Edith Patterson, his brothers, Dick and Sidney Patterson, an infant son, Dennis, oldest great grandson, Will Tompkins, AZ and, numerous aunts, uncles and cousins from this area. He is survived by his wife, Emma (Walters) Patterson of Fillmore, CA; daughters, Patricia Tompkins (David) of Chandler, AZ; Nancy English (Frank) of Battle Ground, WA, Michelle Patterson of Fillmore: and son David Patterson (Shannon) of Winnemucca, NV. Grandchildren, Rick English, WY, Jeff Tompkins (Elizabeth), AZ; Greg (Jerri) Tompkins, WY, Steven (Amanda) Patterson, CA and Nathan Patterson, Japan: granddaughters: Becky Mascarenas (Mike), CO, Katie Tompkins, MA, and Jessie Mitchell, NV; nine and one half Great grandchildren.
Special thanks go to Rigo Landeros and the Fillmore Fire Department for their help in emergencies and after, to the many folks at Fillmore Convalescent Center for their loving care, and especially to Dr. Swartout for many years of wise care.
Services, under the direction of Skillin-Carroll Mortuary, were held at the Fillmore Methodist Church, 421 Sespe St. on Monday, February 4 at 10:00 a.m., with Grandson Greg Tompkins officiating. Burial followed at Bardsdale Cemetery.