Obituary
Gloria M. Warring (1927-2020)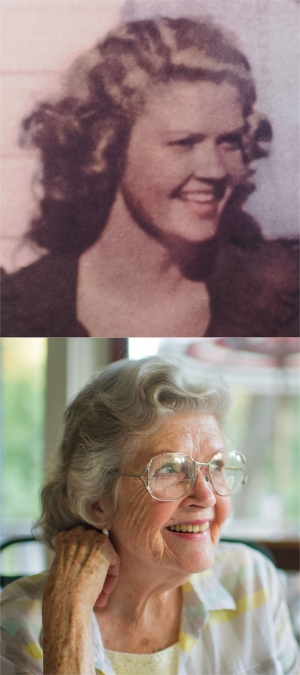 Gloria M. Warring (1927-2020)
Gloria was born on November 6, 1927, in Willowbrook, CA, to Earl and Ethel Mauck. She was the youngest of six children. Her family lived throughout California, from Long Beach to Auburn, but always seemed to come back to their beloved town of Fillmore. Gloria was known to be a bit shy until she stood on stage and sang. One of her fondest memories was when she sang for injured Veterans at the Port Hueneme Naval Hospital. In 1945, Gloria married her sweetheart, Gene Warring, when he returned from the war in the South Pacific. Their first home together was in Long Beach, CA, while Gene was stationed at the Naval shipyard. After the war, they then returned to Fillmore to be near their families. Gloria was very close to her siblings, especially her sisters, creating a tight-knit extended family for which we are all very grateful.
God blessed Gloria and her husband, Gene, with four children. Twins, Christopher and Kathleen, daughter Crystal, and son Philip. Unfortunately, Christopher passed when he was just three days old which was an incredible loss. Making a home for her family became Gloria's true passion. She also loved gardening and was a member of the Fillmore Garden Club. As her children grew, she was a Girl Scout Leader and Sunday school teacher. Gloria's most fulfilling work outside the home was beside her husband as a co-owner of a local Union Oil distributorship. Gloria was her happiest when camping with family and friends, whether at beaches or in the mountains. After retiring, they traveled throughout the country in their RV, which created fond and lasting memories. Gene and Gloria relocated to Mariposa County during their later years to be close to their grown daughters and their families. Her grandchildren and great-grandchildren filled her life with love and joy. There was no place she'd rather be than with her family.
There was something very special about Gloria that is hard to put into words, and she will be missed dearly by our family. She often said "she loved too much," and she certainly taught her family well what it means to love and be loved. God blessed our family with her presence; we were all so lucky to call her mom, grandma, sister, aunt, and friend. Now He blesses us again with her sweet return to Him. Gloria Warring passed away peacefully on Thursday, February 6, 2020, in Mariposa, CA, at the age of 92.
Gloria was preceded in death by her husband Gene Warring, her son Christopher and by her six siblings; Thelma Robertson, Virginia Gilmore, Juanita Nichols, Wayne Mauck, and Clifford Mauck. Gloria is survived by her three children, daughter Kathleen (Vernon) Crofford of Mariposa, daughter Crystal (Gary) Cox of Mariposa, son Philip (Jessica) Warring of Millbrae; her seven grandchildren, Leah (Ron) Zawadzki, Kelly (Ryan) Rettig, Summer (Justin) Gish, John (Gianna) Cox, Seth (Leanna) Cox, Alexander (Kari) Warring, and Sam Warring; and ten great-grandchildren Kenzie, Ben, Jack, Joe, Kate, Violet, Leo, Micah, Ezra, and Ford; as well as many nieces, nephews and other relatives who loved her so much.