Obituary
Geneva Eileen Taylor Rich (1924-2014)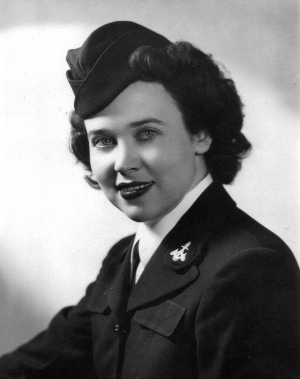 Geneva Eileen Taylor Rich (1924-2014)
Geneva Eileen Rich, 90, was born in Wilson, Oklahoma on June 11, 1924 to James C. and Ellen Taylor, the first of five children. She passed away September 9, 2014 in Kailua Kona, Hawaii.
The Taylor family moved to Fillmore, CA in 1936 and Geneva attended Fillmore schools, graduating from FHS in 1943. On Nov. 26, 1944 she enlisted in the WAVES U.S. Navy Nurse Corps and was trained as a Pharmacists Mate, discharged Feb. 23, 1946.
Geneva [Gen] married James W. Pierce in 1949 in San Diego and they had two children, Michael and Kathy. She was later married in 1972 to Norvell Rich, Jr.[USAF]. They lived in Riverside, CA, Anchorage, Alaska, Kona, Hawaii and Poway,CA. Gen was employed throughout her working career as a secretary/ bookkeeper. After her retirement she was a very popular house sitter in the Poway area for people having dogs or cats.
Gen was completely content when gardening with both flowers and vegetables. She was very accomplished in knitting, crocheting and other handcrafts. Many in her family and friends have appreciated the lovely afghans, sweaters, baby blankets, etc. she created for them. Other favorite pastimes were reading and watching TV broadcasts of baseball and football games, also golf tournaments [especially if Phil Michelson was playing!]
Gen was a woman of deep and abiding faith in God. Wherever she lived, regular church attendance and daily Bible reading were a part of her life. She also enjoyed going to gospel quartet programs for many years with her close friend, Carol DeBaca. During the time she last lived in Fillmore she became a member of the Bardsdale Methodist Church.
Because of failing health Gen moved to a condo in Kona, HI, in 2010 to be nearer her son and daughter-in-law. She was lovingly cared for by Michael and Margaret and lived in their home this past year.
Geneva was predeceased by her parents, brother Boyce Taylor, sister Kathy Kappler and husband N.J. Rich, Jr. Survivors are brother JC [Eva] Taylor of Long Beach, sister Maxine Merry of Fillmore, son Michael [Margaret] Pierce, daughter Kathy [Chris] Bumpus, grandchildren Chris Bumpus,Jr. and Michelle [Michael] Johnson, great grandsons Michael and Maddox Johnson. Also, three stepchildren, Grace Tutack, Norvell Rich Ill, Becky Rich and their families, and several nieces and nephews.
Gen's beautiful smile, friendly and generous nature will be lovingly remembered by family and friends. She will be greatly missed.