By Ventura County Sheriff Department — Thursday, July 17th, 2014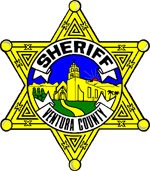 Ventura County Sheriff's Department
On July 9, at approximately 5:15 a.m., a female, 39 of Fillmore, was walking with her child in the area of Fillmore Street and Main street when she was robbed. The suspect approached the victim from behind and grabbed her purse. When the victim resisted, the suspect punched the victim in the face knocking her to the ground as he gained control of the purse and fled.
The suspect was described as being a dark complected male, 20-25 years old, 5'-0" to 5'-5" tall, 180-190 lbs, medium build, wearing a bandana on his face, a blue hoodie, black pants, and black shoes.
The Ventura County Sheriff's Office Fillmore Investigations Bureau is seeking assistance from the public with identifying this suspect. Anyone with information about this incident can call Detective John Fox at (805) 524-2233.
Prepared by: Detective John Fox
Ventura County Crime Stoppers will pay up to $1,000 reward for information, which leads to the arrest and criminal complaint against the person(s) responsible for this crime. The caller may remain anonymous. The call is not recorded. Call Crime Stoppers at 800-222-TIPS (8477).