Will red tape stop green?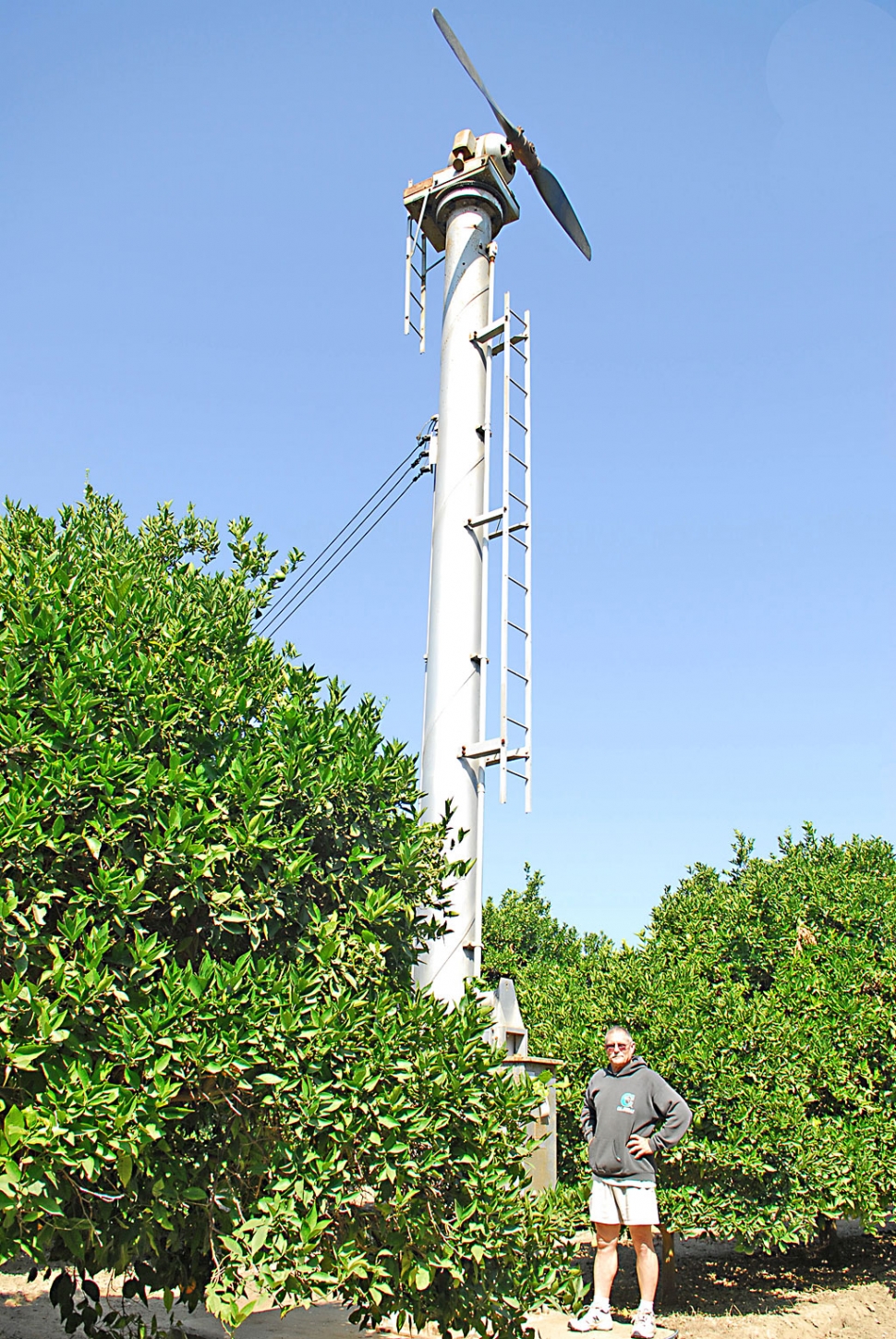 Fillmore Pastor-Farmer Bob Hammond poses before the wind machine he is attempting to convert to electric generation. He has had very little assistance from the numerous government agencies through which he seeks approval.
By Joyce Schifanelli — Wednesday, September 17th, 2008
Ventura County is no stranger to wind machines. The 30 to 40 foot structures resembling windmills have been part of our farming landscape for many decades. They were designed and installed, primarily to prevent crops from freezing, warming the air during cold snaps in wintertime. Bob Hammond, retired educator, Anglican minister and third generation owner of Hammond Family Ranch, inherited one of these ancient structures along with his nine-acre citrus ranch located on Chambersburg Road in Bardsdale.
Early last July, Hammond read an article in Central Coast Farm Bureau Magazine concerning wind turbines. Specifically designed to harness energy from wind, they are similarly structured with towers and propellers, resembling wind machines. He began thinking about utilizing his existing tower and converting his wind machine into a productive, clean energy maker, to help power his farming operation, cut ever rising costs, and help preserve the environment all at the same time. After contacting Prevailing Wind Power Inc., a Redondo Beach firm, specializing in state-of-the-art, turnkey, turbine solutions, Bob Hayes, a representative of the company visited him. Hayes explained that wind power is the fastest growing energy sector, and how wind turbines help to reduce costs and traditional energy usage from gas and electric driven generators, recharging stations for battery-powered farm equipment, and in rural locations, homes, barns and out buildings. Both men toured the property and Hayes determined that the prevailing winds were sufficient to power his company's smaller model. That model is 12 feet in diameter and sits atop a 40-foot tower, generates 500-700 kilowatt-hours per month and carries a price tag of $14,500. Hammond was convinced, especially after Hayes informed him of the State's substantial rebate of $4,200.
The next phase should have been easy. Hayes phoned the Ventura County Planning Department for information on the permitting process and fees for wind turbine installation. He was advised by the planning office, that wind turbines require a Conditional Use Permit (CUP), carrying a fee of $1500. He personally visited the Planning Department, and was shocked to find that Ventura County not only required Planning fees, but Administrative, Environmental, Public Works and Building and Safety fees as well, initially totaling $5,651. However, that was not all. He was also informed that the Planning and Public Works fees were merely deposits, and upon completion of the project, the final, total fees could be closer to $10,000, with no certainty that approval would be granted. Before he left, he learned the process could take months or even years. This is a far cry from Hayes' claim that State guidelines, practiced in other California counties such as San Diego County, require a permit fee of $42 for wind turbines, installed on any parcel, one acre or more, and are issued over the counter. (Still other counties charge several hundred dollars for CUP fees and may take several weeks for application.) Hayes also says, "State law says that a non-urban lot of an acre or more is allowed to put up a small wind turbine, but Ventura County zoning does not abide by that law."
Upon receiving this information, Hammond wrote to District 3 Supervisor Kathy Long on August 13, with copies to several officials including; the Honorable Elton Gallegly; Assembly Member Audra Strickland; Senators Dianne Feinstein, Barbara Boxer, George Runner; District Supervisors Steve Bennett, Linda Parks, Peter Foy and John Flynn, requesting review of the process and positive changes. He did not receive an answer. This journalist contacted Supervisor Long for comment, and was very pleased with her timely response. As per Long, at her office's request, the permitting process for off the grid, energy conservation systems has been under review by the Planning Board since receipt of Hammond's letter. The Board is currently researching other jurisdictions and state laws, discussing zone clearances and ways to streamline and expedite the process in all Ventura County agencies involved. Definitive answers are expected shortly.
Frightening environmental issues together with today's insatiable use of fossil fuels, the United State's ever-increasing dependency on foreign oil and the billions of dollars that leave our shores every year, should be an issue that is front and center, especially amongst the local officials of our exceptionally beautiful County. Are we not reminded at every turn to conserve for the generations that will follow us? Are we not hammered every day by the media and politicians warning that new energy sources must be developed and put to use or our very future could be in doubt?
As awareness grows, increasing numbers of people buy and use "green" products, purchase smaller, gas efficient vehicles, walk instead of driving a few blocks, use mass transportation when possible, recycle, reuse, conserve water, install energy conserving appliances, build and remodel with energy saving home insulation and building materials, solar panels and much more. Some, like Bob Hammond, go the extra mile and are willing and able to invest thousands of dollars, to benefit not only himself and his family, but also, everyone in his community. And, is it not the responsibility of leaders of every city, county and state to do their share and deal fairly with the critical issues of the twenty-first century, helping, not hindering their constituents when they try to help themselves?
This issue should not be an issue. If the County has a problem with specific energy conservation devices, it owes the petitioner a timely response, an explanation and reasonable alternatives. If wind turbines are considered an acceptable form of energy conservation in Ventura County, the permitting process must be straightforward, streamlined and very affordable, encouraging residents and businesses to do the right thing. The winds of change will benefit all!