Will El Dorado Get Promised Clean Water?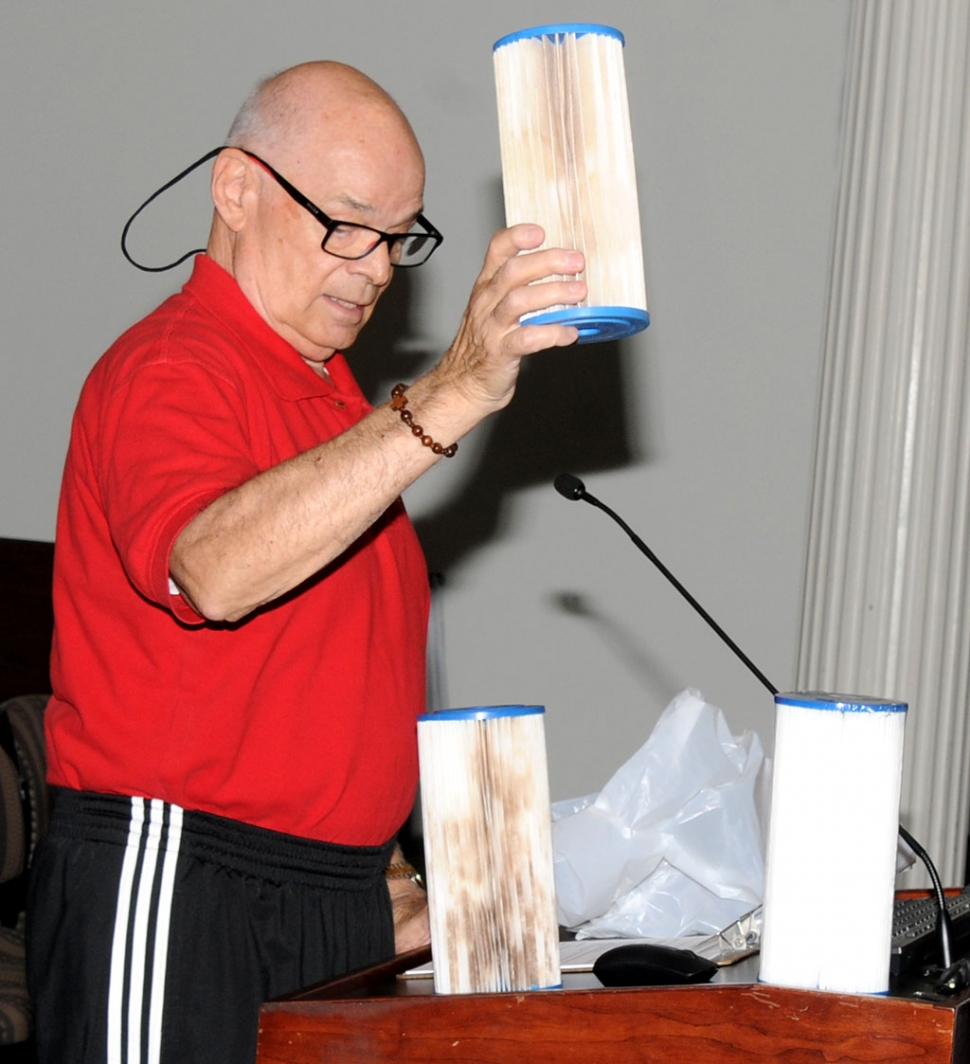 Pictured above is Charles Richardson, resident of El Dorado Mobile Estate Park, holding up one of three dirty water filters at last week's city council meeting, to demonstrate the issue of poor water quality at the park.
By Gazette Staff Writer — Wednesday, November 20th, 2019
On Tuesday, November 12th, 2019, Fillmore and El Dorado Mobile Estates resident Charles Richardson address the City Council with his concerns over the water quality at the El Dorado, and a city rep's comment back in 2004 about a coming water fix.
Following are Mr. Richardson's opening remarks, which were emailed in August 2019 to City Manager Dave Rowlands: "Our discussion went back and forth but in October the City Manager ceased communications with me. David Smallwood wanted to meet with me at my house but that did not happen either. That is why I'm here tonight under Oral Communications."
"I met with Bert Rapp about the dirty water at El Dorado. I installed a whole house water filter in November 2004. We moved to El Dorado on November 14, 2004.
"First filter, best I could buy. He (Rapp) reimbursed my $30, I think. Suggested using a corrugated type filter. Stated that when new houses around El Dorado are built, there will be a hook-up to our "closed system". Stated that a hookup to El Dorado's water system would create an open loop system thus cleaning up our dirty water."
Mr. Richardson then showed several dirty water filters from his home. Sixty-one filters replaced every three months at a total cost of $20 per filter, and total to date cost of $1,220.
His solution request? New water line in stalled on east side of Pole Creek, tied into that line with El Dorado at Coronado, a cul-de-sac street just next to the newly installed water line.
Jump to 2019, and a lot of dirty water under the bridge.
"I expected Mr. Rapp's solution to be applied to El Dorado when the new water system was installed about one month ago, but that did not happen.
"I'll be back every two weeks if necessary until El Dorado's dirty water is rectified. Please expedite the new hookup with the newly installed water line at Pole Creek.
"Thank you for your attention and dealing with this major issue."
The Gazette will keep you up to date on Mr. Richardson's quest.