"What Piru Has" from Piru News Circa 1930
A wagon and horses at the side of Piru Co. Op. (c) 1910. Photos Courtesy Fillmore Historical Museum.
By Gazette Staff Writer — Wednesday, September 16th, 2020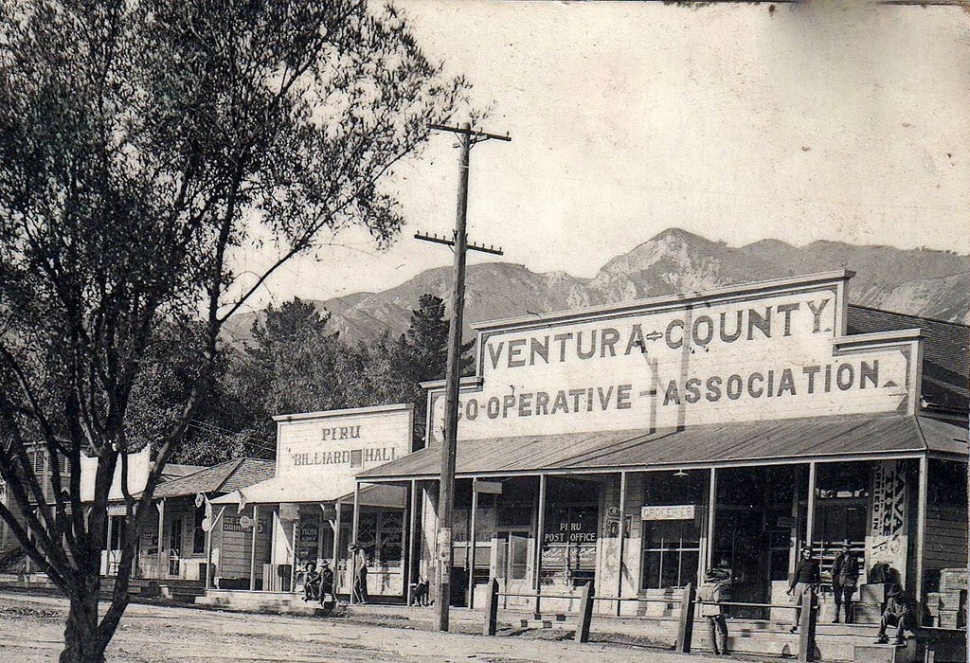 Piru in 1906. The Ventura County Cooperative which would become United Mercantile, Piru Billiards, and the Piru Post Office.

Ideal Billiard and Barbershop Ad from April 24, 1930.
Courtesy Fillmore Historical Museum
In 1930 and 31, the Piru News ran a series of articles entitled, "What Piru Has…." The paper described the series as "a series of weekly articles describing the various industries, products, organizations, schools, business houses of Piru and vicinity." Two of the issues addressed the business that were in Piru. Below is the first of the two articles.
You can read more of the Piru News at https://cdnc.ucr.edu/
Piru News, Volume IV, Number 40, 13 November 1930
PIRU BUSINESS Part 1
Piru has a bank, a drugstore, four grocery stores, six gasoline filling stations, and garages, a furniture store, a general store selling almost every article in common use. a gent's furnishings and notions store, three combined barbershop and pool rooms, two restaurants and other smaller businesses.
The Bank of America, a branch institution until last week under the name Bank of Italy, has been operating as a part of the great banking chain since February 8 when it was taken over from the Fillmore State Bank. The state bank started here in June 1918 as a branch of the Fillmore institution. In good times deposits at the local bank have reached a total of $350,000. Owing to business depression deposits just now are under that figure. The bank was started as a one-man affair by W. L. Ramsay who operated it for six months. Clyde E. Spencer then took charge and managed it for three years when he resigned to enter the real estate business. James Brady is the present manager and is assisted by Leo Sheffield. teller. Brady declares that all charges for various transactions are unusually low at the local bank. The bank owns its own building, a neat brick structure at Center and Main streets.
The Drugstore: An up-to-date drugstore carrying a complete line of articles usually sold in a modern pharmacy is operated by E. C. Brehm, who has been in the drug business for 31 years and who has been a registered pharmacist 24 years. A large line of soft drinks and ice cream concoctions are sold at the soda fountain. All kinds of drugs, drug sundries, patent medicines, toilet articles, stationery, clocks, magazines, etc., are sold here. Brehm makes a specialty of filling prescriptions. The owner came here three years ago and about a year ago built the red brick structure that houses the store. The business was purchased from A. L, Wilkie, who gave Piru its first drugstore on November 25, 1925. Brehm has been a druggist in Missouri, Kansas and Texas.
Situated beside the bank is the Ideal Billiard Parlor and Barbershop of T. H. Green who built the brick structure in which the business is housed four years ago after operating in another structure for three years. Two barber chairs and a soft drink, tobacco and cigar counter are located in the front room. In the rear there are two pool tables and two snooker tables which usually are kept busy especially of evenings.
Macy's Grocery Store, operated by Mrs. Laura Macy and her son, Les, stands beside Green's barbershop and is housed in a brick building erected by the Macys about the same time the barbershop structure was built and is the same size. The business is one of the Blue & White stores, which means that it is owned locally by an Independent dealer but that goods are purchased from the Blue & White concern.
A high-grade line of groceries, canned goods, fruits, some vegetables. cigars, tobaccos and candies are handled here.
The Macys took over the store seven years ago from T. T. Kirkham who operated across the street, where Mrs. Delis Trotter now has a furniture store. The grocery enjoys a large trade from both the town and country people.
Cornelius Store: W. G. Cornelius operates the next store down the street in conjunction with the post office. Everything from post cards to radios and from clocks to overalls are sold in this store but especially gents furnishings, notions, confectionery, cigars, magazines and tobacco.
Cornelius built the store building this year. It is a neat stucco structure with cement floor and is one of the coolest places in town on hot summer days. The proprietor has been in business here ten years.
At one time in partnership with Hugh Warring, he started a store in the Buckhorn district, had one in Piru and later bought a third here and started what was known as the Ventura Cooperative association. Cornelius managed the three stores until his health failed. For a time after coming to Piru. he had a health resort in Lechler canyon, but this was destroyed by fire and a flood,
The Piru Furniture Store, operated by Mrs. Delia Trotter, had a unique beginning. Mrs. Trotter says that she and her husband had so many household articles that they did not know where to keep them. These things were stored in their garage and everywhere possible. One day she had a bright idea. She suggested that if her husband would put a floor in the garage, she would open a secondhand furniture store and sell the belongings.
This proposal was carried out at once and "things went like hot cakes," Mrs. Trotter said, because there were so many oil workers in town then. The neighbors took advantage of the opportunity and bought furniture and other articles they didn't want, and Mrs. Trotter sold them.
After that Mrs. Trotter went into the business in earnest. She moved into her brick building on Center street and has increased her stock to include both new and used furniture, kitchen utensils, dishes, rugs, etc. Her store is now in its fourth year.
To be continued...