By Anonymous — Thursday, September 11th, 2008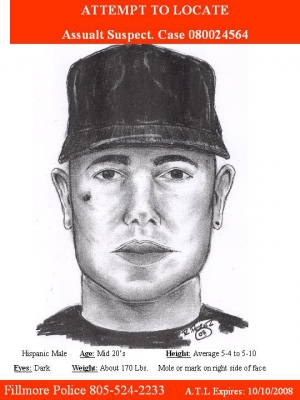 FILLMORE POLICE DEPARTMENT
VENTURA COUNTY SHERIFF'S DEPARTMENT
MEDIA RELEASE
BOB BROOKS, Sheriff
Captain Tim Hagel, Acting Police Chief
Nature of Incident: Sketch of Suspect from Attempted Burglary / Criminal Threats Case
Location: 100 Lora Lane, Fillmore, California 93015
Date & Time/ RB#: September 10, 2008 080024564
Unit Responsible: Special Services - Major Crimes Unit
Suspect:
Hispanic, male, 5'10", medium build, mid-twenties, dark complexion with a mole on the right side of his face. Last seen wearing a black baseball cap, and a black t-shirt with white lettering or emblem on the backside. The suspect spoke English.
Narrative:
On Wednesday, September 10, 2008, at about 11:15 A.M., Sheriff's deputies were dispatched to the 100 Block of Lora Lane, Fillmore, to a report of a male who attempted to force entry into a residence and threatened the adult female inside. When deputies arrived, they discovered the suspect, who was not known to the victim, had already fled the scene.
According to the victim, she was home alone at about 11:10 a.m., when the suspect came to her front door and knocked. The victim opened the door believing it was a visitor. The suspect yelled at the victim that he was going to kill her and tried to force open the door as the victim fought back to close it. The victim was able to force the door closed and lock it, at which time the suspect fled from the residence on foot. Deputies conducted an extensive search of the neighborhood and surrounding area for the suspect but were unable to locate him.
Two other incidents, which have occurred recently in the same neighborhood, may be related. The public is warned to always be aware of their surroundings when walking and to keep the doors and windows to their residences secured and to not open the door to strangers.
Sheriff's major crimes detectives are investigating this incident and have attached a sketch of the suspect.
Ventura County Crime Stoppers will pay up to $1,000 reward for information, which leads to the arrest and criminal complaint against the person(s) responsible for this crime. The caller may remain anonymous. The call is not recorded. Call Crime Stoppers at (805) 524-0970 (Fillmore) or Fillmore Police at 805-524-2233
Officer Preparing Release: Detective Taurino Almazan / (805) 524-2233
Follow-up Contact: Fillmore Police 805-524-2233
Date of Release: September 11, 2008
Approved By: Captain Tim Hagel