Veterans' Return Changes Theatre Policy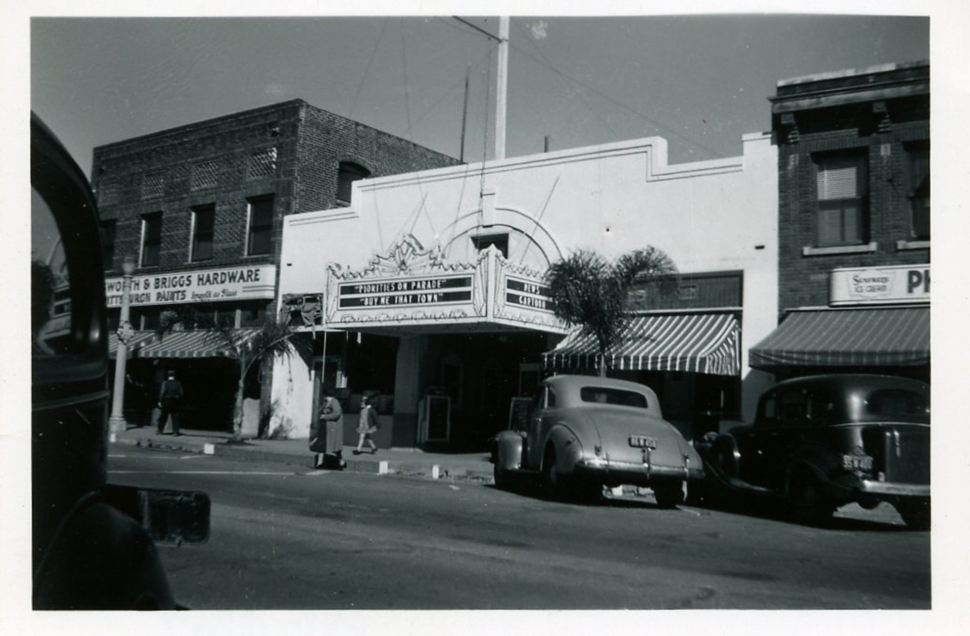 The Fillmore Towne Theatre circa 1942 on Central Avenue. Photos Courtesy Fillmore Historical Museum.
By Gazette Staff Writers — Wednesday, May 11th, 2022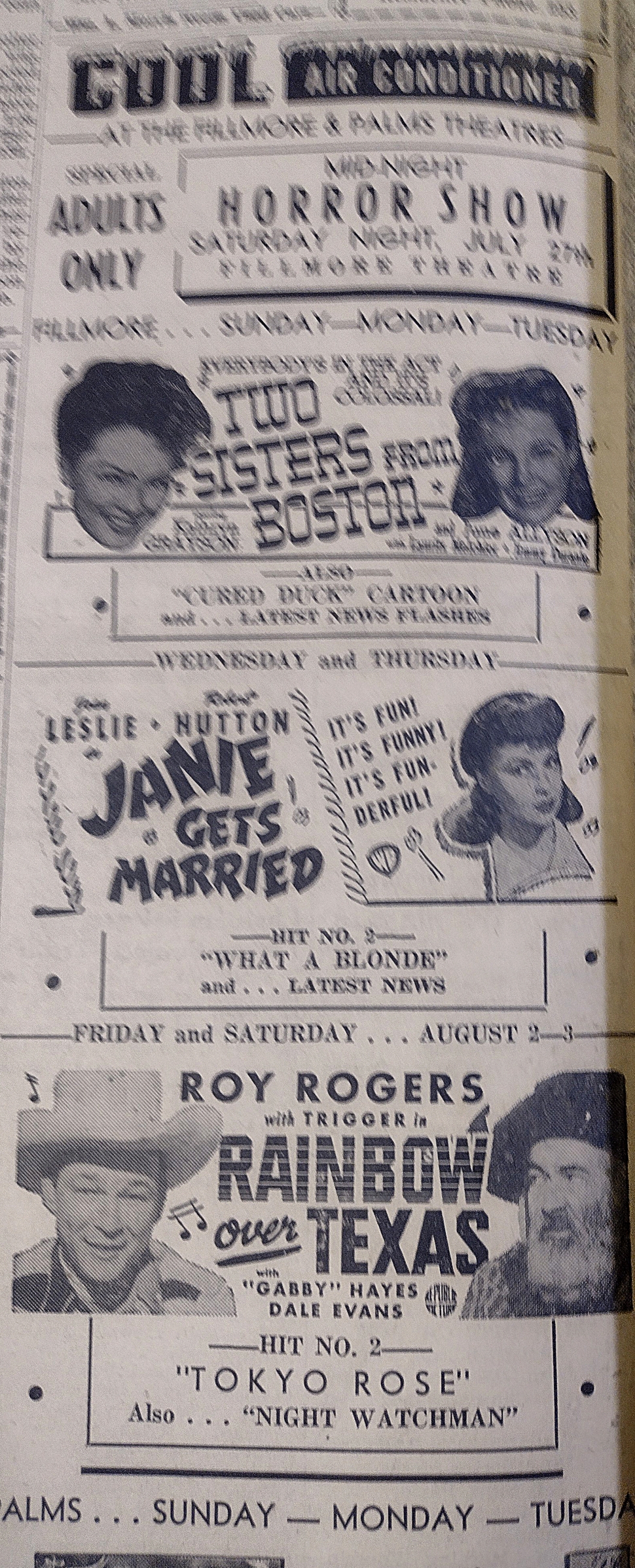 Movie Advertisement 1940.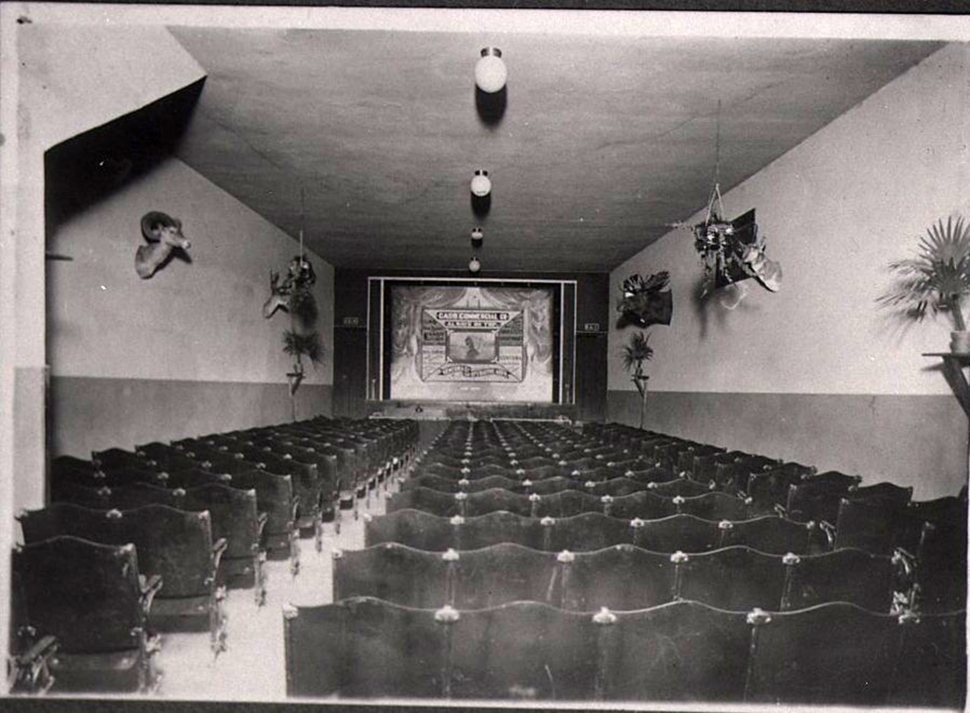 Towne Theater Interior, date unknown.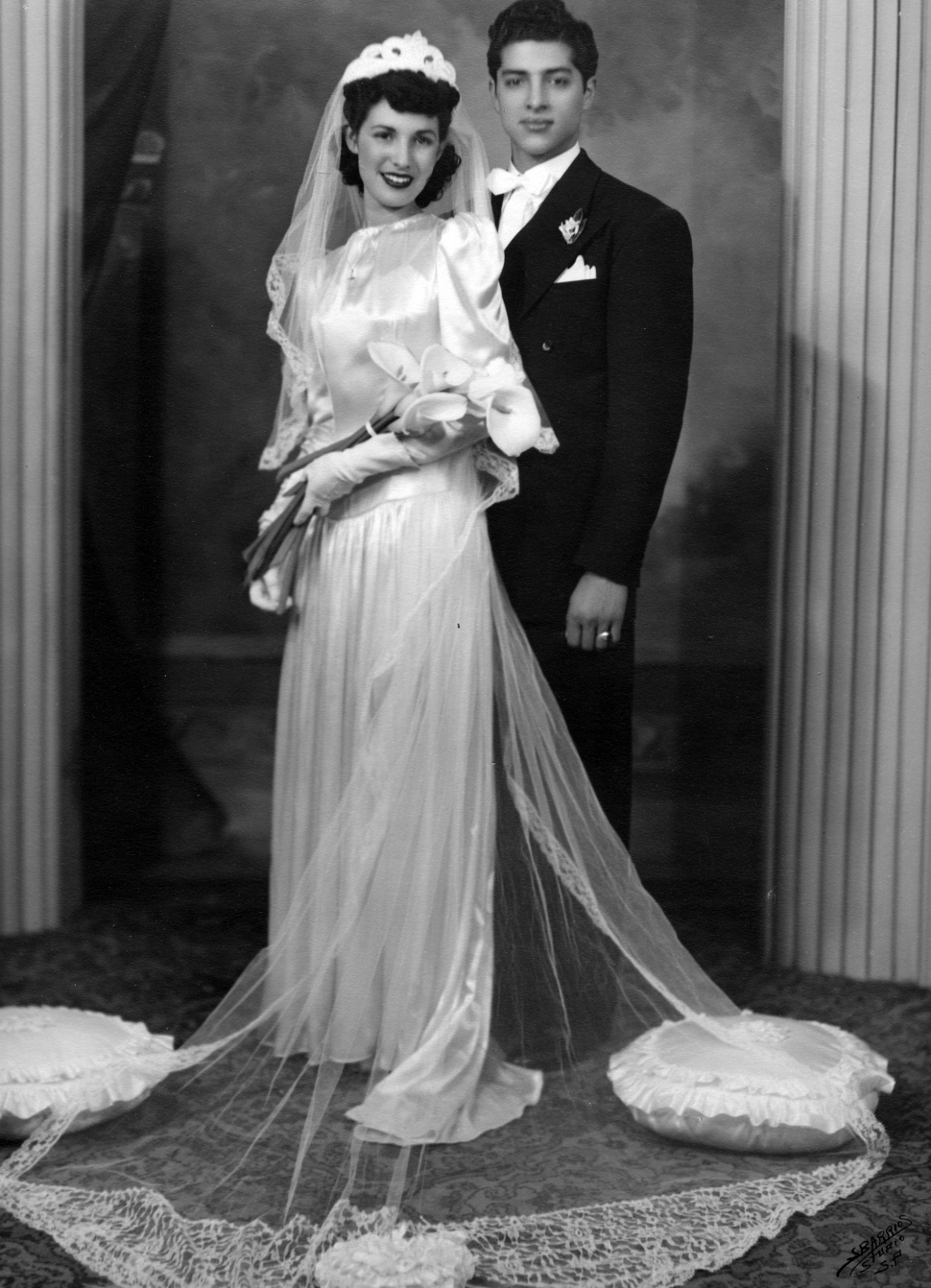 Manual and Connie Victoria Wedding Picture, date unknown.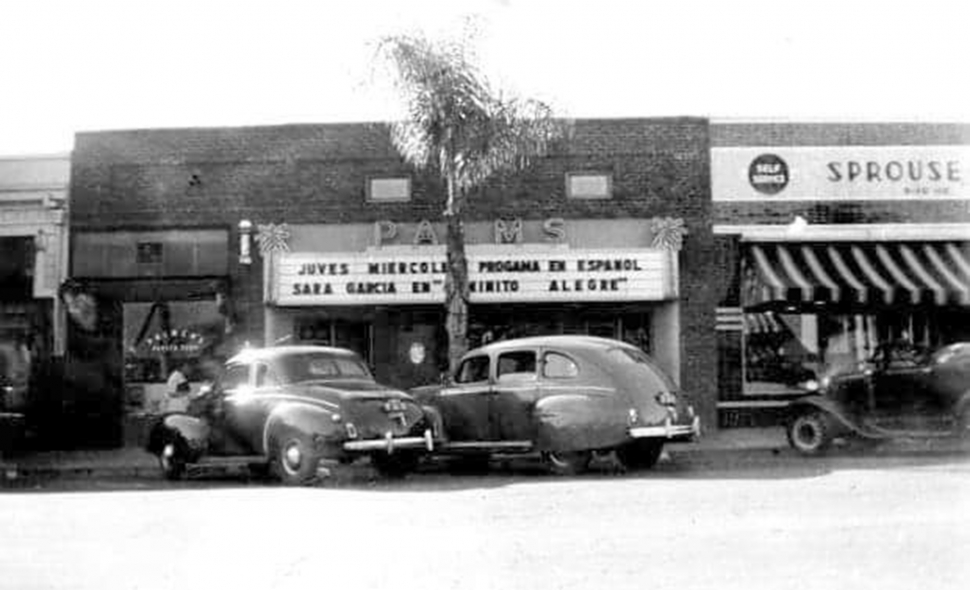 Palm Theater, date unknown.
Courtesy Fillmore Historical Museum
Going to the movies at the Towne Theatre on the east side of Central Ave. was a rare treat for young Esperanza Carrera. She could only to go the theatre in Fillmore every other week or so. She wasn't allowed to go alone so she took her little sister as well. On one occasion she couldn't see very well from the first place she sat, so she decided to change seats for a better view. A rope blocking the entrance to some empty seats had been pulled back. She and her sister settled in to these new seats to enjoy the show. Not long after a man with a flashlight came along and threw her out of the theatre. In those days the theatre in Fillmore was segregated and she wasn't allowed to sit where she wanted. In her 1992 interview with Dorothy Haase, Esperanza told how scared and embarrassed she was at being treated that way.
She said, "We had our way, sitting by the wall…. and upstairs over there in the balcony. They didn't let anybody on the other side of the wall." (In those days the balcony was divided with two low walls separating the seating areas with a space between the walls for the projection of the film. Mexicans sat on the north side with Anglos on the south side.) Others interviewed on the subject by Museum volunteers told of being required to sit up front in the first few rows, or along the sides, and at other times they were assigned to the balcony. The seating seems to have changed with the changes in management, but segregation continued.
At the time the Palm Theatre at 359 Central, the other theatre in town, showed Spanish language movies a few days a week. The Palm's ad in the May 3, 1946, shows "Mexico Del Mis Recuerdos" and "Calaveras Del Toro" playing on Thursday and Friday.
Another time when Esperanza was on a date with her future husband, a popular movie was playing and the Towne Theatre was full. There were still a few seats on the other side of the theatre. "So, then I went over there, and I told the manager that that place was full ..." So, he said, 'Well, you have to wait until the second part of the show.' I said, 'No, I can't. My mother's going to get mad....' Well, as it is that sometimes we used to go home at 11 o'clock. And I said then that means maybe I have to get home at maybe 12 or 12:30. I said, "We can't do it mister."
Sandy Gunderson shared the following: "This is my one of my all-time favorite stories that I've told many, many times. When my dad was in his 70s, or 80s, or young 80s, we had a birthday party and Joe Galvan came. I ended up sitting right by him on a couch and he's a storyteller. It was a post-World War II story of a young man who served his country who served in Europe, a man of Hispanic descent, Mexican descent, born here and an American citizen, and who was now coming back to Fillmore in the late 40s, or maybe 1946-47………he went to the movies, and there was a segregation policy, the Mexicans up in the balcony, couldn't sit below. But, this young man whose name, I don't remember, walked in. After having served his country, putting his life on the line, and sat on the bottom. He felt like a full citizen, didn't think he needed to sit upstairs anymore. And the people in charge weren't having it. The usher eventually told the manager, the manager said, you need to leave if you don't go sit up there. And this young man was not going to sit in the balcony. 'No, this is my country; I could sit where I want.' So, they managed to walk this young man out. And then the young man turned and said, 'You know, I want my money back. If I'm not going to get to see the movie, I want my quarter.' The manager by this time was up to here and beyond with this so…. The way Joe told it, he just opened the cashier drawer and pulled out a quarter and jammed it into this young man's hand. And this young man had the presence of mind to look at the quarter and said, 'This isn't the one I gave you.' "At some point the police were called. Esperanza must have witnessed the same event and remembers that it was Earl Hume the chief of police, constable Jack Casner, and someone named Mr. Knight who came to deal with the commotion.
Manual and Connie Victoria were a well-known Fillmore couple. Manuel served in Italy during WWII, was a talented mason who built many walls around town, and ran a shoe repair shop in the Masonic Temple building. He rode bicycles, was a guide to the Sespe back country, and led hikes of the area for many locals. Connie was known for selling Avon products and being active in the community. They were a movie-star good looking couple and expert dancers. When they stepped out, they were "dressed to the nines, I mean, beautifully dressed."
In their interview, Connie tells it this way: "Anyway, we were dressed up. I think he even had his army suit, because he was very proud of his soldier outfit. Anyway, we sat in the very front row. And right away after that, I turned around and I said Manuel 'there's a lot of loges.' And I already had this kind of problem in Santa Paula, when he was in the service in Italy. So, I was ready for this sort of thing. And I told him I wanted to sit in the loges. And they said 'No, there's no room. You have to sit in front.' And right away, my face got hot. And once my face is hot, you look out.
I asked, 'Is it because we're Mexicans?' And he said, 'It's not my fault. It's just that I have orders that you cannot sit in the loges if you're Mexican.' And Manuel said that you're going to hear about it. Because I had already done that in Santa Paula. When my husband was in Italy fighting, they would they not let us sit in the middle. We had to sit on the sides. I had backing because I belonged to two nice clubs, Latin clubs. And I told them about it. And they took me to the district attorney in Ventura. And he said, 'You know, I wish there were more people like you. This wouldn't happen if people would say something. But no, they just let it.' So, when the DA saw me again, back in Fillmore, he said, 'not again. And he said I'll take care of it.' And he most certainly did. Next day they came in and told us it was a big mistake."
Sandy Gunderson tells that the "blowback came back on the theatre. And the theatre manager showed up at the Victoria's front door with passes to the theatre and it was never segregated again after that." She continues "By the time I came, I could sit wherever I wanted. Any gum sticky floor part was good enough for everybody. There was no segregation."
The Fillmore Historical Museum invites you to send stories of your experiences at the theatre so that the history of the period can be more complete. Fillmore.museum@gmail.com