Ventura Man Arrested for Fatal Shooting of Piru Resident
By Ventura County Sheriff Department — Wednesday, June 1st, 2022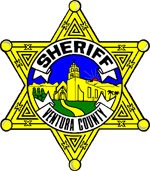 Ventura County Sheriff's Department
A Ventura man, identified by authorities as Julius Luna, was arrested for murder Tuesday morning after the shooting death of Gabriel Cueva.
On Sunday, May 29, 2022, at about 5:32 PM, deputies responded to a disturbance call in the area of Azahar Street at Alelia Avenue. This location is in the Ventura County unincorporated area known as Saticoy. Deputies discovered Cueva lying face down in the street, suffering from apparent gunshot wounds. Lifesaving measures were attempted on Cueva who was ultimately transported to the hospital and later passed away at Ventura County Medical Center.
Detectives procured search warrants and obtained additional evidence linking Luna to the homicide. Luna was located in Fresno County and taken into custody, with the extensive assistance of the Fresno Police Department.
Luna was booked into the Pre-Trial Detention Facility where he is currently being held in lieu of a $1,500,000.00 bail. He has a scheduled arraignment in Ventura County Superior Court on 06/02/2022, at 1:30PM, in Courtroom #13.
Anyone with information regarding this incident is encouraged to contact Detective Jamal Clark at 805-384-4740.
The Ventura County Sheriff's Office is asking for the public's assistance and requesting anyone with videos or photographs from the incident to upload files to investigators at https://venturasheriffca.evidence.com/axon/citizen/public/saticoyhomicid....
The files are logged as digital evidence but contact information is not stored. Those submitting media can remain anonymous.
Nature of Incident: Ventura man arrested for fatal shooting of Piru resident
Report Number: RB# 22-70769
Location: 400 block of W. Sierra Avenue, Fresno, California
Date & Time: 05/31/22 @ 8:42 AM
Unit(s) Responsible: Sheriff's Major Crimes Bureau, Sheriff's Gang Unit, West County Patrol, Sheriff's Property/Evidence Unit, Fresno Police Department
(S)uspects, (V)ictims, (P)arty, (D)ecedent, City of Residence, Age
(S) Julius Luna, 18
(V) Gabriel Cueva, Ventura, Piru, 26
Prepared by: Sergeant William Hutton
Sheriff's Major Crimes Bureau / Homicide
Approved by: Captain Victor Medina
Ventura County Crime Stoppers will pay up to $1,000 reward for information, which leads to the arrest and criminal complaint against the person(s) responsible for this crime. The caller may remain anonymous. The call is not recorded. Call Crime Stoppers at 800-222-TIPS (8477).