Ventura County Deputy Sheriff Jerry Peterson Retiring
By Dick Diaz — Wednesday, September 26th, 2012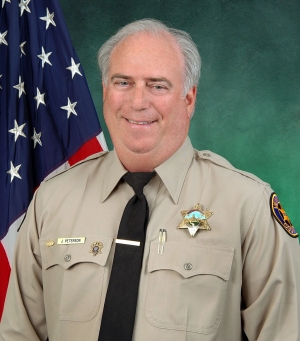 Deputy Sheriff Jerry Peterson
If you have lived in Fillmore, attended Fillmore High School, played Little League Baseball, or Girl's Softball, or had the opportunity to ask for assistance from a police officer anytime during the past 27 years, then there is a chance you may know him either personally, or have at least heard of him. I am talking about Ventura County Deputy Sheriff Jerry Peterson who will be retiring from a long and rewarding 31 year career in law enforcement on October 10, 2012. Jerry's friends and colleagues will host a Retirement Party on October 10th at the Ventura County Sheriff's Association Office, 981 South Victoria Avenue, Ventura. The meal, Santa Maria BBQ, will be prepared by Fillmore's own Fire Chief Rigo Landeros. Cost of the event is $25 and includes everything as well as a "going away" gift for Jerry. Further information can be obtained from Jane David at the police department or from the flier on page 11.
Jerry Peterson, 55 years, was born in Cincinnati, Ohio to Bob and Dorothy Peterson. Jerry's family moved to Ventura County where he attended and graduated from Simi Valley High School. After high school Jerry attended California State University, Fresno where he received a Bachelor of Science Degree in the field of Criminology. It was at CSU, Fresno that he met wife Barbara through a mutual friend and like they say, "The rest is history!"
Jerry and Barbara have lived in Fillmore since 1985 and will continue to live in the City of Fillmore after his retirement. They have two adult children, both graduates of Fillmore High School; daughter Kelsey, 27 years old who resides with her husband Luke in Loma Linda, California and son Brian, 25 years old resides in Ventura with his fiancé Austin and their 2-month-old daughter Olive. Olive is Jerry and Barbara's first grandchild and Grandfather Jerry's pride and joy! Jerry told me he feels blessed that his children live close. He said that this gives him the opportunity to see his new granddaughter at least once a week which allows him to see her grow and do all the things that a baby does as they pass through childhood.
Barbara is a School Psychologist for the Fillmore Unified School District and before that many of us remember her as Dr. Gene Evan's dental hygienist for many years before she decided to return to college and make a career change. Jerry and Barbara are active in their church, Bardsdale Methodist Church, where in addition to being a part of the congregation Barbara sings in the Church Choir along with her sister, and Choir Director, Marsha Porter. I have known Jerry and Barbara since Carolyn and I moved to Fillmore in 1985 as both his supervisor on the police department and as a family friend. In both of those capacities I have always respected Jerry's work ethic and devotion to his family.
After his retirement Jerry, as he has for years, plans to remain very active within the community of Fillmore. Jerry has served Fillmore so diligently and tirelessly for years as a Peace Officer, as an umpire for Little League Baseball and the Girls Softball programs in Fillmore and at tournaments outside of Fillmore. Of course retirement means he will no longer be seen around town driving a Sheriff's Patrol car, but his plans are to continue with his umpiring and traveling in his new motor home to away games as well as camping and hiking with Barbara, his children and Olive in the Sierras and just about any place where there is a trail-head!
Jerry began his law enforcement journey in 1981 when Jerry attended the Fresno Community College Police Academy. Upon graduation in 1981, Jerry started his Law Enforcement career as a Police Officer for the City of Reedley in Fresno County. Wanting to relocate to Ventura County, in 1985 Jerry and his family moved to Fillmore where he began his long law enforcement career as a Police Officer for the City of Fillmore.
In 1985 the City of Fillmore had its own police department of 15 officers and dispatchers and was located in the back half of what was then Fillmore City Hall. The entrance to the police department was off the side of the building that opened into the alley on the west-side of Central Avenue. After the 1994 Northridge Earthquake City Hall had an opportunity to relocate to its current location and the police department expanded into the entire building that today is the Fillmore Police Department/Sheriff's Santa Clara Valley Area Station. I arrived in Fillmore not long after Jerry and became what would later be the Fillmore Police Department's sixth and last police chief. This was due to the City establishing a Police Services Contract with the County of Ventura and the Ventura County Sheriff's Office on June 27, 1987. As the result of this transition Fillmore Police Officer Peterson became Ventura County Deputy Sheriff Peterson.
All of the Fillmore Police Department's officers were given an opportunity to transfer to other areas of the County served by the Sheriff and all but Max Pina, Bob Arnold and Jerry Peterson left for other assignments throughout the County. Max and Bob have long since retired leaving Jerry behind with the institutional knowledge of the Fillmore Community to be shared with each new deputy that arrives on assignment to the Fillmore Station. During the next 27 years Jerry maintained his commitment to Fillmore and had the opportunity to work a variety of assignments. Because Jerry worked so hard he, in a short period of time, became well known to the citizens of Fillmore, City, FUSD school officials and most importantly the students and children within the community.
Jerry's assignments included the following from 1987 to present: Traffic Officer 1994, Investigator for Major or Fatal Traffic Collisions 1994, Field Training Officer (Patrol) 1992, School Resource Officer 2000, Bike Patrol Team Member, Public Information Officer (City of Fillmore), Patrol Officer and Special Enforcement Team Member.
In 1994 Jerry was selected along with two other deputies to serve in a three-year Community Orientated Policing Services Federal grant program designed to stem and combat the rise of gang violence in the Fillmore Community, as well as implement a Community Based Policing program in the North Fillmore area. This included the establishing the North Fillmore Storefront staffed by Deputy Max Pina and the Drug Abuse Resistance Education (D.A.R.E.) Program taught by Deputy Jim Aguirre. In January 2000, Jerry was selected to be the School Resource Officer (SRO), working on campus with students, teachers, school officials and parents. As the SRO Jerry had a great impact on many of the students that attended Fillmore High School. His daily presence on campus, at school activities both at the home campus and at away events proved invaluable to maintaining a safe campus for students to learn and compete in sporting programs.
Jerry was assigned to many very important areas and projects within the Police Department in his career. In 1991 Jerry assisted in streamlining the stations computer system problems. In 1995 he was the Coordinator for the Fillmore Citizen Patrol. In 1996 Jerry's research resulted in a new City Ordinance for Daytime Curfew, reducing daytime crime within the city. In 1997 Jerry participated in the Fillmore Alcohol Decoy buy Program. In 1998 Jerry represented Law Enforcement on the "Youth Festival Steering Committee."
His awards include: 1985 Officer of the Year (Kiwanis Club of Ventura). In 1990 – Jerry received his Advance Peace Officer Standard and Training certification. On February 14, 1995, Jerry was recognized as the City of Fillmore employee of the Month for his teamwork and investigative skills. On April, 6, 2001, was recognized as the 2000 City of Fillmore Officer of the Year.
His commendations were many: Jerry received a commendation on April 6, 1985 from Captain Leach of the California Highway Patrol the result of CHP Officer David Copeland being killed in the line of duty while in pursuit of a fleeing suspect on Highway 126. Jerry and his partners were instrumental in taking the subject involved in the fatal accident that took CHP Officer Copeland's life into custody.
February 26, 1987: Jerry received a commendation from then Fillmore Chief of Police Richard Diaz for his diligent efforts while investigating a residential burglary. Jerry's thorough Crime Scene Investigation obtained latent prints that led directly to the arrest of 2 adults and 1 juvenile and charges of burglary were filed against all three suspects.
September 2007: Jerry received a commendation for his efforts and investigations, which lead to several arrest of gang members in a violent assault that occurred after school.
November 2008: Jerry received a commendation from the Ventura County District Attorney's Office for his instilling trust in a victim who was initially reluctant to cooperate with Law Enforcement and the District Attorney's Office on a case involving a gang member and a violent crime.
February 20, 2009: Jerry received a commendation from Deputy District Attorney David McDonald for Jerry's investigative work and professional testimony on a battery case.
August 17, 2009: Jerry received a commendation from Sheriff Bob Brooks and Superintendent Jeff Sweeney (Fillmore Unified School District) calling Jerry an "Invaluable Resource" and praising Jerry for his role in the safety and security of the students and faculty from outside influences.
June 2010: Jerry received a written commendation for the handling of a critical incident from a manager of another county agency (CIT): "You exemplified the standards of the Sheriff's Office and that of the Crisis Intervention Team's philosophy, to resolve each situation in a manner that shows concern for the citizen's well being."
June 2010: Jerry received a commendation for developing information and obtaining evidence verifying an un-reported shooting in the 700 block of Akers Street in Fillmore.
If you were to ask anyone involved in law enforcement or from the Fillmore Unified School District if they believed Deputy Jerry Peterson had an impact on this Community I don't think it would be too hard to guess what their answer would be. If you were to ask any citizen in this Community if Deputy Jerry Peterson made a difference in their quality of life, well I can assure you that you would get a mix of answers. I don't consider this a bad response though because if you were someone trying to skirt around the law and violate the peace and safety of the Fillmore Community then Deputy Jerry Peterson is not someone you want tracking you down, but for the rest of us I believe we all would agree Deputy Jerry Peterson did improve our quality of life. We all wish Jerry and Barbara well in Jerry's retirement (Barbara is not retiring) and are thankful for his service to the citizens of Fillmore. We are also thankful that the Peterson family will continue to call Fillmore their home!