U.S. Second Lieutenant Ashley N. Van Winkle Receives Commission
By Dick Diaz — Wednesday, July 3rd, 2013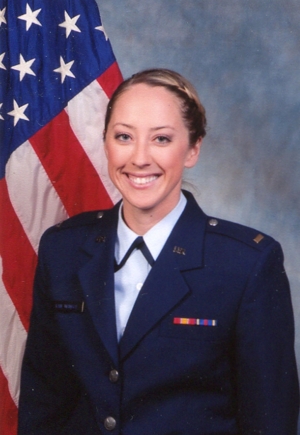 2nd Lieutenant Ashley N. Van Winkle
Fillmore resident and Saint Bonaventure High School 2003 graduate, Ashley N. (Bennett) Van Winkle, 27 years, received her United States Air Force Commission on March 26, 2013 as a Second Lieutenant. Ashley enlisted in the Air Force on January 8, 2013 for a six-year enlistment. Ashley attended Fillmore Unified Schools for her primary education; Sespe and San Cayetano Elementary Schools and Fillmore Middle School before entering Saint Bonaventure where she participated in Varsity Basketball, Softball, Swim Team and Soccer.
Ashley is the wife of Chad Van Winkle and the daughter of Paul Bennett (stepmother Stephanie) of Fillmore and Lynn Hernandez (stepfather Danny) of Camarillo. Her brothers are Paul Bennett Jr. 22, Fillmore, Austin Bennett 18, Fillmore and Joey Hernandez 12, of Camarillo. Ashley's sisters are Melissa Acosta 24, of Tahoe, California, Sierra Bennett 21, Fillmore and Alyah Hernandez 10 of Camarillo. Ashley's Grandparents are Paul and Carol Conaway of Fillmore and Loy and Frankie Hibbard of Cleveland, Tennessee.
Ashley comes from a long line of family that have served in the military; Great-Grandfather Leonard Preciado served in the United States Navy during WWII, Grandfather Loy Hibbard served in the United States Marine Corps during WWII, Grandfather Paul Conaway served in the United States Army, Uncle, Major Jimmy Hibbard, served in the United States Air Force, Uncle Kenny Preciado, served in the United States Army during Vietnam and Father-In-Law Steve Van Winkle, served in the United States Army during Vietnam.
Second Lieutenant Ashley Van Winkle attended and completed her officer training at Maxwell Air Force Base in Montgomery, Alabama. Officer Training School is a rigorous, nine-week program designed to challenge a candidate both mentally and physically. Its purpose is to develop a candidate into a world-class officer of character who possesses the American warrior ethos, embodies the Air Force Core Values and is prepared to lead Airmen. Upon graduation, a graduate is commissioned as a Second Lieutenant in the United States Air Force. Second Lieutenant Van Winkle is currently stationed at Tyndall Air Force Base, Panama City, Florida where she is participating in Undergraduate Air Battle Manager Training with the 325th Fighter/337th Air Control Squadron. She has not yet been deployed but she has earned the National Defense Medal and the Air Force Training Medal.
What is an Air Battle Manager? An Air Battle Manager is a Commissioned United States Air Force Officer who must possess at the minimum a Bachelors Degree. Second Lieutenant Van Winkle is a 2008 graduate of California State University, Northridge with a Bachelor's Degree in Marketing. An Air Battle Manager job description is: "During lightning-fast air combat, every decision makes an impact. And the officers making all of those decisions — right down to choosing the right aircraft for the mission — are the Air Battle Managers (ABM). They use strategy, experience and an intimate knowledge of all aircraft, weapons and surveillance to ensure success. By controlling the battle space and establishing "big picture" situational awareness, ABMs plan and execute the entire theater air operation. Their expertise is also often called upon in an advisory role by other allied military forces.
All of us here in the communities of Fillmore, Piru and Camarillo are proud of United States Air Force Second Lieutenant Ashley N. (Bennett) Van Winkle for her service. We wish her a long and distinguished career and safe travel. We thank her and her family for the sacrifices they have already made and will make in the future. Second Lieutenant Van Winkle is one of our own and is truly an American Hero! All of us Thank You Second Lieutenant Van Winkle for your service!