US Navy Electrician Mate Second Class William Foster
By Dick Diaz — Wednesday, May 21st, 2008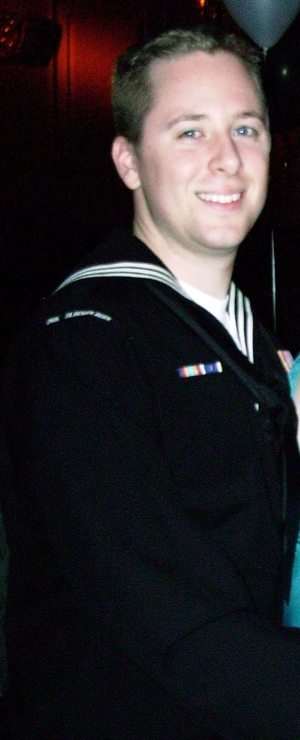 United States Navy Electrician Mate Second Class William Foster Stationed in Groton, Connecticut.
2002 Fillmore High School Graduate, William Foster, 24 years, is an Electrician Mate Second Class (EM2) in the United States Navy stationed in Groton, Connecticut. (EM2) William Foster also attended Sespe Elementary School and Fillmore Middle School. He is married to Ashley (Dunst), 23, of Fillmore. Ashley is a 2003 Graduate of St. Bonaventure High School. Both swam for the Heritage Valley Aquatics swim team (Fillmore & Santa Paula Club Team) throughout High School. Their coaches were Cindy Blatt and Sheryl Mannis. Both William and Ashley also swam for their respective High Schools. (EM2) William Foster is the son of Joy (Marvin) Oge of Fillmore and Roger (Manja) Foster of Springfield, Missouri. While still at Fillmore High School (EM2) William Foster attended Ventura College and after graduation from FHS he attended the College of The Canyons in Santa Clarita.
(EM2) William Foster and his wife Ashley are expecting their first child, a son, around July 17th, and they have already given him his name; Jeremiah Lawrence Foster. (EM2) William Foster said, "We are very excited and can't wait for him to be here". (EM2) William Foster's grandparents are: Paternal Caroline Foster (who lives both in Missouri and Texas) and the late Robert Foster. His Step-Grandparents are Jim & Della Oge from Santa Clarita, California. His Maternal Grandfather is the late William Stonebraker and Maternal Step-Grandmother Barbara Stonebraker who now lives in San Clemente, California. His Maternal Step-Grandfather is the late Lindsey Zunich and Maternal Grandmother the late Mary Zunich. He has an older Step-sister and three younger half-brothers. (EM2) William Foster's siblings are a sister is Anna Barbie, 29 years, living in Springfield, Missouri, Brothers, Edmond (Eddie) Lee Foster, 19 years and Eric Lee Foster, 14 years, also living in Springfield, Missouri. He has another brother living in Fillmore, Ryan Eric Oge, 18 years. His Father-in-Law and Mother-in-Law are Larry and Judy Dunst of Fillmore and operators of Community Pharmacy in Fillmore.
(EM2) William Foster enlisted in the Navy on February 25, 2004 and completed his Recruit Training in Great lakes, Illinois. After Recruit Training he then complete 1 1/2 years of advanced schooling in Charleston, South Carolina before arriving at his assigned duty station in Groton, Connecticut in October 2005.
(EM2) William Foster tells me he has been on one six month deployment and one two month surge deployment to: Rota, Spain; La Maddalena, Italy; Toulon, France; Dubai, United Arab of Emirates; Curacao, Netherlands Antilles, Trinidad, and Tobago. He has been awarded: Global War on Terrorism Service Medal, Global War on Terrorism Expeditionary Medal, Navy Sea Service Ribbon, Meritorious Unit Commendation, and the Navy Expeditionary Medal. (EM2) William Foster is a nuclear trained Electrician Mate Second Class Submarines Qualified. In other words, he tells me, he works in the Engine Room with the Power Plant and is responsible for all electrical panels, switchboards, control panels, and motors on board the nuclear submarine.
Although now assigned to shore duty his previous boat was the nuclear submarine, USS Albuquerque. The USS Albuquerque is the 19th attack nuclear submarine in the Los Angeles class.
Since commissioning, USS Albuquerque has completed several deployments in both the Atlantic Ocean and Mediterranean Sea and has been awarded two Meritorious Unit Commendations. At the ship's commissioning on May 21, 1983, the Mayor of the City of Albuquerque, New Mexico presented a set of keys for a new Rolls Royce to the Commanding Officer. The Mayor proclaimed that the first skipper to pilot the submarine up the Rio Grande to Albuquerque for a port visit will win this prize. At each Change of Command the keys to the Rolls Royce are turned over to the new Commanding Officer by the Mayor or his representative. Looks like that port visit still has not been completed!
Recently EM2 William Foster has received orders to report to the USS Nevada homeported in Bangor, WA. Ashley and Will are in the process of moving to Washington. The USS Nevada (SSBN-733), an Ohio-class ballistic missile submarine, was the fourth ship of the United States Navy to be named for the 36th state. The contract to build her was awarded to the Electric Boat Division of General Dynamics Corporation in Groton, Connecticut on 7 January 1981 and her keel was laid down on 8 August 1983. She was launched on 14 September 1985 sponsored by Mrs. Carol Laxalt, and commissioned on 16 August 1986, with Captain F.W. Rhome in command of the Blue Crew and Captain William Stone in command of the Gold Crew.
In 2007 the blue crew was awarded with the Battle 'E' award. This award is for the best boat in the fleet. With inspections for Tactical Readiness, and Reactor Safety, This is the Second consecutive year for the Nevada to get this award. Another note of interest is in Tom Clancy's novel Debt of Honor, Nevada is one of several submarines sent to deal with the Japanese invasion of the Marinas Islands.
Naval Base Kitsap is a U.S. Navy base located on the Kitsap Peninsula in Washington State. It was created in 2004 by merging the former Naval Station Bremerton with Naval Submarine Base Bangor. The Mission of Naval Base Kitsap is to serve as the host command for the Navy's fleet throughout West Puget Sound and to provide base operating services, including support for both surface ships and submarines homeported at Bremerton and Bangor. NB Kitsap also provides service, programs, and facilities to meet the needs of their hosted warfighting commands, tenant activities, crew, and employees. NB Kitsap is the largest naval organization in Navy Region Northwest and is composed of installations in Bremerton, Bangor and Keyport. Naval Base Kitsap was the recipient of the 2005 Commander in Chief's Award for Installation Excellence - the Best Base in the U.S. Navy.
(EM2) William Foster is undecided as far as making the Navy a career and tells me, "That is all up in the air. I am very proud of this country and to serve for it." We wish (EM2) William Foster safe travel and congratulate Ashley and him on the pending birth of his first born. His service to his Country is something I am sure all his family is proud of and all of us here in the Communities of Fillmore and Piru thank him and his family for their sacrifices.