U.S. Army Staff Sergeant Kevin J. Buddy Edwards Receives Bronze Star Medal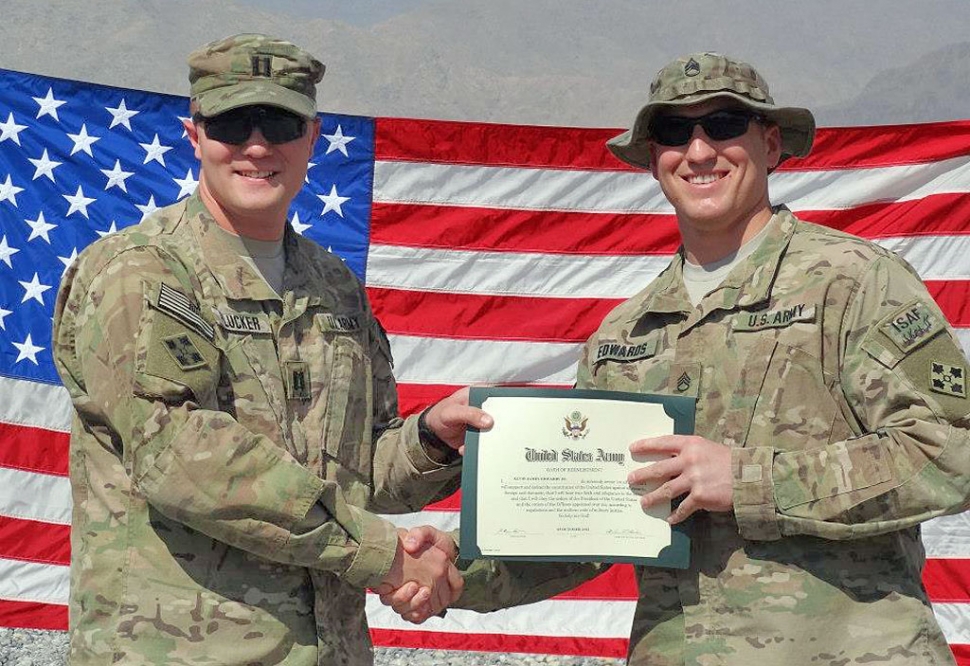 Buddy Edwards Reenlistment in Afghanistan.
By Dick Diaz — Wednesday, November 28th, 2012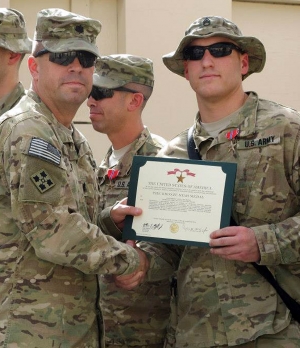 United States Army Staff Sergeant Kevin J. Buddy Edwards holds his Bronze Star Medal Certificate.
Fillmore's Kevin J. "Buddy" Edwards received a Bronze Star Medal for his Meritorious Service in Support of Operation Enduring Freedom, Afghanistan from March 10, 2012 to November 25, 2012. "The Bronze Star Medal is a U.S. Armed Forces individual military decoration and the fourth-highest award for bravery, heroism or meritorious service. Awarded to a member of the military who, while serving in, or with the military of the United States after December 6, 1941, distinguished him or herself by heroic or meritorious achievement or service, not involving participation in aerial flight, while engaged in an action against an enemy of the United States; while engaged in military operations involving conflict with an opposing foreign force; or while serving with friendly foreign forces engaged in an armed conflict against an opposing armed force in which the United States is not a belligerent party. Awards may be made for acts of heroism, performed under circumstances described above, which are of lesser degree than required for the award of the Silver Star. Awards may also be made to recognize single acts of merit or meritorious service."
Staff Sergeant (SSGT) Kevin J. "Buddy" Edwards, 28 years, is a 2002 FHS Graduate and Fillmore Native. SSGT Edwards is the son of Kevin Edwards and Donna Edwards (Smith), of Fillmore. SSGT Edward's Maternal Grandparents are, Ronnie and Chris Smith of Fillmore. His Paternal Grandmother, Sharon Stewart lives in Oregon. His Paternal Grandfather was the late Jim Edwards. Jim's widow, Rebecca Edwards, also lives in Oregon. SSGT Edwards siblings are U.S. Army Reserve Sergeant Michael "Mikey" Edwards, 26 years, U.S. Army Ranger Private First Class Anthony Edwards, 20, and Brett Edwards, 17, a Senior at Fillmore High School.
Staff Sergeant Kevin Edwards is a Military Intelligence Analyst. In this position he has obtained a "Military Top Secret Clearance." The intelligence analyst supervises, performs, or coordinates, collection management, analysis, processing, and dissemination of strategic and tactical intelligence. Sergeant Kevin Edwards prepares all source intelligence products to support the combat the commander. Additionally he assists in establishing and maintaining systematic, cross-referenced intelligence records and files and receives and processes incoming reports and messages. Staff Sergeant Kevin Edwards assists in determining significance and reliability of incoming information, in integrating incoming information with current intelligence holdings and prepares and maintains the situation map. He contributes in the analysis and evaluation of intelligence holdings to determine changes in enemy capabilities, vulnerabilities, and probable courses of action. Other duties include the preparation of Order of Battle records using information from all sources and in the preparation of strength estimates of enemy units. Staff Sergeant Edwards is also responsible for proofreading intelligence reports and assists in consolidating them into military intelligence. He prepares Intelligence Preparation of the Battlefield (IPB) products. Without a doubt for any military combat operation someone in the position of SSGT Edwards plays a critical role on the battlefield. A role, through four deployments, that has now been recognized by presenting SSGT Edwards with a Bronze Star Medal, the fourth-highest award for bravery, heroism or meritorious service.
Staff Sergeant Edwards has been awarded many service recognitions; the Brigade Soldier of the Month for February 2007, he was also an Honor Graduate from Advance Intelligence Training at Fort Huachuca, Arizona. He has been awarded the Joint Service Achievement Medal, two Army Achievement Medals, two Foreign Tour Ribbons, an Iraqi Freedom Campaign Medal, National Defense Service Medal, Global War on Terror Medal and the Army Service Ribbon. SSGT Edwards while in Afghanistan has recently reenlisted for another six years of military service!
All of us here in the communities of Fillmore and Piru are very proud of Staff Sergeant Kevin J. "Buddy" Edwards. We thank him, and his family, for his service and their sacrifices they have already made and will make in the future to keep the United States of America strong. With two other sons currently serving in the United States Army the Edwards Family has given very much already. Mother Donna Edwards tells me when discussing youngest Son Brett's desire to follow his brothers into the United States Army and train as a Military Police Officer, "...well he wants to go in as an MP but honestly Dick with the way things are right now over there, my heart needs a break. If Anthony goes as scheduled next year that will be 5 deployments for me in 8 years so we have him (Brett) talked into (hopefully) doing at least one year of community college first and then see how things are going."
We additionally wish Staff Sergeant Kevin J. "Buddy" Edwards, and his brothers Sergeant Michael "Mikey" Edwards and Private First Class Anthony Edwards safe travel and long and successful United States Army Careers. Staff Sergeant Kevin J. "Buddy" Edwards and brothers Sergeant Michael "Mikey" Edwards and Private First Class Anthony Edwards are truly American Heroes. Congratulations Buddy on your well deserved Bronze Star Medal!