US Air Force Staff Sergeant Select Pedro Rivera-Aparicio
By Dick Diaz — Wednesday, June 4th, 2008
2002 Fillmore High School Graduate, Now Stationed at Aviano, Italy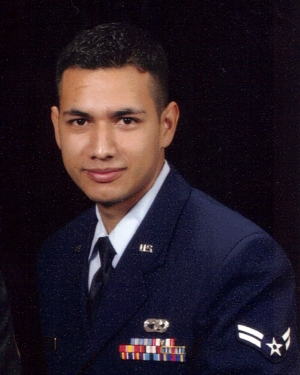 United States Air Force Staff Sergeant Select Pedro Rivera-Aparicio.
This article began with an email from the older brother of Pedro Rivera-Aparicio, Roque Rivera. Roque asked me if it was possible for me to do an article about his brother, without his brother being contacted for the information I needed. His request was because he wanted to surprise his brother with the article. Roque told me that Pedro would be proud that his community would want to honor him with an article about his service in the United States Air Force. Although unusual I thought it was a worthy cause and enlisted Rogue as my assistant in gathering the necessary information. Now that the article has been written and I have gotten to know Pedro, through Roque, I am thankful that I was allowed to participate in Roque's surprise for his brother Pedro!
United States Air Force Staff Sergeant Select Pedro Rivera- Aparicio, 24 years, is a 2002 graduate of Fillmore High School. He also attended San Cayetano and Sespe Elementary Schools, and Fillmore Middle School. Although not avid in Fillmore sports Pedro did participate in AYSO Soccer, but his primary interest has always been working on cars.
Staff Sergeant Select Pedro Rivera-Aparicio is the son of Roque and Leonor Rivera of Fillmore. His Paternal Grandparents are Isaias and Maria de Jesus Rivera and Maternal Grandparents Gregorio and Ernestina Aparicio. His siblings are Nancy Rivera 28 years, Roque Rivera 26 years, Francisco Rivera 22 years, and Victor Rivera 17years all living in Fillmore. Pedro has other family members who have also served in the military; Brother Roque Rivera who served with the United States Army from 2001-2005. Roque is a veteran of Operation Iraqi Freedom having served there for thirteen months as an Infantry Sergeant. While in Iraq he was with a Scout platoon conducting sniper missions, raids, patrol missions and reconnaissance. And, Cousin Jose "JR" Tamayo of Moorpark who has been with the United States Marines for approximately a year.
Prior to his current assignment Staff Sergeant Select Pedro Rivera-Aparicio attended a Special Purpose and Equipment Maintenance Technical School at the Port Hueneme Seabee base in Port Hueneme, California. For his hard work at the school he was recognized as the schools distinguished graduate. Although the school is managed by the Navy but is open to soldiers in other branches.
Staff Sergeant Select Pedro Rivera-Aparicio is stationed in Aviano, Italy supporting the 31st Fighter Wing assigned to the 31st Logistics Readiness Squadron (31st LRS). He enlisted on May 11, 2004 and completed his Basic Training at Lackland Air Force Base, Texas. Staff Sergeant Select Pedro Rivera-Aparicio reenlisted October 10, 2007 and thinks he may make the Air Force a career. He is currently a Staff Sergeant Select awaiting his permanent promotion to Air Force Staff Sergeant.
Aviano Air Base is located at the base of the Dolomites at the northern end of the Po Valley, the largest agricultural plain in Italy. The base is 35 minutes from skiing at Piancavallo and an hour from the beaches of the Adriatic. The closest large city is Pordenone, about 10 minutes away, and Venice is only an hour and a half away by auto or train. The host wing at Aviano is the 31st Fighter Wing, which maintains two F-16 fighter squadrons to conduct regional and expeditionary operations under the North Atlantic Treaty Organization (NATO), Supreme Allied Commander Europe (SACEUR) or national tasking.
The 31st Logistics Readiness Squadron delivers and sustains combat logistics readiness support through professional vehicle, supply and fuels management. The unit plans and executes surface, rail, air and sea movement of passengers and cargo for the 31st Fighter Wing, Geographically Separated Units (GSU) and US and NATO deployed forces. The 31st LRS executes base deployment operations while maintaining a robust capability to deploy personnel/cargo in support of Air Expeditionary Force (AEF). More than 449 active-duty, Reserve and Civilian employees are assigned to the Logistics Readiness Squadron. The squadron is responsible for over 1200 vehicles valued at over $58M, stock accounts valued at over $521M, and the receipt, storage, quality and issue of over 42M gallons of fuel and cryogenics products annually. The unit manages 618 Unit Type Codes tasking 4,370 personnel and 1,942 short tons of cargo and maintains a War Reserve Materiel program valued at $1.5M. The 31st LRS also operates the wing's Support Agreement office, maintaining more than 20 support agreements with $25M in reimbursements annually.
Staff Sergeant Select Pedro Rivera-Aparicio has earned two achievement medals: one for performing First Aid on an injured civilian. The civilian was cutting wood and cut two of his fingers off. The award reads, "Airman Rivera's quick reaction and immediate first-aid care on a fellow mechanic proved invaluable as he tended to a severe hand injury. While working on a self-help project, a co-worker accidentally amputated two fingers on his right hand as he was cutting wooden planks on a table saw. Without hesitation, Airman Rivera promptly used his self-aid and buddy care training to cover the injury and control bleeding with a make shift bandage made out of his Battle Dress Uniform shirt."
The other award for all his work, while at Keesler Air Force Base, Mississippi. This included his participation during Hurricane Katrina. The award says, "During this period, Airman Rivera's exceptional skills and knowledge of heavy equipment were instrumental in the flight maintaining an average 93.7 percent vehicle-in-commission rate during the last 2 years. Additionally, Airman Rivera was vital in aiding the movement of 2.5 million pounds of critical first-aid and food supplies for three costal counties, after Hurricane Katrina."
In addition to his other duties Staff Sergeant Select Pedro Rivera-Aparicio assists his fellow Airman as a Airman Against Drunk Driving Representative- Staff Sergeant Select Rivera-Aparicio would be ready to go pick up a fellow Airman who are unable to drive a motor vehicle because of their alcohol impairment. He does this as a volunteer and on his free time.
Staff Sergeant Select Pedro Rivera-Aparicio has been on two deployments. One to Manas Air Base, Kyrgyzstan as a Vehicles and Material Handling Equipment Journeyman. And, the other to Al-Udeid Air Base in Qatar as a Third Country National Security Escort. His deployments have been in support of Operation Iraqi Freedom and Operation Enduring Freedom with the Combined Joint Task Force - Horn of Africa. The Combined Joint Task Force - Horn of Africa (CJTF-HOA) is a joint task force of United States Central Command. It is a component of the United States response to the September 11, 2001 attacks. CJTF-HOA focuses its efforts on conducting unified action in the combined joint operations area of the Horn of Africa to prevent conflict, promote regional stability, and protect Coalition interests in order to prevail against extremism.
Staff Sergeant Select Pedro Rivera-Aparicio has earned military ribbons and medals for; Air Force Achievement Medal, Meritorious Unit Award, Air Force Outstanding Unit Award with Valor Device, National Defense Service Medal, Global War on Terrorism Expeditionary Medal, Global War on Terrorism Service Medal, Humanitarian Service Medal, Air Force Expeditionary Service Ribbon with Gold Border, Air Force Training Ribbon.
I know that Staff Sergeant Select Pedro Rivera-Aparicio is fortunate to not only have a proud Brother like Roque, but his entire family is proud of his service and sacrifice. All of us here in Fillmore and Piru wish Staff Sergeant Select Pedro Rivera-Aparicio safe travel and thank him and his family for their service and sacrifices to protect our freedoms.