United States Army Warrant Officer One David M. Warnock-Ortiz
By Anonymous — Wednesday, May 14th, 2008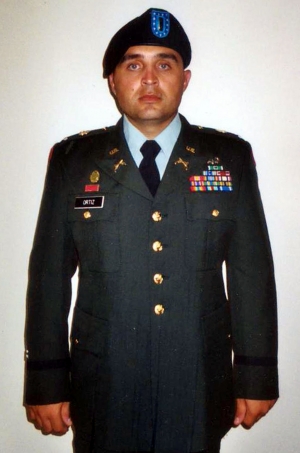 David M. Warnock-Ortiz, United States Army Warrant Officer One (WO1)
1996 Fillmore High School Graduate and United States Army Warrant Officer One (WO1) David M. Warnock-Ortiz, 30 years, is serving at the Army's Fort Bliss located in El Paso, Texas. He also attended San Cayetano Elementary School and Fillmore Junior High School. While in the Army David is taking college level courses pursuing a degree in computer science.
(WO1) David M. Warnock-Ortiz is married to Sonja (originally from Mississippi), who he met while stationed in the military in Colorado. Together they have three sons; Isaiah 6 years, Israel 5 years and Zion 1 year. (WO1) David M. Warnock-Ortiz is the son of Julia Ortiz and James Warnock of Fillmore. His Maternal Grandparents are Fred and Virginia Ortiz of Fillmore and his Paternal Grandparents are the late Ronald and Lillian Warnock of Fillmore. He has one sister, Darlene Leighton, 33 years, living in Texas.
(WO1) David M. Warnock-Ortiz comes from a long line of family members who have served in the United States Army; Grandfather Fred Ortiz served during Korea, Grandfather Ronald Warnock also served in the Army as did Uncles Ray Ortiz Sr. and Pete Cervantez and Cousin Ray Ortiz Jr. all of Fillmore.
(WO1) David M. Warnock-Ortiz enlisted in the Army in September 1996 after graduation from Fillmore High School where David played football for two-years. He initially enlisted as a Military Policeman and was stationed at Fort Campbell, Kentucky, where he was assigned to the 101st Airborne Division (Air Assault). While there he completed Air Assault School, and then deployed to Egypt as part of a multinational training exercise. (WO1) David M. Warnock-Ortiz has also been assigned in Korea, where he worked at a Military Intelligence compound protecting classified materials. He then returned to the United States and moved to Fort Carson, Colorado where he was assigned to patrol and direct combat support of the 3rd Armored Cavalry Regiment (ACR).
(WO1) David M. Warnock-Ortiz said that while in Colorado, "I married my wonderful wife Sonja and had our first son Isaiah". (WO1) David M. Warnock-Ortiz then deployed to Bosnia with the 3rd ACR as part of SFOR 7 (Stabilization Force). When he returned he was assigned to Fort Rucker, Alabama, where he was promoted to sergeant and began working in Military Police Investigations, conducting misdemeanor level investigations. While at Fort Rucker he and Sonja had their second son Israel. At Fort Rucker he submitted an application and was accepted to become a Criminal Investigation Division (CID) Agent. CID Agent's conduct felony level investigations for the Army wherein the Army has an interest. He was accepted in 2003 and attended the Apprentice Special Agent Course, which was a four month course where he learned crime scene processing and photography, interviews and interrogations, advanced self defense and weapons training, computer crimes training, fraud training, and investigative techniques pertaining to child abuse, sexual assault, and death/murder investigations. He also attended a second course, where he was trained in Protective Services.
Upon graduation he transferred to Fort Benning, Georgia, and then deployed to Taji, Iraq. After his deployment he returned to Fort Benning and he and Sonja had their third son, Zion. While at Fort Benning, (WO1) David M. Warnock-Ortiz applied for, and was accepted to, attend the U.S. Army Warrant Officer Candidate School. Upon graduation he was commissioned as a Warrant Officer. The newly appointed Warrant Officer moved to Fort Bliss, El Paso, Texas where he is currently stationed. His current assignment is with the 76th Military Police Detachment (CID) where he conducts felony level investigations on a daily basis involving military personnel.
(WO1) David M. Warnock-Ortiz has earned two Army Achievement Medals, three Army Accommodation Medals, three Good Conduct Medals, Overseas Medal, Iraqi Campaign Medal, Global War on Terrorism Medal, Global War on Terrorism Expeditionary Medal, Army Expeditionary Medal, NATO Medal, National Defense Ribbon, Korean Defense Service Medal, Army Service Ribbon, and Non-Commissioned Officers Developmental Ribbon.
(WO1) David M. Warnock-Ortiz is a career soldier and he is proud to serve his Country protecting all of us here at home. We wish (WO1) David M. Warnock-Ortiz safe travel and thank him and his family for their sacrifices. His service is greatly appreciated.