United States Air Force Airman First Class Ryan Hackney
By Anonymous — Wednesday, June 11th, 2008
Hackney Stationed at Elmendorf Air Force Base, Alaska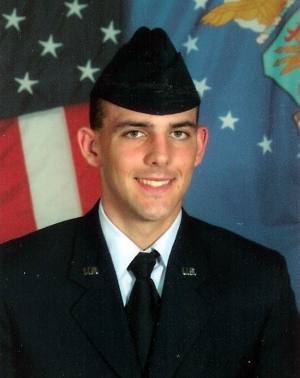 United States Air Force Airman First Class Ryan Hackney.
Airman First Class (AIC) Ryan Hackney, 20 years old, a life-long Fillmore resident is a 2005 graduate of Cornerstone Christian School in Camarillo. Ryan also attended the Fillmore Christian Academy through the 6th grade. Ryan played in the Fillmore Little League Baseball and AYSO soccer. He also four years of soccer, as well of one year of basketball and one year of baseball for Cornerstone Christian School and In soccer he was voted MVP his junior and senior years. Ryan excelled as an athlete and a scholar in school. In the 8th grade he won several local, District and State spelling bees and then represented Southern California in the Association of Christian Schools International (ACSI) National Spelling Bee in Washington, D.C. AIC Ryan Hackney enlisted in the Air Force on August 22, 2006 and he is stationed at Elmendorf Air Force Base, Alaska.
AIC Ryan Hackney is the son of Chuck and Tracy (Carpenter) Hackney of Fillmore. He has one sister Elyse Hackney, 17 years old, and a senior at Ventura County Christian High School. His Maternal Grandparents are Fred Carpenter of Fillmore and Evelyn Carpenter of Camarillo. His Paternal Grandparents are Dick Hackney and the late JoAnn Hackney of Fillmore. Ryan follows a long line of family members who have served in the military, his Grandfather Dick Hackney served in the Army and his Great-grandfather Paul Hackney, served in the Navy during WWI. Also serving was his Great-grandfather Fred Carpenter (Sr.) who served in General George S. Patton Jr.'s Third Army during WWII (1944-1945). Ryan's Great-uncle, Larry Carpenter, served as the Sheriff for Ventura County from 1993-1998.
AIC Ryan Hackney has served a six-month deployment to the Middle East in 2007. In the Middle East he served with the 379th Air Expeditionary Wing at Camp As Sayliyah, Qatar located on the outskirts of the capital city, Doha, Qatar. The 379th Air Expeditionary Wing is one of the largest, most diverse expeditionary wings in the Air Force, providing combat airpower and support for the Global War on Terrorism in Operations Iraqi Freedom, Enduring Freedom and through support of the Joint Task Force Horn of Africa. The wing and its associate units operate more than 100 aircraft, making the base a large hub for humanitarian airlift activity while providing mission-essential combat power, aeromedical evacuation and intelligence support for three theaters of operations.
AIC Ryan Hackney has been awarded an Expeditionary Medal for "outstanding service" in support of Operations Iraqi Freedom, Enduring Freedom, the Combined Joint Task Force Horn of Africa and the National Defense Medal. He has earned Expert Marksman ribbons in both the M-4 and M-9 weaponry. He also has earned a ribbon for being an Honor Graduate at Lackland Air Force Base in Texas where he completed his basic training. Lackland is home to the 737th Training Group which provides Air Force Basic Military Training (BMT) for all enlisted people entering the Air Force, Air Force Reserve and Air National Guard, earning Lackland the nickname, "Gateway to the Air Force."
The Air Force receives approximately 35,000 Airmen each year from the 737th Training Group; the number varies with projected requirements.
Following graduation, Airmen go on to technical training at Lackland, or elsewhere, before their first Air Force assignment. More than seven million Airmen have completed BMT since 1946. This, I believe makes AIC Ryan Hackney's "Honor Graduate" designation no small feat! Recently he received a 5 of all 5 (highest) on his yearly service performance evaluation. AIC Ryan Hackney has surely found the Air Force to be a good fit for him.
In Alaska, AIC Ryan Hackney is with the 3rd Security Forces Squadron at Elmendorf Air Force Base, Anchorage, Alaska. When I asked Ryan what he does he told me, "I perform functions as both a law enforcement officer such as the normal speeding tickets, and other traffic stops, to responding to robberies, we are first responders to emergencies, domestic situations, suicides and basically any other law enforcement related responsibilities a civilian law enforcement officer would do. Along with that we perform security functions protecting Priority level 2 and 3 resources to include a Intelligence Squadron several AWACS airplanes, Alert cell F-22's that are armed and manned at all times, and a quite extensive flight line." Being familiar with law enforcement I believe AIC Ryan Hackney's job in the Air Force is very important and one I believe he does well and will continue to do well.
Elmendorf's host unit is the 3rd Wing. As the largest and principal unit within 11th Air Force, the 3rd Wing trains and equips an Air Expeditionary Force lead wing comprised of more than 6,600 Airmen and F-15C/D, E-3B, C-17, F-22A and C-12 aircraft. It provides air supremacy, surveillance, worldwide airlift, and agile combat support forces to project global power and global reach. The 3rd Wing also maintains the installation for critical force staging and throughput operations in support of worldwide contingencies and provides medical care for all forces in Alaska. The 3rd Mission Support Squadron executes mission support for the 3rd Wing and 36 associate units assigned to Elmendorf AFB—the largest military installation in 11th Air Force and is responsible for Civil Engineering, Services, Mission Support, Security Forces, Communications, Logistics Readiness, Contracting, and Non-Commission Officer Professional Military Education. Maintains combat and contingency readiness forces and supports two forward operating bases.
All of us here in Fillmore and Piru wish AIC Ryan Hackney safe travel, a great career and we thank him and his family for his service and for their sacrifices while he is protecting all of our freedoms.