Two Fillmore Residents Arrested for Graffiti Vandalism
By Ventura County Sheriff Department — Wednesday, August 6th, 2008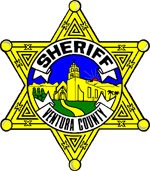 Ventura County Sheriff's Department
Sheriff's deputies arrested two male suspects, Brian Torres 19 and Ryan Noble 18 from Fillmore of a local tagging crew and a female juvenile 17, after a two-day crime spree in the city of Fillmore. Tagging crews have recently expanded their crimes from typically spraying graffiti to firearm violations, drugs, burglaries and violence. While not aligned with a specific local gang, taggers are dangerous and becoming increasingly bold with their activities.
This investigation by deputies began in the early morning hours of July 17, 2008 when residents reported a residential burglary in the 900 Block of Fourth Street. In addition there were related burglaries in the 1100 Block of El Paseo Street and two burglaries in the1000 Block of B Street.
Fillmore residents also reported related tagging crew graffiti vandalisms in the 1100 Block of Ventura Street. There was also a related attempted theft of a vehicle from the 1000 Block of Howard Street and an assault with a deadly weapon in the 200 Block of B Street.
In this latter assault, a 37 year-old male Fillmore resident was struck with a glass bottle as he sat in his parked truck. The victim sustained a head injury. He was treated at Santa Paula Hospital and released.
Using information from witnesses and community sources, Sheriff's deputies obtained evidence during the ensuing investigation that led to the identification of two primary tagging crew suspects named Brian Torres and Ryan Noble.
Torres and Noble have extensive criminal backgrounds. On July 17, 2008 Sheriff's deputies along with Fillmore detectives searched his home and found Torres in possession of property that was stolen from the home in the 1100 Block of El Paseo Street. Torres was charged with felony possession of stolen property (496(a) P.C.) and booked in the County Jail.
The female juvenile was also arrested at the Torres'home for being an accessory to the burglary after the fact ( 32 P.C. ), felony possession of stolen property ( 496(a) P.C.) and misdemeanor obstructing a criminal investigation ( 148(a)(1) P.C. ).
Fillmore Police Department investigators began an immediate investigation into locating other tagging crew conspirators who participated in the crime spree. Ryan Noble was the focus of the investigation. Noble's picture was disseminated to local Ventura County police agencies.
On 07/26/08, Sheriff's deputies received information that Noble was in the City of Oxnard. Oxnard Police Department assisted investigators and deputies in the arrest of suspect Ryan Noble. He was charged with two counts of felony residential burglary ( 459 P.C. ), one count of vandalism ( 594(b)(2) P.C.), one count of attempted felony auto theft (664 / 10851 V.C. ) and one count of felony assault with a deadly weapon (245(a)(1) P.C.) Noble was booked in County Jail.
Noble and Torres are members of a Fillmore tagging crew that has been under surveillance and is becoming more and more violent. Additional tagging crew members were arrested during the investigation for drug and violation of probation charges.
The investigation of these cases continues. The Fillmore Police Department seeks your tips to aid in the apprehension of these criminals calling themselves taggers.
Ventura County Crime Stoppers will pay up to $1,000.00 reward for information which leads to the arrest and criminal complaint against additional persons responsible for these crimes. The caller may remain anonymous. The call is not recorded. Call Crime Stoppers at (805) 494-TALK (Thousand Oaks / Moorpark) or (805) 385-TALK (Camarillo / Oxnard / Port Hueneme).