Transplant Journey Gives Fillmore Resident New Lease on Life
By Margie Bartels — Wednesday, July 23rd, 2014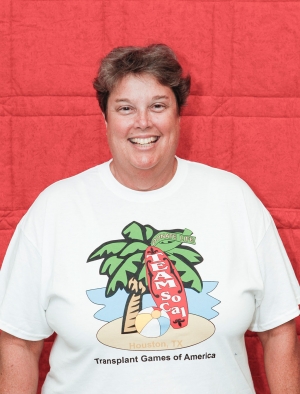 Marjie Bartels, transplant recipient, participated in the 2014 Transplant Games of America.
My transplant journey started in 1999 when I was 42 years old with a pain in my elbow! It was much more intense than muscle soreness, and pain medication didn't help. After increasing joint pain, fatigue, shortness of breath, and several visits to the doctor, I finally ended up in the hospital for twelve days and was diagnosed with a rare autoimmune disease called Wegener's Granulomatosis, a form of vasculitis. For 3 ½ years I took a chemotherapy drug called Cytoxan, along with prednisone, to control my symptoms. Long-term use of Cytoxan led to me being diagnosed with Myelodysplasia, then leukemia, in 2004.
After initial treatments failed, I had a bone marrow transplant on April 5, 2005. I was so fortunate that my only sibling, my sister Sally, was a perfect match and I did not have to search for a donor. I spent a month in the hospital at UCLA getting chemotherapy for the leukemia, then was able to enjoy three weeks at home before returning to UCLA for another month. I had a few days of full-body radiation, a massive dose of chemotherapy, the transplant, and then a few weeks of recovery there. Weekly visits to my UCLA doctor plus numerous daily medications and periodic infusions followed for several months. Though I returned to part-time work some months after the transplant, it really took about a full year to feel pretty normal again.
Nine years have passed since my transplant, and I am thankful I feel well most of the time. I don't have all the strength and stamina I used to have, but am able to live a normal and active life. The bone marrow transplant saved my life, and I am so thankful for my sister who donated to me and for my doctors who took such good care of me.
I enjoyed participating in the 2014 Transplant Games of America, and watching my SoCal team members compete in traditional sports like volleyball, tennis, basketball, track and field, swimming, and cycling, and in other events like darts, ballroom dancing, table tennis, corn hole, bowling, and Texas Hold'Em (poker). There was an event that just about everyone could participate in. We had many good athletes on our team who won medals, some in multiple sports. It proves that being an organ or transplant recipient doesn't rule out living a normal and active life. The Transplant Games of America gives organ and transplant recipients, their donors, and donor families the opportunity to reaffirm every two years that donation is truly the gift of life! It is so easy to register to be a donor; when you apply for, or renew your driver's license or state ID card, all you have to do is check the box "Yes--I want to be an organ and tissue donor." You can also go to www.donateLIFEcalifornia.org or www.doneVIDAcalifornia.org for more information.