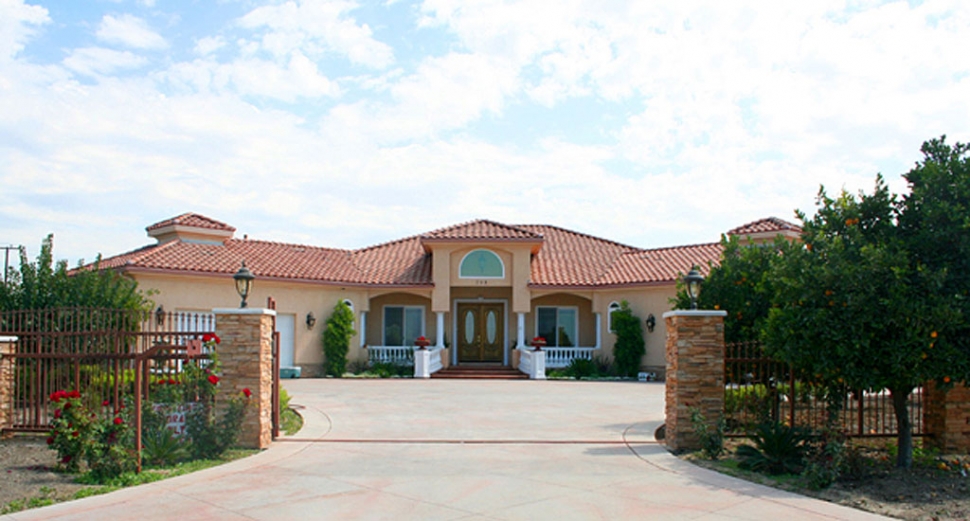 Pictured above is the home of Tony and Marge Anselmo.
By Anonymous — Wednesday, October 15th, 2008
Looking as if it came straight from the rolling hills of Tuscany, the home of Marge and Tony Anselmo is the ideal location for family and friends to gather. This is an entertainer's dream home. The super large kitchen and dining room are the heart of the home and the spot where everyone congregates. A large patio opens off the living and dining room and has a built in barbecue and pizza oven, with a grandchildren's play yard attached. There are three bedrooms and baths, all beautifully tiled, and even his and her workrooms tucked in the corners of the two garages.
"I always dreamed of building a home in an orchard, just like my home in Sicily", says Tony who personally did all the extensive stone and tile work in the home, built in 2004. Not to be outdone, Marge, who hails from an area near Naples, has guided the landscaping and decorating, even making the drapes and valances.
After enjoying this grand home with the surrounding grove of oranges, fig trees, and grapes, you will come away saying, "Bellissimo".
This year the tour will highlight four homes in Bardsdale. The date is Sunday, Nov. 9th from 12:00 to 4:00. The Heritage Valley Fine Arts Sale will take place on the Museum grounds from 11:00 to 4:00 on the same day. Tickets are $20.00 advance sale and $25.00 the day of the tour. They may be purchased through the Museum (524-0948) or at Coffeeboy or Mirage in town, or at any home the day of the tour.