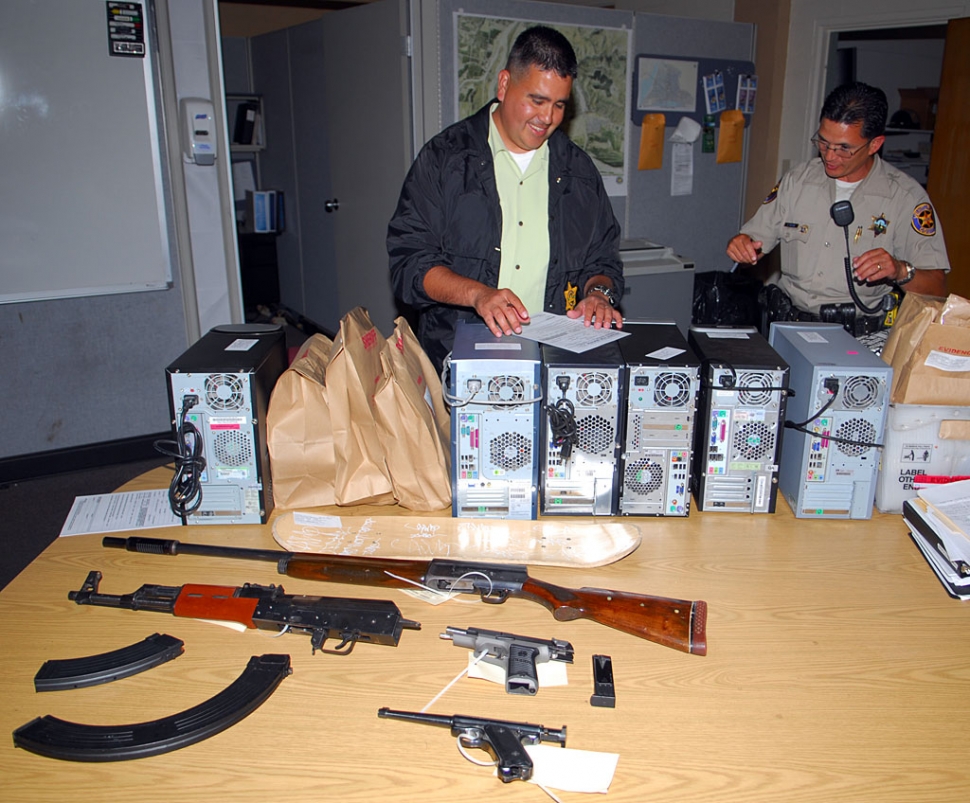 Fillmore Police Tagging Investigator Gene Torres, left, inspects the guns, ammunition, computers and other stolen property confi scated during a recent search warrant and probation searches at 7 city locations. Deputy Torres directed a 50-offi cer task force comprised of Fillmore Police and Ventura County Sheriff Deputies. Computers and cell phones taken from the residents of the arrestees will be searched for additional information.
By Anonymous — Wednesday, July 2nd, 2008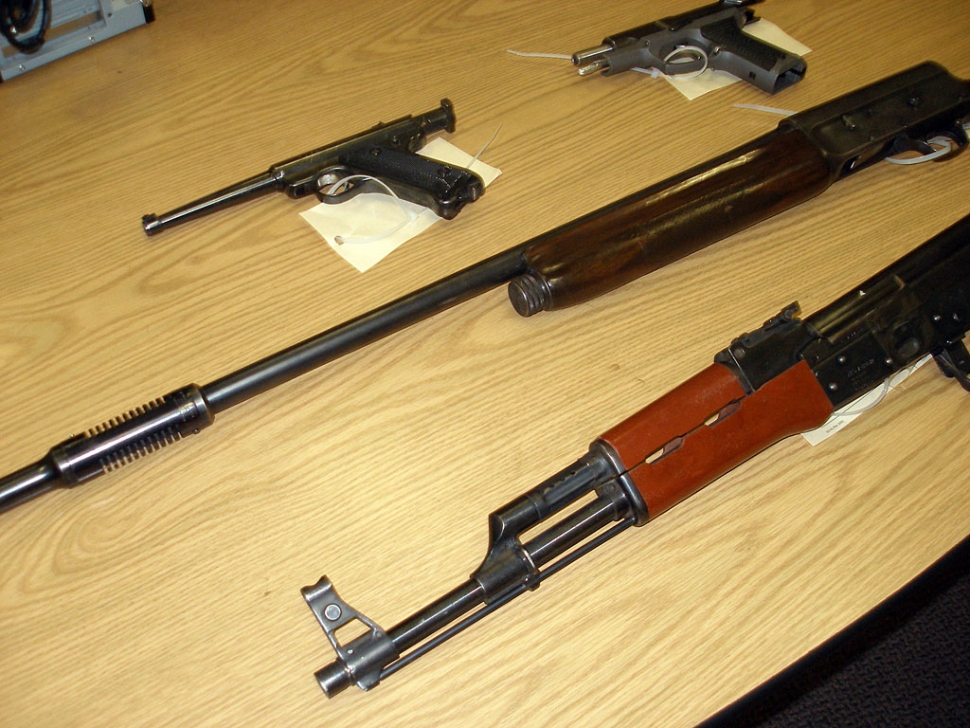 On June 3, 2008, the Fillmore Police Department investigated a residential burglary and felony vandalism in the 900 block of Wileman Street in Fillmore.
As a result, police detectives identified the suspects as being tagging members of the All Faded Krew (AFK). A tagging crew such as AFK typically commits felony vandalism and other felonious crimes. They tend to conspire to destroy both public and private property. AFK is no exception, they burglarized the house on Wileman and kicked in the walls then stole numerous items.
The Fillmore Police Tagging Investigator is Deputy Gene Torres. Earlier in June, Deputy Torres arrested 2 adult and 3 juvenile AFK members for the original burglary. It was those arrests that assisted us in the investigation.
Deputy Torres conducted lengthy surveillance on the tagging crew and established intelligence information that lead to a Ventura County Judge issuing search warrants on seven Fillmore locations that AFK members used to conduct criminal activities.
On July 1, 2008, at about 0700 AM, Deputy Torres directed a 50 officer task force comprised of Fillmore Police and Ventura County Sheriff Deputies.
The task force served the 7 search warrants in the following locations: 500 Block East Telegraph, Fillmore, Block Via Rodeo, Fillmore, Block Wileman Street, Fillmore, 900 Block Wileman (Second Location), 1300 Block Cottonwood Lane, Fillmore, Block Sespe Avenue, Fillmore, 200 Block Avon Lane, Fillmore.
Six teams responded to the tagger residences and served the search warrants and probation searches. The following were arrested: 15 year-old male AFK tagger was arrested for Felony Residential Burglary, Conspiracy and Felony Vandalism. 23 year-old Daniel Montelongo was arrested for Felony Residential Burglary, Conspiracy and Felony Vandalism. 27 year-old Efrain Salazar was arrested for Felony Possession of Cocaine and Felony Possession of a Firearm.
In addition, Officers confiscated tagging evidence from search warrant locations that ties the AFK suspects into 20 open vandalism cases throughout Fillmore. We were shocked to discover and confiscate numerous illegal firearms including an AK-47 Assault Rifle with an 80 round magazine and numerous loaded clips. Also recovered were a shotgun and three high- powered semi automatic handguns.
The investigation is continuing against the AFK tagging crew and there are potential additional arrests pending. "Tagging crews are becoming bold and have obvious access to illegal firearms. They tend to be the breeding grounds for gang activity and The City of Fillmore has a zero tolerance of their criminal activities."
Anyone with information about graffiti vandalism, or any other crime, are urged to call Crime Stoppers at (805) 524-0970 (Fillmore), Gang Hotline at 1-888-584-2647 or the Fillmore Police Department at (805) 524-2233.
Courtesy of Fillmore Police Department Ventura Count Sheriff Department.