Suspects Arrested for Forgery & Conspiracy to Commit a Crime
By Ventura County Sheriff Department — Wednesday, July 6th, 2022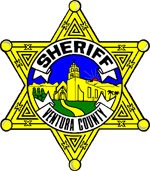 Ventura County Sheriff's Department
A 32-year-old man and a 39-year-old woman from Ventura were arrested for forgery and conspiracy to commit a crime. The male stole the victim's check from her residence while working as a contractor in the victim's residence and the female later attempted to deposit the stolen check into her bank account.
Patrol deputies and detectives conducted follow-up with financial institutions and conducted open-source internet searches. Additional evidence was obtained and led to the positive identification of Arevalo and Salinas.
On June 28th, 2022, at approximately 2:50 p.m., Arevalo and Salinas were arrested in the Isla Vista area of Santa Barbara County; The last known area where both suspects were working. Arevalo and Salinas were both taken into custody, a search of their vehicle yielded additional stolen mail and financial documents. Detectives are continuing to investigate in order to identify other potential victims. Both subjects were booked into custody at the Ventura County Pre-Trial Detention Facility for violations of forgery of a check, fictitious or altered bills notes, and conspiracy to commit a crime. Arevalo remains in custody with his bail set at $120,000. His next court date is 7/12/2022. Salinas remains in custody with her bail set at $50,000. Her next court date is 7/12/2022.
Nature of Incident: Suspects Arrested for Forgery and Conspiracy to Commit a Crime
Report Number: RB# 22-33963
Location: City of Fillmore
Date & Time: June 28, 2022 @ 2:30 P.M.
Unit(s) Responsible: Fillmore Detective Bureau, Narcotics Street Team, Fillmore Patrol Services
(S)uspects, (V)ictims, (P)arty, (D)ecedent City of Residence Age
(A-1) Francisco Arevalo, Ventura, 32
(A-2) Rosalia Salinas, Ventura, 39
Prepared by: Detective John Lemar
Approved by: Captain Garo Kuredjian
Ventura County Crime Stoppers will pay up to $1,000 reward for information, which leads to the arrest and criminal complaint against the person(s) responsible for this crime. The caller may remain anonymous. The call is not recorded. Call Crime Stoppers at 800-222-TIPS (8477).