Supervisor Long responds to Gazette's Editorial regarding Grand Avenue fence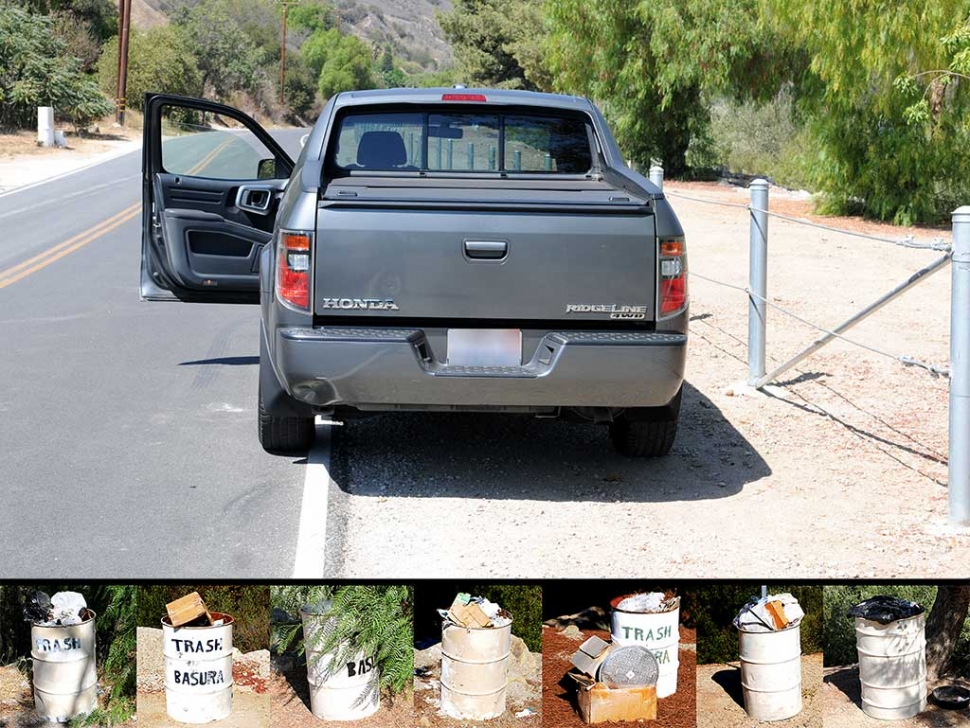 [Editorial note: New Sespe Fence Discourages Tourism, Does Little for Trash Issue. (above) A vehicle parked parallel to the Sespe fence (too close to open passenger side door) is unsafe for driver's side activity. Although supervisor Long's letter states "To clarify, the fence was installed far enough away from the edge of the roadway to allow for vehicle parking..." the above photo shows otherwise. All new parking spaces must now be parallel, even if safe legal parking was possible, the fence severely reduces the total amount of parking spaces. Traditional parking spaces have been cut by more than two-thirds. Sespe Creek is designated as a national Wild and Scenic River and National Scenic Waterway. Its southernmost entry (trailhead) deserves a spacious place for vehicle parking. The fence should be removed, and in its place we should erect several Hi-Def cameras and impose strong fines for dumping trash. Also (above) photos taken on August 30th, 2016 of each trash can located at the end of Grand Avenue. Each can is full, some overflowing with trash. Materials found in each can dates to as early as January of 2016 indicating they have not been emptied for months.]
By Martin Farrell — Thursday, September 1st, 2016
The Gazette's investigation reveals impossible for most vehicles to legally parallel park and trash collection has been neglected for months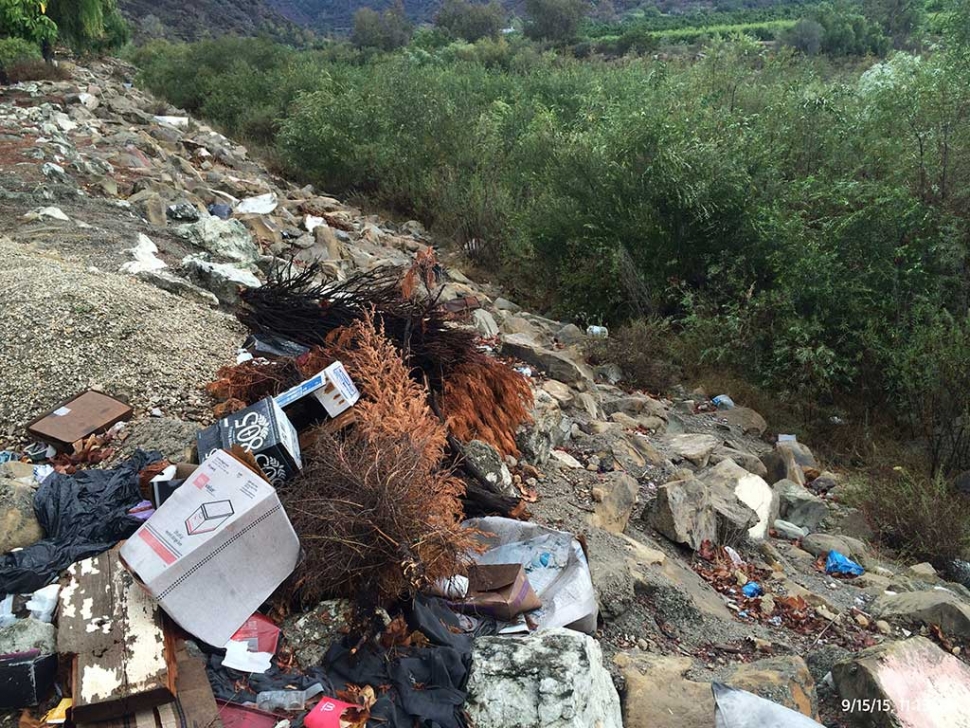 Photo submitted to The Gazette by Kathy Long entitled "Response to Editor -Kathy Long Attachment Photo Sespe Creek (1)"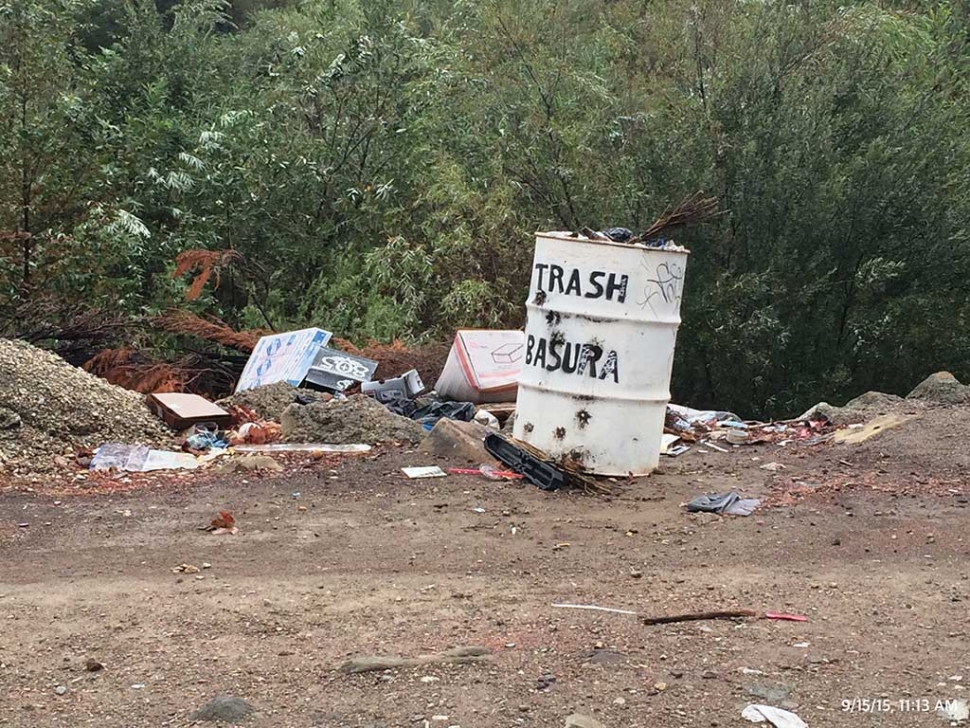 Photo submitted to The Gazette by Kathy Long entitled "Response to Editor -Kathy Long Attachment Photo Sespe Creek (2)"
[Below is Ventura County Supervisor Kathy Long's response to The Gazette's Grand Avenue Fence Editorial.]
August 29, 2016
Response to "Sespe Creek Closed to Public," published on August 18, 2016
As County Supervisor representing this area for the past 20 years, I respect that Sespe Creek is a gateway to the Los Padres National Forest, and is valued for its access to wilderness and wildlife. Unfortunately, this particular portion of Sespe Creek has an extensive history of being used as a dumping ground for everything from boxes and bottles to vacuum cleaners and mattresses. For example, within nine months between July 2015 and April 2016, the County of Ventura (County) responded to seven complaints for trash pickup and removed over eight truckloads of trash. There is no reason trash should be dumped in this area; it compromises the experience of visitors and impacts the environment. Therefore, in April 2016 the County proactively installed a standard, unobtrusive pipe and cable fence along Grand Avenue in the County road right-of-way to deter the excessive dumping. This fencing has served its purpose as the County has only received one complaint for minor trash removal since its installation.
Assertions were made that the fencing eliminated vehicle parking. To clarify, the fence was installed far enough away from the edge of the roadway to allow for vehicle parking, and there are nine, four feet wide, pedestrian openings throughout the length of the fencing.
The County maintains this section of the road and works diligently to keep it free of trash. When visitors, hikers, or residents complain, it is the County's responsibility to respond. The fence along Grand Avenue is an effective method to maintain the integrity of this environment, and help to provide a more enjoyable, public experience of Sespe Creek.
ATTACHMENT: Two photos of trash along Sespe Creek dated September 2015, prior to the installation of the pipe and cable fence.
[Below is The Gazette's Editorial Response to Kathy Long's Response]
An answer to response letter received from Supervisor Kathy Long's office, concerning Sespe Creek article of August 18, 2016.
By Martin Farrell
Thank you Supervisor Long for your explanatory response to my article. I also thank you for your many years of distinguished service to Ventura County, especially to the City of Fillmore. I can personally attest to your dependable assistance during my 30-years in the city, and I thank you for that as well.
(Here comes the "however")
I have hiked the Sespe often during my stay in Fillmore. As you affirm, Sespe Creek "is a gateway to the Los Padres National Forest, and is valued for its access to wilderness and wildlife."
Here is a Wikipedia description: "Sespe Creek is a small stream in Ventura County, California in the United States. The creek starts at Portero Seco, and is formed by more than thirty tributary streams before it empties into the Santa Clara River in Fillmore. 31miles of Sespe Creek is designated as a national Scenic Waterway, and is untouched by dams and concrete channels."
I have to smile at the irony expressed in the description of the Sespe as "a small stream." After our 5-year drought the Sespe, at least at the south end, is completely dry. But those of us who have, in the past 20 years seen that "stream" develope into a roaring torrent, know how quickly it can flex its muscles. I believe only a couple of successful kayak expeditions down the Sespe have been recorded due to the danger. I happened to be hiking up the Sespe one day several years ago (check rain gage) when two kayakers approached. They had spent a couple of days coming down the Sespe. We had a short conversation. They told me this was the greatest trip they had taken in any wilderness area.
Very few people have been able to make it down the entire length of the Sespe. Too much water and you are dead, too little and it's impossible. If you're lucky and time it perfectly, as a couple have done, it's possible, but it's still an extreme trip.
But the trip up the Sespe is what is at issue here, not down. For more than a hundred years this hike has been popular with many folks out for a little exercise and adventure.
Here are some comments about the Sespe: "Sespe Creek is indisputably the finest wilderness run south of the Sierra Nevada." "Class 1V and 1V+ rapids become commonplace, and a couple of challenging portages await all but the most bazen of boaters. This is a multiday adventure."
Sespe Creek is deemed a "navigable" waterway. "obstruction of fire truck passage, or use of a navigable waterway, is also deemed a criminal offense. Victims of obstruction can contact the local sheriff or police department, make a report, and request that criminal charges be filed for violation of the two following State laws: (Penal Code Section 370). Harbors and navigation Code Section 131. "Every person who unlawfully obstructs the navigation of any navigable waters, is guilty of a misdemeanor." Several cases show examples of "Public Nuisance" as a civil offense. (Civil Code section 3479). The fence is an obstruction of access - also unlawful. (Note: I am not a lawyer. References provided by American Whitewater, et al).
I don't want to clog this response with legal statutes and findings. But it is clear that Sespe Creek is deemed "navigable" in law and, therefore, access cannot be obstructed by anyone. The law is based upon the California Constitution and several statutes.
That said, I have to question the wisdom of placing the steel cable fence, which blocks all traditional parking space at the northernmost end of Grand Avenue. Just about every remote road in Ventura County is subject to illegal dumping, including Grand Avenue. It is the remoteness of the area that attracts dumpers. The fence will do little or nothing to discourage this practice. The short time it has been in place proves nothing - the trash barrels have been full to overflowing for many weeks, and a newly dumped tire is there since I took my first photos.
The fence has corralled-off all traditional parking space forcing all vehicles to park onto the roadway, only in a parallel position. Ironically, the area is posted "No Parking", and the landowner claims entry would constitute a trespass violation. The landowner has a steel fence descending from his yard area down into the federally protected Sespe Creek entryway. I note that brush around this fence has been cleared away since my first trip to the area - the trespass sign and fence remain, both are illegal.
To shorten this response, the County fence obstructs public access to Sespe Creek, which is both a violation of State and Federal law. The main obstruction concerns parking, which significantly impedes foot traffic and creates a hazard to those wishing to recreate in that area.
The fence can do nothing to prevent dumping of trash - but cameras and strict fines can do the job - and would also discourage criminal activity.
For these reasons, I would ask, that the County of Ventura remove this fence and return the peaceful use of this important recreational area to the public. At the very least, the fence poses an extreme inconvenience to public access.
As an afterthought, seeing that hiking the Sespe has been important as long as there have been hikers, and significant harassment from the property owner to halt ingress to the Creek has been ongoing for decades, how does the property owner treat those coming down stream? Does he demand that they halt in their tracks to avoid alleged trespassing? Does he demand that they return north with their kayaks? That would be a problematic portage.
So I would argue that a better solution to halting trash-dumping at the gateway to the Los Padres National Forest would be several high-def cameras and strict fines.
Two final notes: The headline for my article ended with a question mark, which was omitted in the response. The other is the description of the fence as being "unobtrusive". I think someone attempting to park a camper in preparation for two-day hike into the wilderness might disagree.
Thank you for listening and I look forward to a reasonable resolution of this vexing issue.
Sincerely,
Martin Farrell
Publisher